Atlantic Veterinary College
One of five veterinary colleges in Canada, the Atlantic Veterinary College (AVC) is the only institution offering in Atlantic Canada educating doctors of veterinary medicine. Since our first class graduated in 1990, AVC has been a fully accredited college and has experienced remarkable success and growth.
---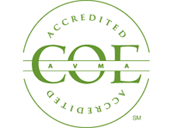 Our programs are fully accredited by the American Veterinary Medical Association (AVMA) Council on Education and the Royal College of Veterinary Surgeons in the United Kingdom. 
Our highly sought-after graduates are eligible for licensure in Canada, the United States, the United Kingdom, Australia and New Zealand, and consistently achieve high success rates in their licensing examinations.
Over 1,700 graduates from AVC now work in private practice, academia, research, government, and industry around the world.
Are you ready to apply? It's easy!
Create a UPEI account
Complete the UPEI application
Submit your completed UPEI application and fee
We take great pride in providing our students with an excellent education in veterinary medicine. Because of our small size, we get to know our students by name while offering them world-class opportunities. We are focused on fostering innovation and academic excellence. Guided by our mission as stated below, we are educating future leaders in veterinary medicine and research.
Visit UPEI's historic campus