International Student Exchange
With over 70 exchange partnerships in 27 countries, students who qualify can design their own Study Abroad programs that allow them to explore and experience the richness of other countries while earning UPEI credits. 
---
Saint Dunstan's University Study Abroad Program 
Deadline: Thursday, October 31 
APPLY NOW!

Saint Dunstan's University Study Abroad Program is offering the course RS 3880, "Rome: Christianity and Culture." This exciting global and experiential learning opportunity is being taught in Rome, Italy from May 6–27, 2020. 

The Program will fund travel, accommodation, and most program costs. Students are responsible for tuition, learning materials, food and optional activity expenses.

To be eligible, students need at least one Catholic Studies course, preferably RS 1710, "Introduction to Catholic Christianity."

Please apply through the UPEI International Experience Application 
---
Spend your Fall 2019 or Winter/Spring 2020 academic semester in Malta
FULLY FUNDED! 
Deadline: Closed 
Spend a semester in Malta as an exchange student fully funded by Saint Dunstan's University Study Abroad Program! 
One full academic semester abroad at the University of Malta will be funded by Saint Dunstan's University Study Abroad Program (SDU) for a total of $7,000. Funding will be provided to one student for the spring semester.
For more information, contact Sherilyn Acorn at sdacorn@upei.ca.  
---
Florence Simmons Global Experience Scholarship
This scholarship is a minimum of $1,000 and is awarded to students who are enrolled in a bachelor or graduate degree program who will study abroad as part of their UPEI education. This includes short term study abroad as well as full academic semester or year abroad to one of our partner schools. Students need to provide documentation that confirms their plan to study abroad. The Office of Study Abroad and International Collaboration is thrilled that our university is able to offer our students this monetary gift to help offset the costs of an international academic experience.
Find out more about #LearningAbroad 
---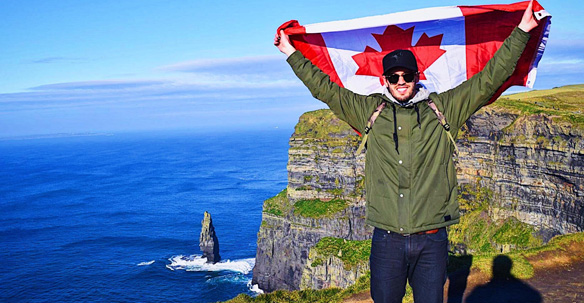 Studying at one of our partner schools will allow you to:
Take unique courses in your field of study that are not offered at UPEI;
Gain independence and other new life skills;
Make new friends from around the world;
See the world first hand; and
Enhance your employability after graduation.
You will not regret your adventure!!
Dispelling myths about studying abroad:
All courses you take at the host school will be transferred back to UPEI—you will not fall behind.
All tuition fees and student fees are paid to UPEI while you are gone—you will not incur huge host school fees (small fees may apply).
Most of our partner schools teach in English, regardless of the national language.
International students can also study abroad—you do not have to be a Canadian citizen (some program exceptions).
You are still eligible for student loans while studying abroad.
International placements are options for our co-op students.

Are you interested in studying abroad?
I'm here to help! Please make an appointment to visit me at the Office of Study Abroad and International Collaboration.
Sherilyn Acorn-LeClair
Manager, International Programs
Office of Study Abroad and International Collaboration
Dalton Hall - Room 315
sdacorn@upei.ca
(902) 894-2837