Your search has returned no results.
International Student Exchange
With over 60 exchange partnerships in 27 countries, students who qualify can design their own Study Abroad programs that allow them to explore and experience the richness of other countries while earning UPEI credits. In order to qualify for our exchange programs students must have a minimum of one full year of studies complete (ten courses) and hold a minimum grade point average (GPA) of 2.7.
---
Calling all Canadians!
Would you like to learn a little bit of the Irish Language? If so, read on!
There is an old Irish saying which goes 'Is olc an ghaoth nach séideann maith do dhuine éigin', which translates into English as 'it's a bad wind that doesn't blow good for someone'.
These are difficult times for many people. To reach out and connect, we are offering Canadians the opportunity to take part in free online beginners Irish classes, given by fluent Irish language instructors.
If you are interested, please reply to this email (info@icuf.ie) before 11:00 pm EST on Wednesday, April 8 with the following information:

your first name
your town / city
your province
your time zone

We'll begin with three 40-minute classes in which you'll learn some basic phrases, such as how to say hello, how to introduce yourself, how to count from 1 to 10, etc. It is our great pleasure to offer you these classes as a basic introduction to the language - perhaps some day you might make a visit to Ireland, to try out your 'cúpla focal' (your couple of words).

If there is considerable interest in ongoing classes, we would hope to extend the offer.

Táimid ag súil le cloisteáil uait - we look forward to hearing from you!

James Kelly
Chief Executive Officer, ICUF

About the Irish Language 

A Celtic language, Irish was historically spoken throughout Ireland, and is still spoken as a first language in substantial areas of counties Galway, Kerry, Cork, and Donegal, smaller areas of Waterford, Mayo, and Meath, and a few other locations. It is also spoken by a much larger group of habitual but non-traditional speakers across the country, mostly in urban areas and mostly as a second language.

Irish was the dominant language of the Irish people for most of the island's recorded history, and has the oldest vernacular literature in Western Europe. Irish has constitutional status as the national and first official language of the Republic of Ireland.

About the Ireland Canada University Foundation

The Ireland Canada University Foundation, or 'ICUF', was founded in 1995 to nurture the great friendship between Ireland and Canada, through the support of scholarly exchange. ICUF is has awarded over 500 travel research scholarships to Canadians and Irish to date, enabling research and academic visits between both countries.

ICUF is supported by the Governments of Ireland and Canada. Support from the Irish government comes via the Department of Culture, Heritage and the Gaeltacht, and the Dept. of Foreign Affairs (Emigrant Support Programme). Support from the Government of Canada comes via Global Affairs Canada.
---
Florence Simmons Global Experience Scholarship
This scholarship is a minimum of $1,000 and is awarded to students who are enrolled in a bachelor or graduate degree program who will study abroad as part of their UPEI education. This includes short term study abroad as well as full academic semester or year abroad to one of our partner schools. Students need to provide documentation that confirms their plan to study abroad. The Office of Study Abroad and International Collaboration is thrilled that our university is able to offer our students this monetary gift to help offset the costs of an international academic experience.
Find out more about #LearningAbroad 
---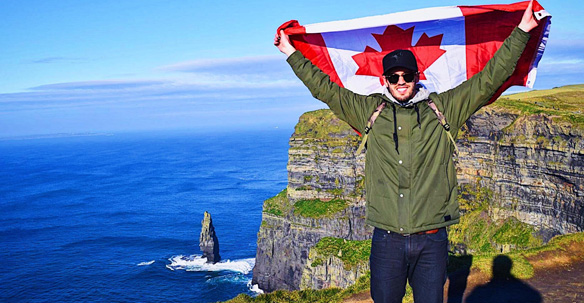 Studying at one of our partner schools will allow you to:
Take unique courses in your field of study that are not offered at UPEI;
Gain independence and other new life skills;
Make new friends from around the world;
See the world first hand; and
Enhance your employability after graduation.
You will not regret your adventure!!
Dispelling myths about studying abroad:
All courses you take at the host school will be transferred back to UPEI—you will not fall behind.
All tuition fees and student fees are paid to UPEI while you are gone—you will not incur huge host school fees (small fees may apply).
Most of our partner schools teach in English, regardless of the national language.
International students can also study abroad—you do not have to be a Canadian citizen (some program exceptions).
You are still eligible for student loans while studying abroad.
International placements are options for our co-op students.

Are you interested in studying abroad?
I'm here to help! Please make an appointment to visit me at the Office of Study Abroad and International Collaboration.
Sherilyn Acorn-LeClair
Manager, International Programs
Office of Study Abroad and International Collaboration
Dalton Hall - Room 315
sdacorn@upei.ca
(902) 894-2837