About Prince Edward Island
Prince Edward Island is a beautiful place in which to live and study. Located in the Gulf of Saint Lawrence on Canada's east-coast, PEI has a temperate climate and is famous for green fields, red sandstone cliffs, and the blue horizons of water meeting sky.

In the fall, the leaves change colour, lighting up the landscape with vivid reds and golds. In the winter, temperatures drop below zero and UPEI students can cross-country ski throughout the province's beautiful network of nature trails. Summer brings sun and gentle breezes, and pleasant temperatures in the mid-20s.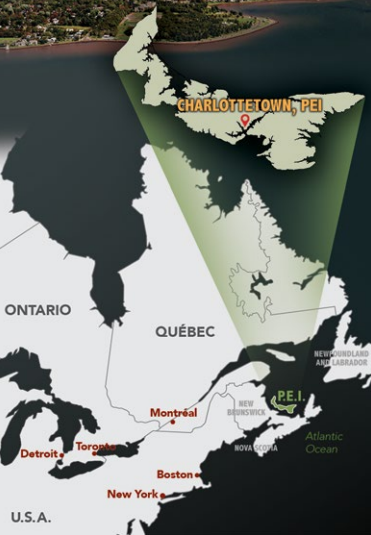 Prince Edward Island with its sandy shores are nestled in the Gulf of Saint Lawrence just across from New Brunswick and northern Nova Scotia, and is accessible by plane, by ferry, and by the Confederation Bridge, which is the world's longest bridge covering winter-frozen waters.
Prince Edward Island may be Canada's smallest province, but the Island is alive with activity during all seasons. Busiest in the summer months when more than a million visitors come to enjoy our world class beaches, golf courses, and fresh seafood, there are activities all year long including kayaking, sailing, hiking, cycling, skiing and so much more.
UPEI is located in Charlottetown, Prince Edward Island's capital city. The greater Charlottetown area has a population of about 60,000 and its historic centre and waterfront is home to outstanding restaurants, pubs, shops and theatres. The local Farmer's Market, located directly across from UPEI's campus, is a favourite destination for students and faculty alike.
Charlottetown is home to a beautiful natural harbour and well-known summer theatre festivals, plus world-class beaches and golf courses less than a half-hour's drive from downtown. Life on Prince Edward Island is safe, friendly, and gently-paced, but the international airport is only minutes from campus and direct flights to Toronto, Montreal, Ottawa, Halifax, and New York City make connecting to the wider world easy. 
More about beautiful Prince Edward Island
Beyond the coastal views, PEI's landscapes are distinctive and known for their natural beauty. Particularly worthy of note are Malpeque Harbour, the fishing village of Murray Harbour, the Greenwich sand dunes, the High Bank cliffs, and Cape Bear lighthouse. Visitors can also head over to Prince Edward Island National Park, which also offers rich wildlife and breathtaking views.
Prince Edward Island is an adventurer's haven. From cycling and horseback riding to birdwatching and camping. Being on an island also creates amazing opportunities for sailing, kayaking, parasailing, and even whale and seal-watching.
For golf lovers, PEI is becoming increasingly recognized for its abundance of golf courses and driving ranges. 10 of the over 30 courses on the island have been listed among "Canada's Top 100 Courses," and in 2011 PEI was honoured as "The World's Best Undiscovered Golf Destination of 2011."
Another common activity on PEI is fishing—which is also a vital way of life for many residents of the island. Visitors can opt for deep-sea and freshwater fishing via many guided and charter tours, or go digging for clams along the peaceful shorelines.
On that note, the culinary experiences available in PEI revolve around one of the island's greatest resources: shellfish. The lobster, oysters, mussels, and scallops, along with fresh produce and famous PEI potatoes, are sold around the world—but nothing compares to eating it fresh while vacationing on the island.
Of course, Anne of Green Gables and Lucy Maud Montgomery are synonymous with PEI culture. First published in 1908, the book and its author are beloved around the world, with many (if not most) tourists flocking to PEI to experience the setting of the story in person. You can visit the homestead or head over to Avonlea Village with the whole family. One of the island's highlights is a musical rendition of the classic novel that has been running for 50 years. Buy a straw hat with dangling red braids and join the Anne crowd.
PEI is alive with music, ranging from folk singers in bars and cafes to ceilidhs held in community halls. During the summer months, Richmond Street in Charlottetown becomes a haven for concerts and musicals offered by local and international musicians. Additionally, there's the Mack Theatre (operated by the Confederation Centre of the Arts), offering plays and various musical theatre productions.
PEI hosts numerous events and festivals throughout the year, including the Shellfish Festival in autumn, the Charlotte Festival (featuring the original stage production of the musical Anne of Green Gables), and the island-wide Fall Flavours food festival. There's always something new happening, particularly during the warmer months.
Lighthouses dot the shores of PEI adding to its magic. Bringing to mind a bygone era of sea born travel, there are several examples of colonial or "first-generation" lighthouses, or those built before 1873. The oldest lighthouse on the island is Point Prim, constructed in 1846, and it also happens to be one of the few lighthouses of brick constructed in Canada. Point Prim marks the entrance to Hillsborough Bay, approaching Charlottetown Harbour on the southern side of the island.