Hon. Catherine Callbeck, CM, OPEI, LLD
About the Chancellor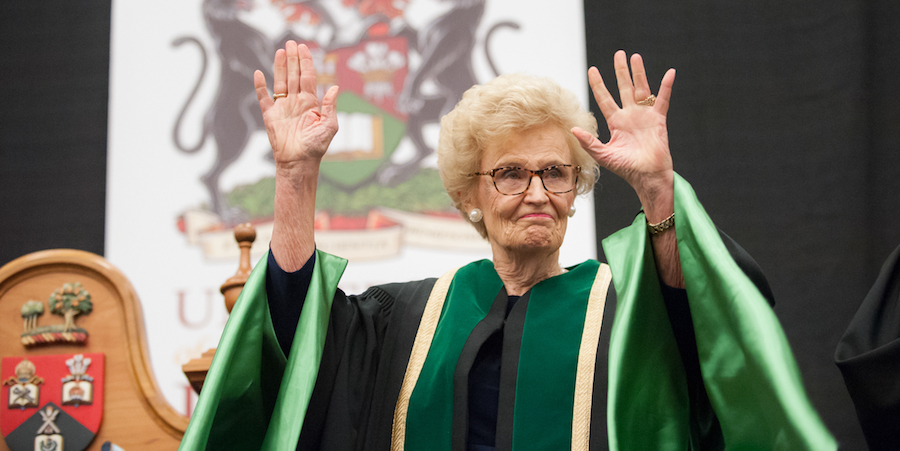 The Honourable Catherine Callbeck of Central Bedeque, Prince Edward Island was installed as UPEI's ninth Chancellor on September 29, 2018.
"I am deeply honoured and humbled by this opportunity to become more involved in the University community," said Callbeck. "The University of Prince Edward Island has become a global institution of higher learning that makes the student experience a priority. I hope to be excellent ambassador for UPEI as it continues to develop programs that inspire students to contribute solutions, whether it be at home or around the world, to better society."
The Honourable Catherine Callbeck has a long and active involvement in business, politics, and charitable and public service groups at all levels, and is a woman of many firsts and honours. She received her early education in Central Bedeque and Summerside, later receiving degrees from Mount Allison University and Dalhousie University. After a period of teaching, Callbeck returned to PEI where she became involved with the family business—Callbeck's Limited and Callbeck's Furniture.
She was the second woman ever elected to the Legislative Assembly of Prince Edward Island and, from 1974-78, served as the first female Minister of Health and Social Services, Minister Responsible for the Disabled, and Minister Responsible for Non-Status Indians. In 1988, she was the first woman elected as the Member of Parliament for Malpeque, making her the second woman ever to be elected to the House of Commons from PEI. She returned to provincial politics in 1993 when she was elected Leader of the Liberal Party of PEI, and soon after, became the first woman in Canada to be elected as Premier. In 1997, she was called to the Senate of Canada and retired in July 2014.
Callbeck was named a member of the Order of Canada in 2015 and Order of PEI in 2017 and holds honorary doctor of laws degrees from both Mount Allison University and the University of Prince Edward Island (2015).