A degree in business opens a world of opportunities. The UPEI Faculty of Business offers programs and courses that will challenge your abilities, expand your horizons, and allow you to venture into a wide range of career paths.
With innovative and flexible programs and an emphasis on enterprise and entrepreneurship, graduates leave with knowledge and skills that give them the flexibility and know-how to compete, and be successful in any environment.
The UPEI Faculty of Business is focused on bridging the gap between education and business world experience.
Are you ready to apply? It's easy!
Create a UPEI account
Complete the UPEI application
Submit your completed UPEI application and fee
Small class sizes and easy access to faculty ensure that students develop effective learning relationships. Specializations are available in accounting, international business, and entrepreneurship. Students have the opportunity to experience "business in action" through Co-operative Education, international opportunities, mentorship, and national and regional competitions.
The UPEI Faculty of Business maintains strong ties with the business community through our Advisory Council, Global Associates, Student Business Society, ENACTUS, collaborations with Junior Achievement, Chambers of Commerce, and with certain foundation courses for the CPA professional designation. Through these various connections with the business environment, the Faculty of Business ensures its offerings and strategies are in line with business needs and current trends to provide long term value to students, employers and the community.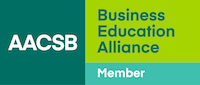 The University of Prince Edward Island is a member of AACSB International—The Association to Advance Collegiate Schools of Business.
Questions about our MBA Programs?