A flexible MBA designed for working people
Please note: The application process for the Executive Master of Business Administration (EMBA) program has been suspended. 
---
Based on executive education models, this MBA program offers students a unique and valuable opportunity to advance their education while continuing to work. Specialized streams of study are available in "Biotechnology Management and Entrepreneurship" and "Innovative Management". These will provide students with the theory, skills, experiential learning and research opportunities to advance their knowledge and enhance their success in these flourishing fields.
Dedicated faculty, peer-to-peer learning, an integrated program approach, and an emphasis on developing global perspectives ensure that graduates are well prepared for the unique challenges of leading and innovating in an ever-changing, international business environment.
The degree conferred upon successful completion of the program is a Master of Business Administration (MBA).
Download our Executive MBA brochure pdf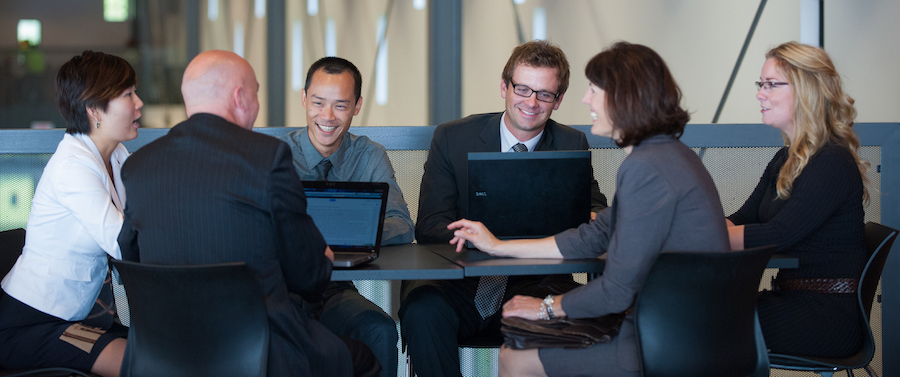 Please note: The application process for the Executive Master of Business Administration (EMBA) program has been suspended. 
Need more information about Executive Master of Business Administration?
Specialization in Biotechnology Management and Entrepreneurship
In this specialization stream, students gain a valuable combination of knowledge and skills in the business of science. The program will focus on the issues of commercialization, as well as the ethical and regulatory issues that face the biotechnology industry. Graduates of this specialization stream will be well equipped to develop and manage new ventures and small businesses or to work in the public and private sectors in the business of biotechnology/science fields.
Specialization in Innovative Management
The Innovative Management stream is designed to develop the skills and knowledge necessary to effectively manage within and for an innovative environment. Courses integrate the concepts of creativity and entrepreneurial thinking as well as real world learning and management skills such as leadership and teamwork. Global content ensures graduates have a well- developed perspective on worldly issues and decision-making. This program fits those who are interested in business from new perspectives.
Note: Current UPEI students should refer to Student Planning in myUPEI and the UPEI Academic Calendar governing their entry year, and speak to an academic advisor about course requirements. The course structure presented for this program is a recommended, unofficial progression for prospective students.
---
The Executive MBA program is designed for working people. The program structure is flexible to fit students' needs as much as possible. For example, classes are held every other week on Fridays and Saturdays to accommodate working students. Students normally enrol in four courses per semester and form small, self-managed teams to work on projects, thus enabling them to learn from each others' backgrounds and experiences.
Incoming students are invited to attend orientation sessions prior to the beginning of the fall semester. The sessions will focus on various topics such as accounting, team-building, communications, and research. An introduction to evidence-based management and an overview of the resources available on campus will also be provided. Orientation is an excellent opportunity to meet fellow classmates, to meet the School of Business faculty and staff, and to brush up on skills that will help students succeed in the Program.
The first year of studies focuses on enhancing managerial skills and understanding functional business topics. Students are able to take four courses in each of the fall and winter semesters.
The second year of studies focuses on the development and application of more strategic perspectives and application within a dynamic global business environment. In year two, students are able to take four courses in the fall semester. The program finishes with the completion of BUS-8010.
Program Requirements
Students enrolled in the Executive MBA program are required to complete a total of 42 credit hours (14 courses) comprised of required courses, specialization courses, and a signature project. Students have the opportunity to complete the MBA program in twenty months. They must complete all required courses within six years of being admitted to the program.
Graduate Courses
Students in both specialization streams must complete 24 credit hours of required core courses and a signature project equivalent to 6 credit hours. The required core courses for both streams are as follows:
Business 6010 - Management of People and Organizations
Business 6020 - Financial and Managerial Accounting
Business 6030 - Marketing Management
Business 6040 - Operations Management
Business 6050 - Corporate Finance
Business 6070 - Strategic Management
Business 6080 - Research Methods for Evidence-Based Practice
Business 6090 - Business Communication
Business 8010 - Business Research in Practice
Specialization Courses
Students are required to take 12 credit hours (4 courses) in one of the specializations. These four courses will normally include two required courses plus two elective courses in the chosen area of specialization. Students, however, will have the option to take one of the elective courses in the other specialization. Not all elective courses will be offered each semester. Electives may include Special Topics or Directed Studies courses.
Biotechnology Management and Entrepreneurship Courses
Business 7010 -  Biotechnology Management and Development (required)
Business 7020 - Commercialization of Biotechnology and Innovations (required)
Business 7030 - Ethics and Governance in Biotechnology Management
Business 7040 - International Relations, Laws, and Policies of Biotechnology
Business 7050 - Growth Strategies
Business 7060 - Venture Financing Strategies
Business 7070 - Managing Biotechnology Innovation
Innovative Management Courses
Business 7200 - Innovation and Entrepreneurship (required)
Business 7210 - Innovative Culture and Leadership (required)
Business 7220 - Managing Customer Value
Business 7230 - Creativity and Innovation for Change Management
Business 7240 - Governance, Leadership, and Professional Development
Business 7250 - Management and Government Perspectives
Business 7260 - Strategy and Management Consulting
Business 7280 - International Business
Special Topics Course
Business 7850 - Special Topics in Business
Directed Studies Course
Business 7860 - Directed Studies
What's Required for Admission to the EMBA Program?
Applicants for admission to the Executive MBA program must have demonstrated the potential to learn within a demanding integrated program, typically through high academic standing in previous university studies. There are two streams available within the Executive MBA: Innovative Management and Biotechnology Management. The basic requirements and qualifications are:
i. for the Innovative Management Stream, an undergraduate degree in any discipline is required. For the Biotechnology Management and Entrepreneurship Stream, an undergraduate degree in the sciences or a degree in any discipline plus considerable work experience in a science field is required.
For both streams, the required degree must be from a recognized university and the applicant should have achieved a minimum average of B (70% or higher) in the last four semesters or last two years of undergraduate study.
ii. acceptable professional designations such as CPA, CFA, or PEng plus work experience will also be considered. Under exceptional circumstances, a person who lacks a formal degree or professional designation but who has other outstanding management qualifications, such as a well-established and documented business career, may be admitted to the Executive MBA program. In these circumstances, applicants will normally be expected to have a minimum of ten years full-time work experience, including significant experience in upper management or entrepreneurial positions. The MBA Committee must be satisfied that the applicant has demonstrated a level of academic competence at least equivalent to an undergraduate degree.
iii. a minimum of three years of full-time work experience is preferred, with a required minimum of one year full-time, relevant work experience. The relevant work experience may include managerial and supervisory responsibilities, new venture ownership, and professional or project development experiences. A variety of work experiences and backgrounds enhance the calibre of class interaction so students learn from both the professor and each other.
Please refer to the UPEI Academic Calendar for complete admissions information.
Students are expected to be proficient in the use of English, both written and oral, when they begin their studies at the University of Prince Edward Island. Please review the English Language Requirements for graduate programs.
We also have an MBA Pathway Program (MBA-PP) designed for students coming to UPEI for its MBA program, who meet all the requirements for entry into the MBA program except English proficiency.
Make sure you apply before the deadline!
Please note: The application process for the Executive Master of Business Administration (EMBA) program has been suspended.  
---
Applications and all documentation must be received by July 1 for a fall semester start date.
You do not have to secure a supervisor prior to applying to this program.
Tuition
Executive Master of Business - $2,870 per 3 credit course
International students pay $801 per 3 credit course in addition to full-time student tuition.
For a complete breakdown of part-time or full-time study as a student in the Faculty of Business, visit our Tuition and Fees page.
Your mentors. Our professors.
UPEI has about 250 faculty members—exceptional scholars, teachers, and mentors, with more being hired each year as we open new, progressive, and unique programs. But the story isn't just in the numbers. It's in the quality of our people. Award-winning faculty from around the globe have made UPEI home. Here, you'll learn directly from these world-class professors and researchers in small classes where you'll have easy access to them.
Other UPEI programs you might like