Keynote Speaker
Dr. Susan Whiting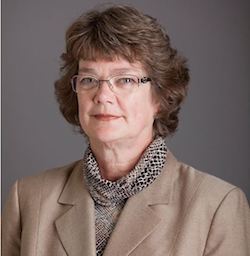 Dr. Susan Whiting is Distinguished Professor Emeritus of Nutrition, University of Saskatchewan, where she taught in the Nutrition and Dietetics program for 31 years after teaching at Mount Saint Vincent University for 6 years. Her research spans dietary influences on bone health of children and adults, effectiveness and safety of calcium and vitamin D supplements, dietary assessment methodology, and food security at local, institutional and international levels. She is a member of Scientific Advisory Board of Osteoporosis Canada and is a fellow of the Canadian Academy of Health Sciences. She is Associate/Deputy Editor on several international journals, and has served on international advisory boards related to bone health, dietary supplements, and vitamin D.
Title of presentation:
"Dietary intakes of Canadians: What this can and cannot tell us about our nutritional status"
Brief description of presentation:
Dietary assessment is an important tool and helps in understanding individuals' and groups' risk for nutrient inadequacy and excess. The 2015 Canadian Community Health Survey – Nutrition results are available, allowing a comparison to those from 2004. These data on intakes of food groups and nutrients, as well as dietary supplements, by a representative sample of Canadians, point to problem nutrients, to risks of excesses, and to foods that are being consumed in too high or too low amounts. But interpreting these data requires an understanding of what to use for standards, whether we choose Dietary Reference Intakes or dietary guidance, such as Canada's Dietary Guidelines or Canada's Food Guide. And there is a current debate on how useful self-reported intakes really are. Examples of specific nutrients and of food groups and meal occasions will be used to illustrate what dietary intake trends are occurring in Canada and what impact dietary guidance could have on Canadian's dietary intakes. Determining national intakes is an important step to informing policies and guidance and understanding the process as well as the output of dietary assessment is essential.

Affiliations:
Member of Canadian Nutrition Society 
Canadian Academy of Health Sciences
Dietitians of Canada
Learning objectives: 
Describe the Canadian Community Health Survey – Nutrition
Apply DRI assessment values to dietary intakes
Compare intakes of Canadians over the last decade
Critique the debate about how useful self-reported intakes are for nutrition assessment
---
Shannan Grant
Pre-conference workshop title:
"With Two Eyes and Hearts Open: Using Person-focused Science Education to Inspire Creativity, Co-learning and Reconciliation"
Co-facilitator:
Chelsey Purdy, BSc-IEP Candidate 2020.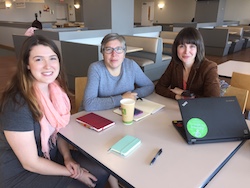 This workshop was made by Chelsey Purdy (on left in photo), Ann Sylliboy, Post-Secondary Consultant, Mi'kmaw Kina'matnewey (Eskasoni First Nation; middle in photo), and Shannan Grant (on right in photo).
Acknowledgement:
This workshop has been developed with the guidance of Elders Albert and Murdena Marshall and Dr. Cheryl Bartlett, Professor Emeritus, Cape Breton University. For more information, visit http://www.integrativescience.ca/
Background and significance:
On Turtle Island (North America), there is a gap in academic attainment between Indigenous and non-Indigenous learners. This gap is widest at the university level; concerning because jobs in science, technology, engineering, math (STEM) and health science fields (e.g. Nutrition and Dietetics) often require a university education or higher. Recent data suggests that Indigenous people are under-represented in these fields and there have been numerous calls to action to rectify this (e.g. Truth and Reconciliation Commission of Canada), using community-led approaches.
Framework:
Etuaptmumk (Two-eyed Seeing) is a guiding principal for co-learning, offered by elders and academics from Unama'ki (Cape Breton, Nova Scotia), that guides our programming, to ensure both Indigenous Ways of Knowing (IK) and STEM Education Principals are represented and respected in STEM promotion, education, training and mentorship. For instance, the seven sacred teachings/ virtues (e.g. wisdom, humility) of Mi'kmaw IK, stimulate exchange, reflection, and creative ways to link western science knowledge and skills to community, family, and self. To do: Through story-telling, sharing circles, and play, the workshop facilitators will help participants harness the strengths of both ways of knowing so that they can bring their lessons learned back to their respective communities to engage learners with two-eyes and one heart open.
The goal of this session is to share lessons learned to cultivate a community of practice, interested in creativity, collaboration and reconciliation.
Learning objectives:
Propose Two-Eyed Seeing as a framework for effectively interweaving Indigenous Ways of Knowing and STEM Education Principals in STEM promotion, education, training and mentorship.
Stimulate idea generation on how the seven sacred teachings can be used in STEM education and training in the Academy, while sharing lessons learned through story telling.
Engage with an activity designed to showcase the above in action.
Reflect and share together about next steps.
---
Marc Surette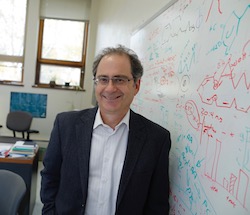 Dr. Marc Surette is a professor of Biochemistry at Université de Moncton, Canada. Dr. Surette earned a BSc and MSc from Dalhousie University in Halifax, Nova Scotia, and a PhD from Cornell University in Ithaca, New York. He did post-doctoral training at the Centre Hospitalier de l'Université Laval in Québec City, and at Wake Forest University School of Medicine in North Carolina. Dr Surette spent nearly 5 years with a biopharmaceutical company in North and South Carolina as Director and then as Vice-President of Research and Development, before returning to Canada as a Professor and Canada Research Chair at Université de Moncton. In 2015 he was named the New Brunswick Innovation Research Chair in Biosciences. 
Dr. Surette and his team conduct biomedical health research in the field of lipid metabolism. His research program encompasses both fundamental discovery as well as applied research projects that include the development and testing of new anti-inflammatory pharmaceutical agents, and the preclinical and clinical investigation of sustainable sources of omega-3 fatty acids from agriculture. Dr. Surette is the inventor on 4 issued and 2 pending patents, has authored over 80 peer-reviewed publications and has over 100 conference and invited communications.
Title of presentation: 
"Development of a sustainable and effective source of omega-3 polyunsaturated fatty acids"
Brief description of presentation
This presentation will provide a background on the metabolism and function of omega-3 polyunsaturated fatty acids (PUFA) and will present some of the evidence linking the consumption of these dietary lipids to health outcomes. Sustainability of marine sources of these nutrients is a growing concern and alternative sustainable and effective sources of omega-3 PUFA are sought. The design and results of initial clinical trials investigating a new sustainable source of dietary omega-3 PUFA derived from agriculture will also be presented.
Learning objectives
To learn about omega-3 fatty acid and their impact on health outcomes
To learn about differences between various sources of omega-3 fatty acids
To learn about the design and conduct of a clinical trial investigating dietary ingredients
Affiliations
Professor and New Brunswick Innovation Research Chair, Department of Chemistry and Biochemistry, Université de Moncton, Moncton, NB, Canada
Adjunct professor, Department of Microbiology Infectious Diseases and Immunology, Faculty of Medicine, Université Laval, Québec, Canada
Adjunct professor, Department of Food Science and Nutrition, Faculty of Agricultural and Food Science, Université Laval, Québec, Canada
---
Patricia (Patty) Williams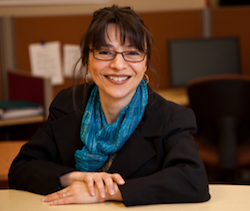 Dr. Patricia (Patty) Williams is a Professor in the Department of Applied Human Nutrition at Mount Saint Vincent University, in Halifax, Nova Scotia, where she served as a Tier II Canada Research Chair in Food Security and Policy Change from 2007-2017. Dr. Williams has a background in foods and nutrition, working for several years as a dietitian in pediatric and maternity settings before completing a PhD in Interdisciplinary Studies at the University of British Columbia, and a CIHR-funded postdoctoral fellowship at Dalhousie University in Halifax, Nova Scotia. She is one of the founders of the Canadian Association of Food Studies and Food Secure Canada, as well as the former Nova Scotia Food Security Network and Nova Scotia Food Policy Council.
Dr. Williams is the founder and Director of FoodARC – the Food Action Research Centre, and has worked for nearly two decades to create the conditions to address food inequities, in Nova Scotia, across Canada and beyond. Guided by participatory leadership, participatory action research, and mixed methods approaches, Dr. Williams has led several ground breaking national and provincial studies on food-related policy change, including seven provincial cycles of a unique model of Participatory Food Costing, and the first comprehensive provincial wide studies of Community Food Security and the Consumer Food Environment in Nova Scotia. Grounded in long standing partnerships that span communities, universities and governments, and local, regional and national scales -- where the voices of those experiencing food insecurity are at the center, FoodARC received the prestigious CIHR Partnership Award in 2011.
Her current work focuses the experiences of stigma, shame, and social exclusion, particularly for women, living in poverty and struggling with food insecurity, and using innovative tools such as FoodARC's 'The Hand You are Dealt' board game to shift thinking about food insecurity. Dr. Williams' current work also focuses on co-learning with Mi'kmaq communities to understand and address food insecurity, as well as to reclaim health and traditional food systems through food sovereignty. Dr. Williams' community-based research helps to bring those most affected by challenges within food systems into the forefront of addressing them through changes on all levels, from how we think and act, to how we are governed. In 2019, Dr. Williams received the Canadian Association of Food Studies Award for Excellence in Public Service.