The Doctor of Psychology (PsyD) is a doctoral program in clinical psychology which is comprised of 26 required courses, a minimum of 750 hours of practica experience, and a fulltime, 12-month predoctoral internship. The degree program is designed to prepare students to practice as clinical psychologists.
Overview
Infused with a critical lens, and focused throughout on integration of theory, research, and practice across individual and cultural diversities, the Doctor of Psychology Program prepares graduates to practice as clinical psychologists who will meet the needs of individuals, couples, and families, and also of broader communities and populations through the conscientious practice of the human art and science of clinical psychology.
Students will learn to develop, deliver and supervise high quality mental health services including assessment, diagnosis as appropriate, psychotherapeutic intervention and consultation, supervision, and research as well as learn to practice clinical psychology with an emphasis on responding to the broader needs for health and wellness promotion, community strengthening and prevention of psychological distress.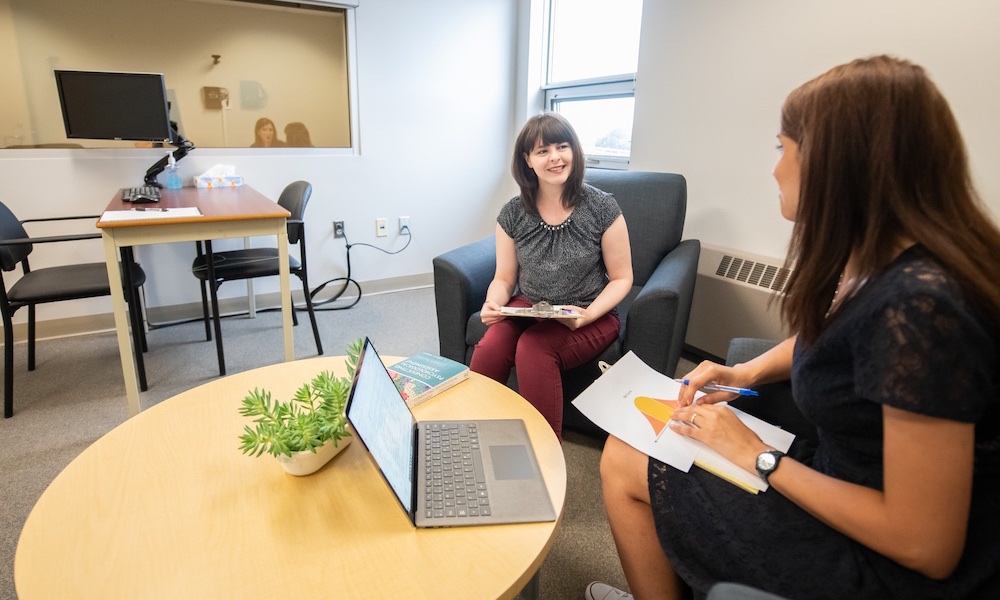 Of particular priority in the program is the development in students of the capacity to respectfully and effectively engage with the diversity of past and current experiences of individuals and communities, including with respect to culture, ethnicity, socioeconomic status, gender, language, religion, sexuality, physical and psychological characteristics, and identity. Students will develop an understanding of prominent systems and learn to work within them to effectively advocate for those requiring psychological services and to inform and shape organizational and public policy. Ethical decision making will be paramount throughout the program.
Students in the program are engaged full-time with the program throughout almost the entirety of the four years of study. The first semesters include five courses per semester; the workload for five graduate- level courses in a professional training program is much greater than that for five senior undergraduate courses.  As is the case in other professional training programs such as medicine or veterinary medicine, students in the PsyD will not have time for significant employment outside the program. 
Students' initial practicum placements will take place in the UPEI Psychology Clinic.  The program will place students for subsequent practica in sites across Prince Edward Island, unless students initiate an approved placement site outside of the province.  For the pre-doctoral internship, students take part with students across North America in the competitive APPIC internship matching program (www.appic.org). Internship placements cannot be guaranteed. A limited number of 12-month internship placements will be available in Prince Edward Island, considerably fewer than there will be students in the program.  Applicants are strongly encouraged to apply to internship sites outside the province.
Continuation in the program requires successful completion of, and ethical and professional conduct in, courses, practicum placements, and internship. 
Clinical Psychology
Clinical Psychology is a subfield within psychology that applies psychological theories, research and knowledge to various aspects of human functioning. Clinical psychologists are professionals who have doctoral level training in clinical psychology. They work in a wide range of contexts, with many working as professional clinicians, academics, or both. Clinical psychologists work across the spectrum of health and mental health promotion, prevention, assessment, diagnosis as appropriate, intervention, consultation, and supportive care. They are engaged with program design, implementation, and evaluation and with policy and systems change.
Clinical psychologists are trained to address many human problems including depression, anxiety, stress, major mental disorders, learning problems, relational problems, challenges in parenting, addictions, behaviours contributing to chronic disease, developmental challenges, problems related to aging, problems which may arise from abuse or other traumatic experiences, and issues within the forensic field.
Clinical psychologists often work closely with psychiatrists, social workers and other health professionals, often within leadership roles on interdisciplinary teams. They may work with individuals, couples, or groups in public mental health clinics, in private practice, in public education systems, in other community settings, and at universities.
Program contacts
Dr. Philip Smith
Director of Clinical Training, PsyD Program
smithp@upei.ca
Melissa Bender
Administrative Assistant, PsyD Program
gradpsychadmin@upei.ca
Need more information about Doctor of Psychology (PsyD)?
Students following this degree program must complete 75 semester hours of required courses, 750 hours of clinical practica, and a full-time 12-month clinical internship.
YEAR 1

Semester 1 (Fall)

PSY 6201 Critical Historical Perspectives on Clinical Psychology
PSY 6202 Ethics and Professional Issues in Clinical Psychology
PSY 6101 Foundations I: Human Development and Personality
PSY 6203 Psychopathology and Diagnosis Across the Lifespan
PSY 6204 Psychometrics and Assessment Practices with Adults

Semester 2 (Winter)

PSY 6102 Foundations II: Social Bases of Behaviour
PSY 6103 Foundations III: Cognitive and Affective Bases of Behaviour
PSY 6206 Quantitative Approaches to Research in Clinical Psychology
PSY 6207 Qualitative Research in Clinical Psychology
PSY 6205 Psychometrics and Assessment Practices with Children and Adolescents

Semester 3 (Summer)

PSY 6501 Assessment Practicum 
PSY 6208 Introduction to Psychotherapy: Common Factors

YEAR 2

Semester 1 (Fall)

PSY 7101 Foundations IV: Biological Bases of Behaviour
PSY 7202 Intervention with Children and Adolescents
PSY 7201 Intervention with Adults
PSY 7801 Clinical Dissertation: Research Proposal I
PSY 6501 Assessment Practicum (con't)

Semester 2 (Winter)

PSY 7203 Advanced Intervention with Adults: Behavioural, Cognitive & Related Approaches
PSY 7204 Advanced Intervention with Adults: Specific Clinical Approaches
PSY 7205 Advanced Intervention with Children and Adolescents
PSY 7802 Clinical Dissertation: Research Proposal II
PSY 7501 Intervention Practicum

Semester 3 (Summer)

PSY 7501 Intervention Practicum (con't)

YEAR 3

Semester 1 (Fall)

PSY 8801 Clinical Dissertation: Project I
PSY 8201 Clinical Psychology in the Community
PSY 8202 Clinical Psychology for Organizational and Systems Change
PSY 8501 Advanced Practicum I

Semester 2 (Winter)

PSY 8502 Community Intervention Practicum
PSY 8802 Clinical Dissertation: Project II
PSY 8203 Clinical Supervision and Teaching
PSY 8204 Psychology Practice
PSY 8501 Advanced Practicum I

Semester 3 (Summer)

PSY 8503 Advanced Practicum II (optional)

YEAR 4

3 Semesters/
12 month, full-time

PSY 9000 Predoctoral Internship
Applying to the Doctor of Psychology Program
Applicants to the UPEI Doctor of Psychology (PsyD) program are required to have an Honours Bachelor's degree in Psychology including an honours thesis, or an equivalent. Applicants are encouraged to present a record of undergraduate course selection reflecting breadth of study across the core areas of psychology. Given the preponderance of quantitative methods in the current clinical psychology research literature, completion of an advanced statistics course prior to admission is required. In addition, given the methodological pluralism and critical historical and social perspective adopted by the program, previous course work in qualitative research methods and situating psychology in a critical historical perspective is highly recommended. PsyD students at UPEI will be engaged in a critical and reflective dialogue about research methods and the modern positions adopted by clinical psychology.
A minimum GPA of 3.5 on a 4-point scale is normally required, with more recent performance given greater weight.
Applicants whose undergraduate degree is in a language other than English must complete an English proficiency test as an Additional Language assessment.
Please refer to the UPEI Academic Calendar for complete Doctor of Psychology (PsyD) program admissions information.
Make sure you apply before the deadline!
All application materials must be received by December 1 of the previous calendar year the student wishes to enter the program.
You do not secure a supervisor before applying to the program; arrangement with dissertation supervisors are made during the first year of study. 
Doctoral Clinical Psychology - $34,464 per 4 year program
International students pay $7,704 per year in addition to full-time student tuition.
For a complete breakdown of part-time or full-time study as a student in the Master of Arts program, visit our Tuition and Fees page.
Funding
The PsyD program currently offers each student funding of $10,000 a year for the first three years for clinical assistantships. The clinical assistantships involve students contributing to the development and delivery of community-based interventions.
Your mentors. Our professors.
UPEI has about 250 faculty—exceptional scholars, teachers, and mentors, with more being hired each year as we open new, progressive, and unique programs. But the story isn't just in the numbers. It's in the quality of our people. Award-winning faculty from around the globe have made UPEI home. Here, you'll learn directly from these world-class professors and researchers in small classes where you'll have easy access to them.