The Doctor of Psychology (PsyD) is a doctoral program in clinical psychology which is comprised of 26 required courses, a minimum of 750 hours of practica experience, and a fulltime, 12-month predoctoral internship. The degree program is designed to prepare students to practice as clinical psychologists.
Overview
Infused with a critical lens, and focused throughout on integration of theory, research, and practice across individual and cultural diversities, the Doctor of Psychology Program prepares graduates to practice as clinical psychologists who will meet the needs of individuals, couples, and families, and also of broader communities and populations through the conscientious practice of the human art and science of clinical psychology.
Students will learn to develop, deliver and supervise high quality mental health services including assessment, diagnosis as appropriate, psychotherapeutic intervention and consultation, supervision, and research as well as learn to practice clinical psychology with an emphasis on responding to the broader needs for health and wellness promotion, community strengthening and prevention of psychological distress.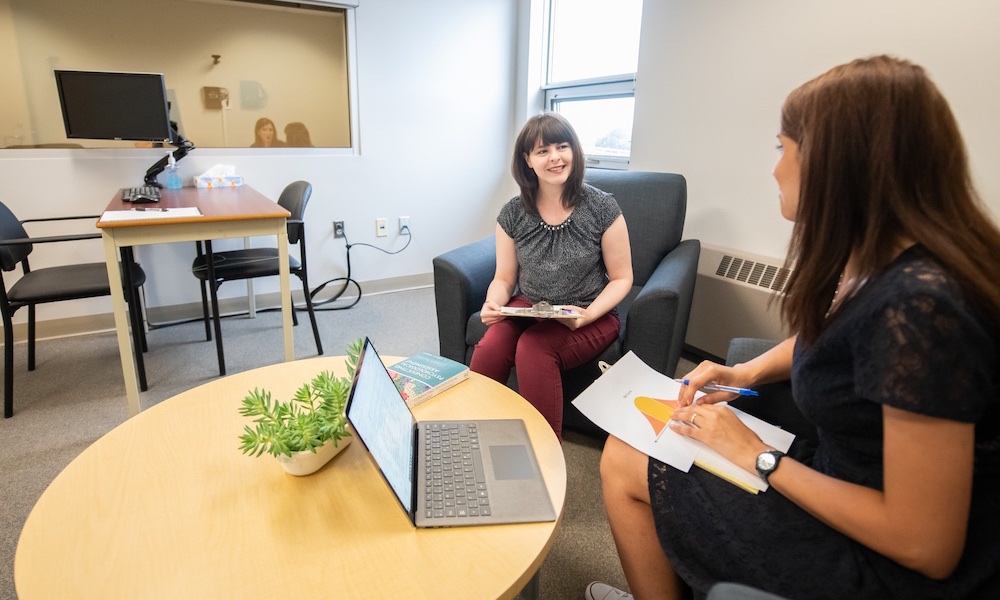 Of particular priority in the program is the development in students of the capacity to respectfully and effectively engage with the diversity of past and current experiences of individuals and communities, including with respect to culture, ethnicity, socioeconomic status, gender, language, religion, sexuality, physical and psychological characteristics, and identity. Students will develop an understanding of prominent systems and learn to work within them to effectively advocate for those requiring psychological services and to inform and shape organizational and public policy. Ethical decision making will be paramount throughout the program.
Students in the program are engaged full-time with the program throughout almost the entirety of the four years of study. The first semesters include five courses per semester; the workload for five graduate- level courses in a professional training program is much greater than that for five senior undergraduate courses.  As is the case in other professional training programs such as medicine or veterinary medicine, students in the PsyD will not have time for significant employment outside the program. 
Students' initial practicum placements will take place in the UPEI Psychology Clinic.  The program will place students for subsequent practica in sites across Prince Edward Island, unless students initiate an approved placement site outside of the province.  For the pre-doctoral internship, students take part with students across North America in the competitive APPIC internship matching program (www.appic.org). Internship placements cannot be guaranteed. A limited number of 12-month internship placements will be available in Prince Edward Island, considerably fewer than there will be students in the program.  Applicants are strongly encouraged to apply to internship sites outside the province.
Continuation in the program requires successful completion of, and ethical and professional conduct in, courses, practicum placements, and internship. 
Clinical Psychology
Clinical Psychology is a subfield within psychology that applies psychological theories, research and knowledge to various aspects of human functioning. Clinical psychologists are professionals who have doctoral level training in clinical psychology. They work in a wide range of contexts, with many working as professional clinicians, academics, or both. Clinical psychologists work across the spectrum of health and mental health promotion, prevention, assessment, diagnosis as appropriate, intervention, consultation, and supportive care. They are engaged with program design, implementation, and evaluation and with policy and systems change.
Clinical psychologists are trained to address many human problems including depression, anxiety, stress, major mental disorders, learning problems, relational problems, challenges in parenting, addictions, behaviours contributing to chronic disease, developmental challenges, problems related to aging, problems which may arise from abuse or other traumatic experiences, and issues within the forensic field.
Clinical psychologists often work closely with psychiatrists, social workers and other health professionals, often within leadership roles on interdisciplinary teams. They may work with individuals, couples, or groups in public mental health clinics, in private practice, in public education systems, in other community settings, and at universities.
Program contacts
Dr. Philip Smith
Director of Clinical Training, PsyD Program
smithp@upei.ca
Megan Ratchford and Melissa Bender
Administrative Assistants, PsyD Program
gradpsychadmin@upei.ca
Need more information about Doctor of Psychology (PsyD)?