Incoming International Students
All incoming international students for Winter semester 2024 should refer to Campus Announcements in myUPEI and to emails from the ISO and UPEI Recruitment Office for information regarding orientation and travel to Prince Edward Island.
Are you a new English Academic Preparation (EAP) student? Please visit the English Language Centre website for complete information.
---
International Student Orientation
Our International Student Office (ISO) team is really looking forward to meeting you! This November and December, UPEI will be hosting sessions to help you prepare for your arrival on campus. Please monitor your UPEI email address and our UPEI International Student Facebook page.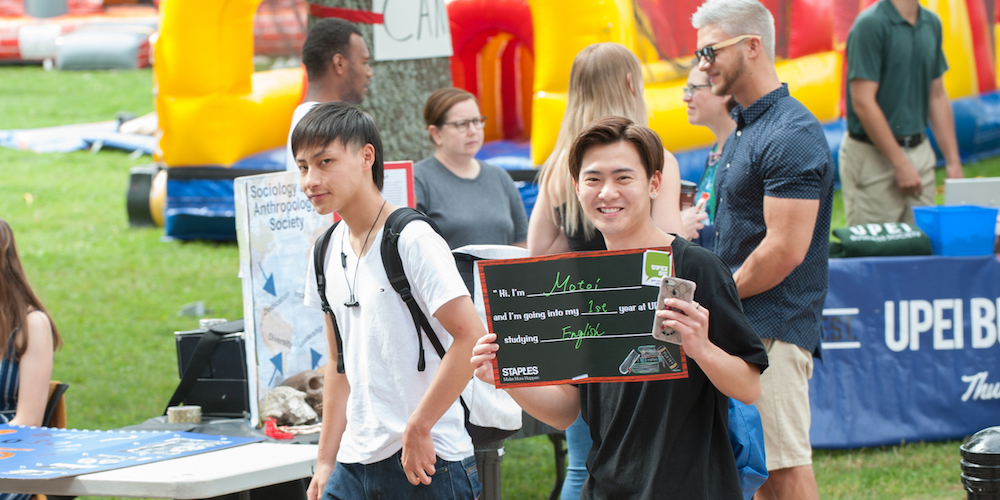 Sign-up for International Student Orientation
During International Student Orientation, you will learn more about what life at the University of Prince Edward Island and in Canada is like, and find out about the great supports and assistance programs we offer! If you're concerned about starting your degree online or making friends, we have you covered.
Topics covered at the orientation include:
Immigration information
COVID-19 and border travel information
UPEISU's health insurance
Transition to the Canadian culture
Academic and social supports and information
Housing support and information
How to make friends
Fun social events, activities, and clubs
The bus system
... and much more!
We now have an online orientation module!

Topics include travel preparation, arriving in Canada, and arriving at UPEI! Sign in with your UPEI email address and password.
Get your documents in order
COVID-19 emergency border measures have ended. However, all students should continue to monitor the IRCC website for any changes. 
Incoming students - January 2024 semester
All incoming January 2024 semester undergraduate students are required to provide proof of immigration (IRCC) approval by December 1. Please email your approval letter or stamped visa to inte@upei.ca before 4:00 pm Atlantic Time on December 1, 2023.
Students who have not provided proof of approval by this date will be removed from their registered classes on December 8, 2023. The final day to arrive to UPEI is Wednesday, January 17, 2024. You must come to our office in Dalton Hall, fourth floor before 4:00 pm Atlantic Time to have your study permit scanned.
---
Welcome, incoming international students! We're looking forward to your arrival at UPEI.
Welcome to UPEI New Student Package
UPEI International Student Guide
I have received a letter of acceptance from UPEI. What should I do now?
We are excited to continue these discussions and look forward to having you join us at UPEI. While we cannot provide immigration advice we can direct you to the proper IRCC websites to assist you with your study permit application.
Please visit our Immigration Information page for complete details.
Apply for on-campus housing
You need to apply for on-campus housing (residence) separately. We have some exciting residence options, but spaces are very limited, so apply early. If you apply after March 31, you may not get a space.
Visit the Residence website to complete a residence application. Wondering which residence to choose? Read more about your options.
We can meet you at the airport

We usually can arrange for student volunteers to greet you at the airport. Our airport greeter service has some restrictions (for example, we cannot meet people after 12:30 am, and require sufficient time to arrange for a greeter to pick you up).
NOTE: A decision about our volunteer taxi service will be made closer to the start of the fall semester. The safety of our student volunteers is a top priority, so the decision will be made based on the COVID-19 situation at the time.
Once you arrive at Charlottetown airport, you can take a local taxi to your residence. The local taxi line is located on the left side of the airport's main entrance. There will be taxies waiting when flights come in no matter what time you arrive, and you can also call ahead (before boarding the flight to Charlottetown) to arrange a taxi to pick you up.

Here are some local taxi numbers:
City Taxi: 902-892-6567
Co-op Taxi: 902-628-8200
Grabba Cab: 902-892-6000
PEI Online Taxi: 902-370-2258
Yellow Cab: 902-566-6666
Important note: You must travel directly from the airport to your new residence. Do not make any stops.
While you wait: