Engineering Student Ambassadors
Meet our student ambassadors
Engineering Student Ambassadors are available to discuss the Sustainable Design Engineering program from a student perspective. If you have any questions for the ambassadors about their experience in the program, please email them directly.
Mikkayla Ellsworth-Reid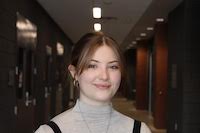 Mikkayla is an island student who is currently studying in her third year of Sustainable Design Engineering at UPEI. She was initially drawn to the program through high school physics classes and projects and has only grown in her love for it ever since. Throughout her first two years in the program, Mikkayla has been involved in the Atlantic Council of Engineering students as a Bilingualism Commissioner (English and French) and now as the VP Communications, as well working as a Teaching Assistant for first year design. Mikkayla loves movies, playing around with Solidworks, and helping others. She would love to chat with anyone about anything!
Contact Mikkayla at mellsworth-reid@upei.ca 
---
Donald Duru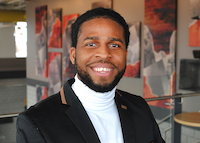 Donald is entering his 4th and final year of Sustainable Design Engineering, with a focus in mechatronics. Growing up in Nigeria, he always had an interest in how things come together and a knack for taking them apart. Due to its warm, welcoming and inclusiveness website, UPEI piqued his interest when researching universities in Canada. Coming here and knowing no one, it did seem overwhelming, however, the school and the Engineering faculty had ample resources and info sessions that helped him settle in. Over the years he has worked with professors in their research, and currently working as a Camp Leader with Amber Jadis (P.Eng.) in organizing Science, Technology, Engineering, Art and Math programs for youths. Donald is currently involved in the Drone Club, Power to Change group, and the New Student Orientation (NSO) body on campus. Feel free to get in touch and chat.
Contact Donald at mduru@upei.ca 
---
Nat MacLeod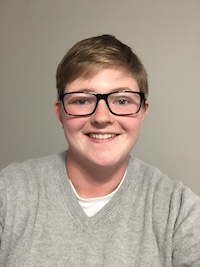 Nat is entering their fourth year of studies in the Bachelor of Science in Sustainable Design Engineering program, specializing in mechatronics or sustainable energy. Throughout their time in this program, they have been very involved within the engineering community, including chairing the annual Atlantic Council of Engineering Students- Engineering Leadership Summit 2022 Conference, being a member and secretary of the Autonomous Robotics Applications Club 2021, held multiple positions titles for the planning committee of the 2021 Atlantic Engineering Competition, acted as the Atlantic Regional Director for EngiQueers Canada 2021, and was a member of the Incident Report Committee at the 2021 Canadian Engineering Competition. After attaining their Bachelor degree, they may complete a master's degree in architecture.
Contact Nat at nmmacleod4462@upei.ca
---
Berry Genge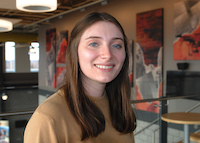 Berry is an island student entering her third year of Sustainable Design Engineering at UPEI. Berry had an interest in pursuing an education in science and eventually settled on Engineering after attending a Girls Get Wise Camp hosted by the University. During her second year, Berry became the Special Projects Director with the Student Engineering Society. She also works in the Engineering Success Centre as a Student Associate to help students with the transition to university as well as academic assistance. Outside of school, Berry enjoys drawing, camping, and going to the beach with her friends.
Contact Berry at blgenge@upei.ca 
---
Brian MacDonald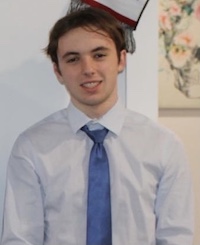 Hello everyone! My name is Brian, and I am entering my third year of studies in the Sustainable Design Engineering program at UPEI and am minoring in mathematics. I am passionate about science, engineering design and am always interested in learning about math and physics-related topics. In my second year of studies, I was a member of a team that placed second in both the Atlantic and Canadian Engineering Competitions. I also worked as a first-year design teaching assistant. In addition, during my first year, I worked as the lead business development associate for an engineering startup company, LifeTrack Safety Systems. Outside of my studies, I enjoy various sports such as rock climbing and ultimate frisbee. I also enjoy relaxing and spending time with friends and family. During school semesters, you can usually find me working in my favourite rooms in the FSDE, the second-floor design studios. You can always feel free to ask me any engineering questions; I would be glad to help! Or don't hesitate to contact me to talk about anything science-related!
Contact Brian at bgmacdonald8162@upei.ca 
---
Prabhakar Bholah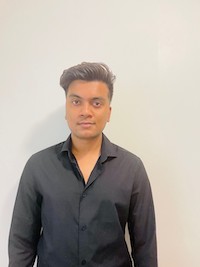 Hello there, my name is Prabhakar and I am an international student from Mauritius. I am currently in my 4th year in the Sustainable Design Engineering program focusing in Mechatronics. I have always been fascinated by the ocean of knowledge prevailing in the field of engineering and this led to me following my dreams till here. The transition into university life can be overwhelming and I intend to help you in this process. While it can be easy for some and difficult for others, it's best to adopt a positive attitude and focus on learning and enhancing your skills. I have had the opportunity to work as a CAD Teaching Assistant in the FSDE and I had the opportunity to be the President of the UPEI Engineering Society. I have also represented UPEI in numerous engineering related conferences. These roles have boosted my confidence and made me stronger. I currently work at the International Student Office as the Buddy Coordinator and try to organize activities for students so they can make friends and socialize. Outside of school, I love to play piano and engage in activities such as soccer or swimming. If you have any questions pertaining to school or engineering, feel free to reach out.
Contact Prabhakar at pbholah@upei.ca
---
Seyi Afolayan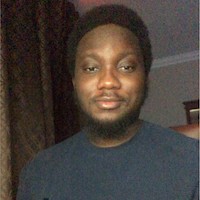 Hello everyone, my name is Oluwaseyi, but people call me Seyi! I am an international student from Nigeria currently entering my fourth and final year of the SDE program focusing on Mechatronics. I have worked as a teaching assistant for Engineering Design, Introduction to Programming for Engineers, and Digital Logic Design. In addition, I have also worked on research projects for a few professors. For this summer at UPEI, I will be working on the CubeSat project with an outstanding team which will be an exciting experience. I enjoy playing competitive video games, doing competitive programming, and playing several musical instruments during my free time. I like to consider myself a student of life, and most times, I ask tough questions. Engineering requires a lot of effort and dedication, and I will be glad to help with whatever you need to the best of my abilities. You can find me in one of the student bays or reach me via email.
Contact Seyi at orafolayan@upei.ca 
---
Gayla Cameron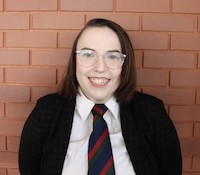 Gayla is entering her fourth year of the five-year Sustainable Design Engineering program in the fall of 2022. As someone who has always loved math, physics, and problem solving or logic problems, Engineering seemed like the perfect choice for further education after high school. After visiting UPEI's open house during grade 12, she immediately fell in love with the opportunity for hands-on projects combined with the sustainable aspect of the program. This past year she had the chance to do her first Junior Design Clinic project and worked in a team with the Royal Canadian Navy on an exciting project for their Diving Division. This past year she had the chance to be VP Engagement for the Engineering Leadership Summit 2022 which was hosted at UPEI and loved the opportunity to help organize this conference after the blast she had attending it in Halifax during her first year. Gayla has always been an environmentalist who's passionate about sustainability and can usually be found outdoors during the summer months. During the school year, she can usually be found in the FSDE building doing homework at all hours of the day and is always happy to chat with anyone or answer any questions she can!
Contact Gayla at gcameron4911@upei.ca 
---
Rhea Gallant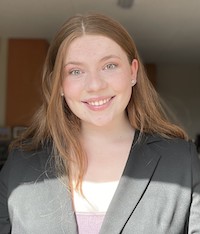 Rhea is entering her fourth year of five in the Sustainable Design Engineering program at UPEI. She has an interest in the bio-resource side of engineering at UPEI and has done summer research assistant jobs to further her understanding, learning and appreciation for the science. She has been involved with the UPEI Engineering Society since her first year in positions as the Student Representative and the Vice-President Internal. These positions helped her to get involved with the other students in the program and helped plan events to add some extra fun to the study-filled semesters. You can nearly always find Rhea in her favorite place at the table under the stairs on the second floor of the FSDE Building, feel free to stop and say hi or ask her any questions. When she's not in the building she likes to, spend time thrifting, drinking coffee, listening to music, or spending time with friends.
Contact Rhea at rmgallant5375@upei.ca