Engineering Success Centre
The Engineering Success Centre exists to support engineering students achieve academic success in their courses, particularly in the first year, with the help of the Student Success Associates (fellow engineering students). Located on the first floor of the Faculty of Sustainable Design Engineering Building, the centre is available to:
offer peer tutoring for individuals or groups;
provide printing on the 3-d printers and large-scale printers;
host workshops to develop professional skills;
offer resources on healthy study habits;
improve students' CAD, writing, and analytical abilities; and,
connect students to existing resources on UPEI's campus.
Essentially, the centre seeks to supplement any gaps in student knowledge between what students know and what instructors think students know. This centre works with instructors and students to identify the gaps in knowledge. If there is a specific topic of interest, please reach out to us through email: EngSuccess@upei.ca
Ways to connect
Visit us in Room 107 of the Faculty of Sustainable Design Engineering building during the following hours:
Monday: 12:25 pm–2:25 pm
Tuesday: 10:00 am–5:30 pm
Wednesday: 9:00 am–5:30 pm
Thursday: 10:00 am–5:30 pm
Friday: 9:30 am–5:30 pm
For resources, hours, or to book a consultation, go to our webpage or the Engineering Success Centre Moodle page.
Connect with us on Instagram
Connect with us on YouTube
---
Have any questions? Ask us!
Have ideas for workshops? Let us know!
Need help? Contact us!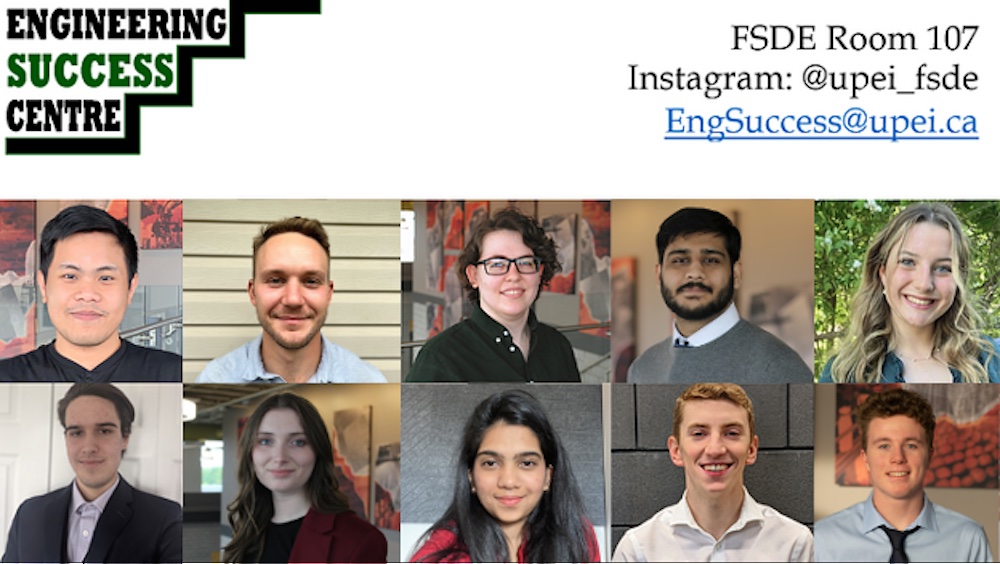 Success Centre Associates
Meet the students working in the Engineering Success Centre
Zac Mella
Student Success Associate and FSDE First-year Student
Rebecca MacIntyre
Student Success Associate and FSDE Fifth-year Student
Dhruvil Kanani 
Student Success Associate and FSDE Fourth-year Student
Lilly O'Rielly 
Student Success Associate and FSDE Second-year Student
Berry Genge
Student Success Associate and FSDE Fourth-year Student
Matthew Hutchison 
Student Success Associate and FSDE Fourth-year Student
Priya Darshinee Succaram 
Student Success Associate and FSDE Third-year Student
Luke McCarvill 
Student Success Associate and FSDE Fifth-year Student
Jimmy Hulton
Student Success Associate and FSDE Second-year Student
Tin Nguyen
Success Centre Coordinator