UPEI's Faculty of Sustainable Design Engineering is housed in a cutting-edge 78,000 square-foot facility specifically designed to foster innovation, entrepreneurship, and industry–university collaboration. The groundbreaking ceremony was held in December 2014 and the new building was officially opened less than two years later, in August 2016.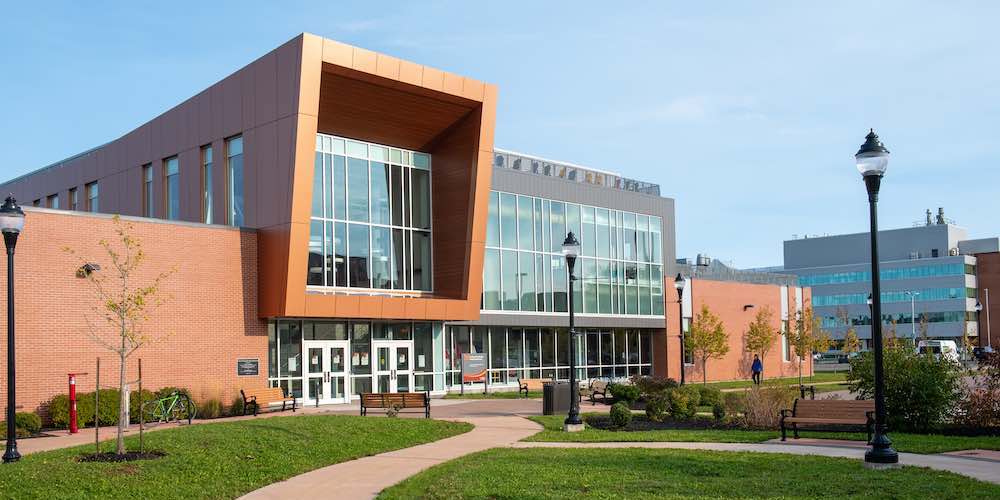 The building contains five Research Centres of Excellence, which are multi-user lab spaces that support industry-relevant research in Engineering.
Robotics and Industrial Automation: Has equipment for studying automation and mechatronic applications, including machine vision and motion capture.
Sustainable Energy: Contains infrastructure and equipment for studying energy generation from renewable sources, energy storage and energy efficiency.
Bioresources: Supports research around the conversion of low value biomass to high value bioproducts, as well as the efficient use of resources in agriculture.
Sensors, Optics, and Imaging: Contains infrastructure and equipment for investigating the use of sensors in a variety of industrial applications. 
Advanced Manufacturing: Includes the Additive Manufacturing Lab and Machine Shop, which allow for prototyping and fabrication of parts and products. The Additive Manufacturing Lab is equipped with a new EOS M100 Direct Metal Laser Sintering (DMLS) system with the capability of "printing" precision metal parts. This is in addition to the state-of-the-art Fused Deposition Modeling (FDM) printers available for printing polymer components. The Machine Shop has general fabrication equipment such as a CNC milling machine, manual milling machine, industrial lathe, industrial welding and water jet cutter.
 
Learning spaces in the FSDE Building

Designed to enhance the student-learning experience, the building represents a move away from the traditional classroom and includes design studios, ideation spaces, state-of-the-art assembly labs, and a design competition centre.
Individual project bays support our team-focused, project-based approach to engineering education and immerse students in a realistic engineering design environment.
Day-to-day operations are managed by the Manager of Operations and supported by Project Coordinators and technicians with industry experience in areas such as 3D printing, machining, and mechatronics.
---
How to start working with the Centres
Industry and other external organizations: Please contact a member of our Industry Partnership Group.
UPEI faculty: If you are planning a research project that may need to access resources associated with the Centres (e.g., space, equipment, technical support), please fill out this Resource Request Form for Research Projects. (This normally takes about 15-20 minutes to complete and should be done when the proposal is being prepared. It's a longer term planning tool.)
UPEI faculty, staff and students: To submit a work request for something you know needs to be done in the near future, please fill out this Work Request Form.
UPEI users can access the Guidelines on Access to Resources Associated with Research Centres of Excellence for further information.
Contact: