Many survivors of sexual violence first seek guidance and support from friends, family, and partners. Your supportive response to their disclosure has the power to promote healing. You do not need to be an expert to be helpful, but learning more can empower you to offer the best support possible!
How to Respond to a Disclosure of Sexual Violence
Be their ANCHOR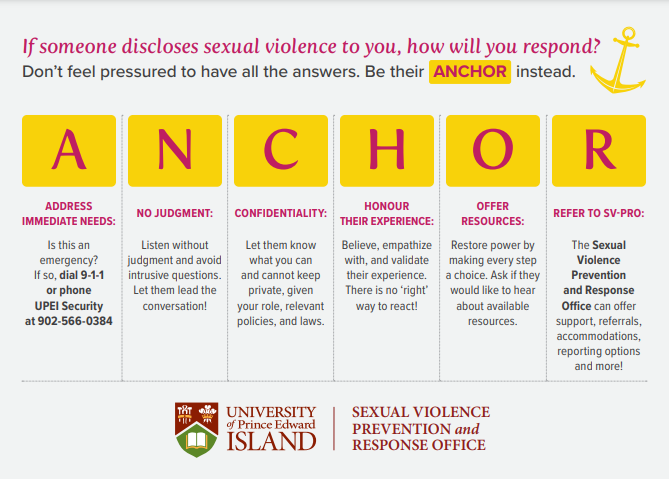 A – Address Immediate Needs: Is this an emergency situation where someone's safety is at risk? If so, contact local emergency services or UPEI Security: 911, 902-566-0384, security@upei.ca
N – No Judgment: Listen without judgment. Avoid intrusive questioning; avoid questioning their actions as it can make them feel that they were responsible for what happened.
C – Confidentiality: Explain the limits of confidentiality so that they understand under what circumstances the information they disclosed will be shared.  For more information contact the Sexual Violence Prevention and Response Office (SV-PRO)
H – Honour their Experience: Believe, empathize and validate their experience. There is no 'right' way to react to sexual violence. A validating response has the power to promote healing.
O – Offer Resources: Ask if they are open to hearing about on and off-campus resources that they could access if they choose.
R – Refer to SV-PRO: Empower them to contact the SV-PRO for support, resources, accommodations, and information about reporting options!
Sexual Violence Prevention and Response Office
Room 117A, Kelley Memorial Building, UPEI,
sv-pro@upei.ca, 902-620-5090
---
Resources for Friends / Family / Partners
---
Become a Prosocial Bystander

We can all play a role in ending sexual violence on campus!