Your search has returned no results.
The Bachelor of Science (BSc) in Paramedicine combines occupational content provided by the Paramedicine Diploma programs at Holland College (or any two-year CMA-accredited paramedicine program) with foundational science courses, senior specialized courses in the life sciences, and advanced capstone paramedicine courses at the University of Prince Edward Island.
It is designed for paramedics interested in enhancing their science knowledge as well as their research and communication skills, thus increasing access to post-graduate opportunities (e.g., Master's degree programs) and improving job prospects. 
The future of paramedicine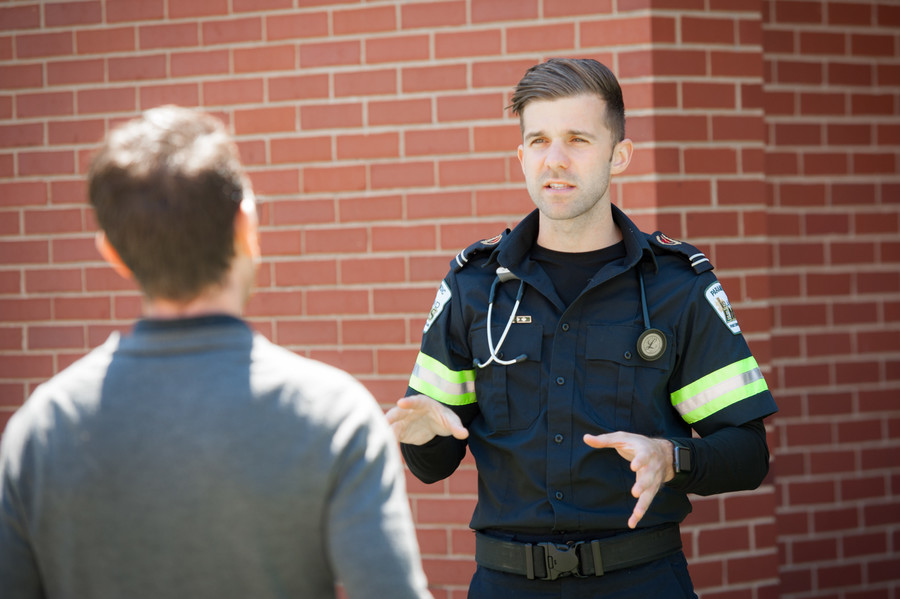 Success Story
UPEI's new Bachelor of Science in Paramedicine program offers a path for college paramedicine diploma graduates.
Find out how Kensington, PEI's Mike Hannah is embracing the future of paramedicine at UPEI.
While at UPEI, paramedics in the BSc. program will take 20 courses. Of these, 15 are required (core) courses and the rest will be electives. The core courses will primarily be in Biology, with four advanced courses in Paramedicine: 
3 first year courses: First Year Experience, Introductory Biology I (Introduction to Cell & Molecular Biology), Introductory Chemistry I (General Chemistry I);
5 second year courses: Cell Biology, Microbiology, Human Genetics, Human Biochemistry, Introductory Statistics or Introduction to Probability and Statistics
2 third year courses: Research Methods & Communications, Medical Microbiology; and
5 fourth year courses: Basic & Clinical Immunology or Medical Biology; Health Promotion, Planning & Evaluation; Disaster Medicine & Crisis Response; Critical Appraisal of Health Care Literature in the Acute Care Environment; and Current Issues in Paramedicine. 
Paramedics will take five elective courses to complete this program. Two of these electives must be from Science (Chemistry, Nutrition, Kinesiology or Physics) or Social Science areas (Business, Psychology or Philosophy). 
Students with a CGPA of 3.0 in second year may apply to complete an Honours thesis and enrol in Paramedicine 4900 - Honours Thesis in Paramedicine.
Course sequence
Year 1
Biology 1310 (Introduction to Cell and Molecular Biology)
Biology 2060 (Microbiology)
Biology 2210 (Cell Biology)
Biology 2240 (Human Genetics)
Biology 2250 (Human Biochemistry)
Chemistry 1110 (General Chemistry I)
Paramedicine 4010 (Health Promotion, Planning and Evaluation)
UPEI 1010/1020/1030 (First Year Experience)
2 Electives (recommended from the list below)
Year 2    
Biology 3310 (Research Methods and Communications in Biology)
Biology 3750 (Medical Microbiology)
Biology 4050 (Medical Biology) OR 4750 (Basic and Clinical Immunology)
Paramedicine 4020 (Disaster Medicine and Crisis Response)
Paramedicine 4030 (Critical Appraisal of Health Care Literature in the Acute Care Environment)
Paramedicine 4040 (Current Issues in Paramedicine)
Statistics 1210 (Introductory Statistics) OR 1910 (Introduction to Probability and Statistics)
2 Electives or Paramedicine 4900 (Honours Research and Thesis)
One final Elective
Electives
Students complete the degree requirements by choosing five electives. Two electives must be from one of the Sciences or Social Sciences/Humanities listed below. Students are encouraged to take two electives from the same discipline (e.g., Psych 1010 and 1020) as these are set up to be taught in the first and second semesters, and sometimes summer. It will also make it easier to get into electives in the same discipline the following year. NOTE: Students may also register for Paramedicine 4900 (Honours Thesis in Paramedicine) in which case they would need two fewer electives in their second year and then they may graduate with an Honours degree.
Students must take a minimum of two of these courses. NOTE: Some courses have pre-requisites.
Business 1010 - Introduction to Business
Business 1710 - Organizational Behaviour
Biology 1320 - Introduction to Organisms
Chemistry 1120 - General Chemistry II
Chemistry 2430 - Organic Chemistry
Foods and Nutrition 1010 - Concepts and Controversies in Nutrition
Foods and Nutrition 2110 - Introductory Nutrition I 
Foods and Nutrition 2120 - Introductory Nutrition II
Kinesiology 1010 - Introduction to Kinesiology
Philosophy 1050 - Technology, Values, and Science
Philosophy 1110 - Critical Thinking
Physics 1210 - Physics for Life Sciences I
Physics 1220 - Physics for Life Sciences II
Psychology 1010 -  Introduction to Psychology I
Psychology 1020 - Introduction to Psychology II
What's Required for Paramedicine Admission?
This is an articulated Bachelor of Science degree and requires two years of paramedicine training from an accredited college program.
Holland College students with diplomas in Basic Paramedicine or Advanced Paramedicine and students from other institutions with equivalent academic requirements to get their Diploma in Paramedicine may also be eligible to enrol in the Bachelor of Science in Paramedicine program at UPEI.
All applicants must achieve a minimum grade of 70% in their diploma program to be eligible to apply to the degree program. 
Refer to the Specific Program Admission Requirements in the UPEI Academic Calendar for more information.
Your mentors. Our professors.
UPEI has about 250 faculty members—exceptional scholars, teachers, and mentors, with more being hired each year as we open new, progressive, and unique programs. But the story isn't just in the numbers. It's in the quality of our people. Award-winning faculty from around the globe have made UPEI home. Here, you'll learn directly from these world-class professors and researchers in small classes where you'll have easy access to them.
Faculty of Science Programs Tuition
UPEI's undergraduate tuition is the second-lowest in the Atlantic region, and we offer millions of dollars in scholarships and awards. 
Tuition
$6,390 per year, based on 30 credit hours ($639 per 3 credit course).
International students pay $7,470 per year in addition to full-time student tuition.
For a complete breakdown of part-time or full-time study as a student in the Faculty of Science, visit our Tuition and Fees page.
Scholarships and Awards
UPEI supports you and your educational goals. We administer millions of dollars in scholarships and awards to our undergraduate and graduate students every year. Depending on your faculty or program, and year of study, you may be eligible for available awards.
Search the complete list of scholarships for information and application forms. 
Celebrating Student Achievement
Including Guaranteed Entrance Scholarships and Academic Excellence Awards, these awards recognize the academic achievements of all students who meet the eligibility criteria while studying towards their first undergraduate degree.
Visit the Scholarships site for complete information.