Canadian Association of Emergency Physicians honours Dr. Trevor Jain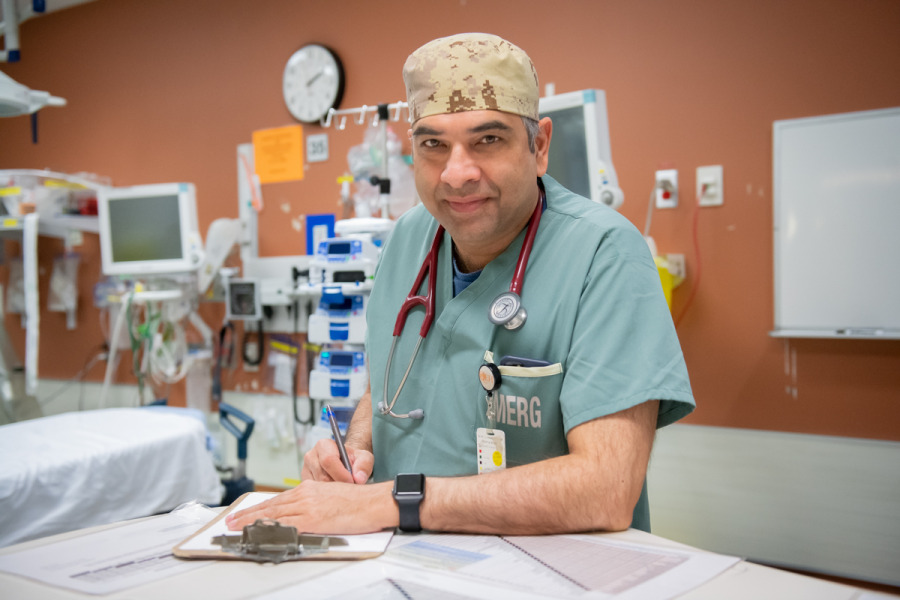 Dr. Trevor Jain, director of UPEI's Bachelor of Science in Paramedicine program, is the recipient of the Canadian Association of Emergency Physicians' (CAEP) 2023 Emergency Physician of the Year (East-Urban) Award and the 2023 Dr. Alan Drummond Advocacy Award. Dr. Jain was presented with the awards at the annual CAEP conference in Toronto, Ontario, in late May.
The Emergency Physician of the Year Award recognizes outstanding contributions in one or more of the following areas in emergency medicine in the last 24 months: patient care and community service, hospital or health care administration, and CAEP activities.
The Dr. Alan Drummond Advocacy Award recognizes an individual who has demonstrated exemplary leadership and commitment to the cause of advancing emergency medicine at the regional, national, or international level through advocacy efforts. Dr. Drummond is a renowned emergency medicine advocate for whom the award is named.
Dr. Drummond, whom Dr. Jain considers a mentor, congratulated him in a Twitter post:
"I am particularly pleased and honoured to see that Dr. Trevor Jain is this year's recipient.... He exemplifies the role of physician as advocate…."
Dr. Greg Naterer, vice-president academic and research at UPEI, also congratulated Dr. Jain on winning the award.
"Dr. Jain is most deserving of this award for his dedication to, and advocacy work on behalf of, emergency medicine and for sharing his knowledge with the broader community."
Dr. Jain is a disaster medicine expert and has been featured in two books on leadership and teamwork. In the early days of the COVID-19 pandemic, he was asked to visit various areas of the Queen Elizabeth Hospital to reduce people's fears and talk with them about their anxiety and concerns. Eventually, these coffee talks became so popular that different units asked him to visit them. He was appointed the disaster medicine consultant for the Department of Health and was tasked with helping to prepare the provincial referral centre for an influx of patients, which he accomplished in just seven days.
He was later appointed to advise the Emergency Operations Centre for Health PEI. He is a regular guest on CBC Compass where he shares his medical knowledge with the public. During the COVID-19 pandemic, he created the COVID Warrior Coin Award to thank people who have done amazing things for PEI. 
He is a 34-year veteran and lieutenant colonel in the Canadian Armed Forces. He is currently completing a PhD in disaster medicine at the University of Brussels and continues to serve in the army as the 36th Canadian Brigade Group Surgeon. He continues to work in the Queen Elizabeth Hospital's emergency department and teach paramedicine, and is serving as director of clinical programs/physician engagement for the new Faculty of Medicine at UPEI.