"The entire UPEI community was the glue that held me together"
Han Xu reflects on the relationships that helped her earn her Master of Education
Jan 27, 2021 | Success Story
By Dave Atkinson
Han Xu has come a long way from her home in rural China. Today, she's pursuing her PhD in Education at Queens University. Looking back on her journey, she points to the University of Prince Edward Island as one of the most important steps along the way.
"When reflecting back, the entire UPEI community was the glue that held me together," says Han. "I am very thankful to UPEI. I came from a small town in rural China. I wasn't a particularly strong student, but I was a hard worker. After getting an undergraduate degree in China, I worked as an agent where I learned a lot about the business of recruiting students to attend universities in North America. After working there for two years, I decided that I also wanted to study overseas."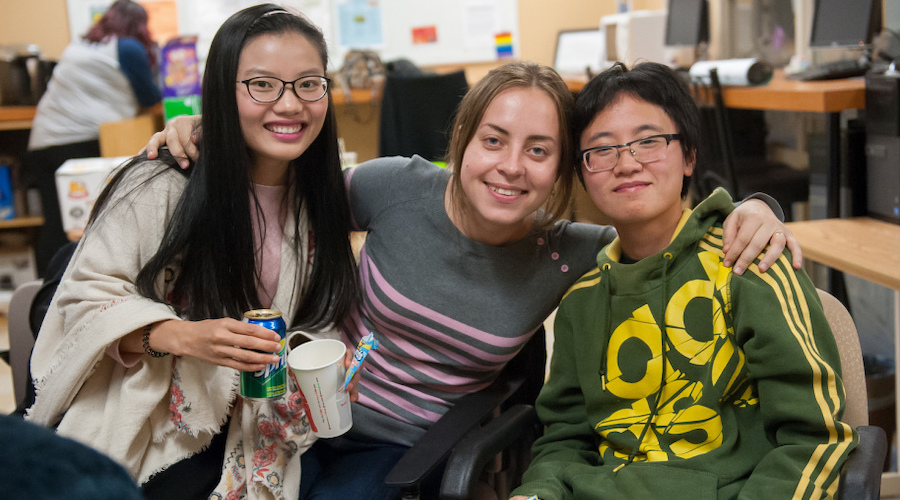 Han applied to and was accepted to Algonquin College in Ontario, where she earned a certificate as a teacher of second languages. But Han was looking for more. She came to UPEI to work on her Master of Education degree. It wasn't always easy.
"Being a non-native [English] speaker and coming from a different culture definitely set me back more than I expected," she remembers. "I was very nervous when speaking in public, which didn't help me in class. Finances have also been a bit of a struggle for me. Everything in Canada seems so expensive compared to China. I was always worried about budgeting my money to pay rent, tuition, and groceries. As you can imagine, I was really excited when I received my first contract with Dr. Miller as her research assistant."
Dr. Tess Miller is an associate professor in UPEI's Faculty of Education. She remembers very well when she first encountered this hard-working student.
"I met Han a couple years ago when I was looking for a research assistant," says Miller. "She stepped into the job and was an immediate success because I could rely on her to do the work and to do it well. Han is highly competent and thorough in her work. She is dedicated to her academic pursuits, and she is also involved in the UPEI student community and has met many students in other faculties. She has a good balance of academic and community involvement."
With Dr. Miller's help, Han found her home in the Faculty of Education. Her hard work, plus a nurturing environment with Dr. Miller's guidance, launched her in the right direction.
"I can't thank Dr. Miller enough for her help with my English speaking and writing," says Han. "We spent many hours reading my writing aloud to help me develop flow and structure. Dr. Miller also directed me to apply for all kinds of scholarships and part-time student positions on campus and helped me improve my CV. I was awarded five scholarships and was hired for several contracts as a student assistant and a research assistant, which was a tremendous help academically as well as financially. I should also add that the UPEI library computer rental program was a lifesaver when my laptop broke, and the Chaplaincy Centre's Soup for the Soul and food bank programs were there when I needed them."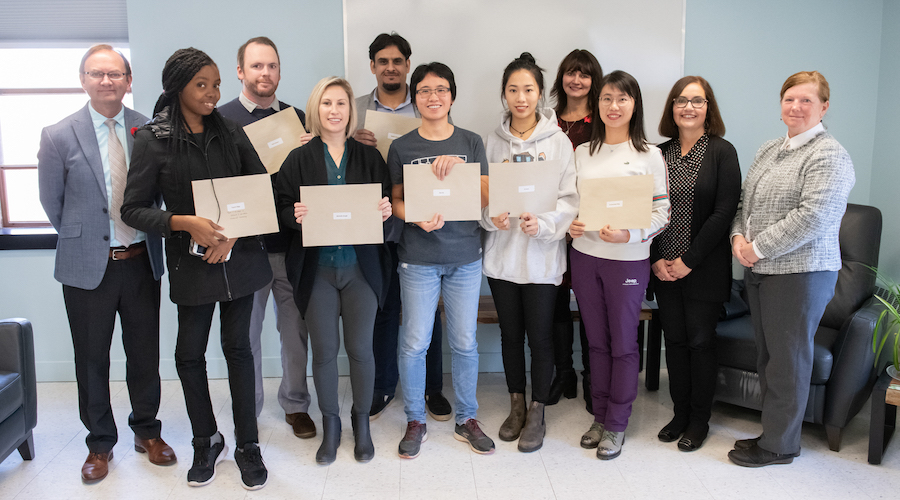 When Han needed a subject for her master's thesis, she did not have to look any further than her own past. Before coming to Canada, she had worked in China as part of a recruitment agency for North American universities.
"My work is focused on international students' perceptions and experiences with education agents—third-party recruiters," explains Han. "The agent business has been growing as the international student market grows. Agents can be hired by either students or the universities, but since there is no regulatory framework, there are a lot of unethical practices—some might even call it fraud and double-dipping— where the agent bills the student and the university for the same work."
In addition to her thesis, Han co-authored two papers with her supervisor. Dr. Miller calls theirs a model instructor-student relationship.
"I supported her research by guiding her thesis work, reading and editing drafts of her thesis and papers for publication, encouraging her to apply for awards and scholarships, and encouraging her to be a leader in the graduate student community," says Dr. Miller. "In return, she supported my research. I invited her to be a research partner on the studies I was undertaking, which involved assisting with data collection and analysis, reading and editing my work, and attending professional development sessions with me. It was a very much a reciprocal relationship in which we both came out winners."
Han agrees.
"I wouldn't be where I am today if I didn't have Dr. Miller to provide the mentorship, research opportunities, and connection to Queen's University. It was a lot of learning and hard work, but it paid off. I am now on a full PhD scholarship at Queen's University. I probably have a lot more things to thank Dr. Miller for that I won't realize until the years ahead when I reflect on a discussion or research task I worked on. We still keep in touch. She is still available to write letters of reference and offer advice when I need it."
The fruits of this student-instructor relationship will last long into the future. Dr. Miller sees nothing but a bright future for Han, and she's proud to have played a part.
"When Han finishes her PhD work, she will be quickly recruited by a university," predicts Dr. Miller. "She understands the complexity of recruiting from a domestic and international perspective. She'll go far."