UPEI alive with excitement during first in-person Convocation in two years
Congratulations, Class of 2022!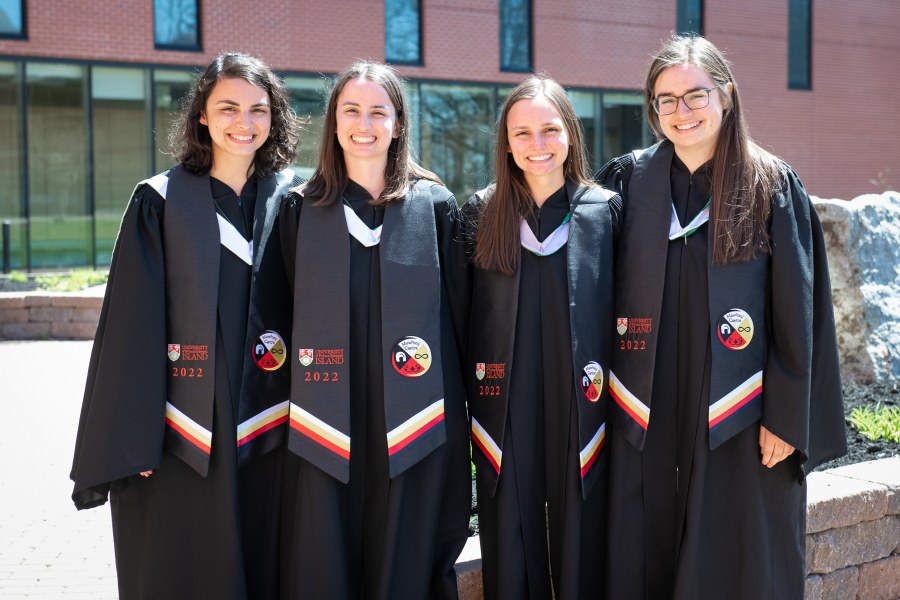 The excitement was palpable at the University of Prince Edward Island this past week when the Class of 2022 graduated with their undergraduate and graduate degrees.
Convocation Week 2022 held several "firsts" for the University: this was the first time in two years that UPEI held in-person Convocation because of the COVID-19 pandemic; the first time that Convocation celebrations took place over four days instead of one or two days; and the first time that Indigenous graduates were presented with keepsake stoles, designed by Mi'kmaq artisan and UPEI employee Corinne Chappell, that they wore at their graduation ceremonies.
The Convocation ceremonies took place in the UPEI Chi-Wan Young Sports Centre on May 10 for graduates of the faculties of Veterinary Medicine and Nursing; on May 11 for the faculties of Business and Sustainable Design Engineering; on May 12 for the faculties of Arts, Education, and Graduate Studies; and on May 13 for the Faculty of Science.
Receiving honorary degrees during Convocation were the Honourable H. Frank Lewis, former lieutenant governor of PEI; J. Gordon MacKay, QC; Frances McBurnie, pianist and music teacher; and Marylou N. Hughes, audiologist. The valedictorians were Dr. Rosalie O'Hara, Doctor of Veterinary Medicine; Tolulope Oginni, Bachelor of Business Administration; Issabella Afi Ahadzi, Bachelor of Arts in Political Science; and Amirah Oyesegun, Bachelor of Science in Foods and Nutrition. 
In his address to the graduates, Dr. Greg Keefe, President and Vice-Chancellor (interim), reflected on the University's journey toward reconciliation and the indigenization of the campus. He noted some recent developments along that journey, including creation of the new Faculty of Indigenous Knowledge, Education, Research, and Applied Studies; the erection of a tipi on the campus; and the offering of the faculty's first course, "Indigenous Teachings," which will be mandatory for all undergraduate students in the fall.
"And, speaking of journeys, who would have believed that two years ago in March, UPEI would announce that because of COVID-19, in-person classes would be suspended, and words like social distancing, mandatory masks, hand sanitizer, Zoom, asynchronous, hybrid, lockdowns, circuit breakers, and so many more connected to the pandemic would become part of our daily vernacular."
He praised the graduates for their resilience, poise, and flexibility in the face of the unique challenges presented by the pandemic. 
"Graduates, you have made all of us very proud. When you joined the Panther community, you could not have envisioned that you would be completing your degree requirements in the throes of a global pandemic. And yet—despite the challenges—you adapted. Amid the uncertainty, you persevered. And through it all, you showed an exceptional capacity for… resilience."
He urged the graduates to "stay bold in your pursuits, but humble in your accomplishments; stay resilient in the face of challenges, but firm in your core values; and finally, please stay connected with your Panther for Life family, a family of more than 26,000 alumni from around the world."
Each of the valedictorians also spoke about the challenges their fellow graduates faced and the resilience they showed as they strove to complete their education during the pandemic. They also stressed the need to be kind, encouraging, and respectful to others; to have courage and persevere in the face of obstacles; and to build and maintain personal and community relationships in their lives. 
"Graduates, let us meet our next set of challenges together, with the support of community," said Oyesegun at the final ceremony for 2022 held on May 13. "And let us strengthen community so that it can also help others reach new heights.… There are many complex and unjust challenges awaiting us. Only through love and community will we get through difficult times together. Let us not leave anyone behind. Let us spread our light and inspire others to do the same."
During Convocation Week, the senior class awards were presented to graduates. Dr. Deepmala Agarwal, Master of Science in Veterinary Medicine, was awarded the Governor General's Medal (Graduate) and the Faculty of Graduate Studies Award of Distinction. Grace Burns, Bachelor of Science (Biology), won the Governor General's Medal (Undergraduate). Click here to view the complete list of awards.