Atlantic Veterinary College celebrates 77 new graduates
The Atlantic Veterinary College welcomed 69 new doctor of veterinary medicine, and three master of science in veterinary medicine, one master of veterinary science, and four doctor of philosophy graduates to our alumni community.
| Atlantic Veterinary College
Rachel Cutcliffe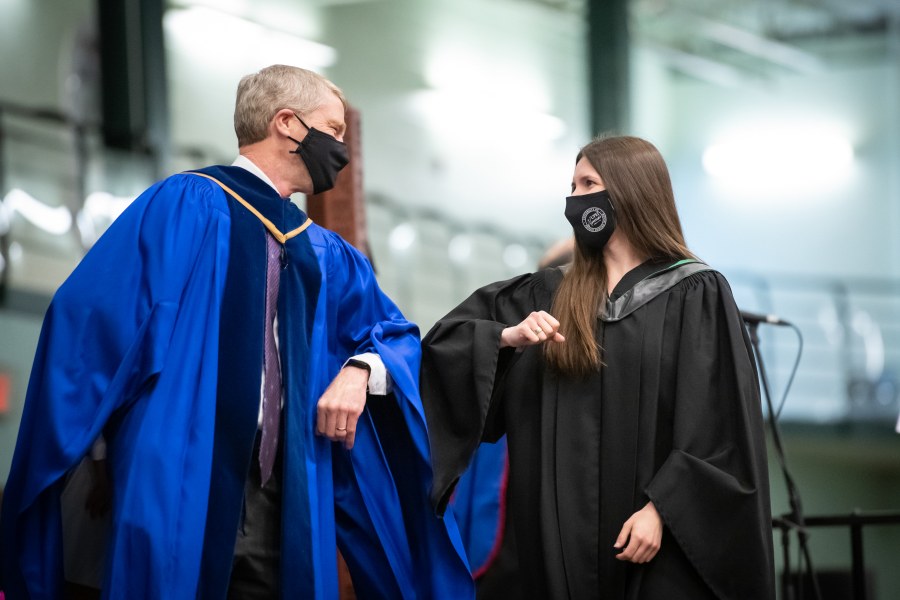 The Atlantic Veterinary College (AVC) at the University of Prince Edward Island (UPEI) celebrated 77 new graduates during the University's 2022 Convocation festivities.
White Coat Ceremony and Awards Night
On Monday, May 9, 69 doctor of veterinary medicine (DVM) graduates celebrated their entry into the profession during the AVC White Coat Ceremony and Awards Night. Members of the Class of 2022 received white lab coats monogrammed with their names that were presented by their family, friends, and supporters before an audience of 400 invited guests. The white coat presentation symbolizes their transition from students to veterinary professionals and is one of the most meaningful events of the year.
During the ceremony, almost 50 awards were presented to graduates, ranging from class spirit and leadership awards to recognition for academic performance and skill competencies. Emceed by Drs. Russell Fraser and Shannon Martinson, awards were presented by AVC faculty members as well as Richard and Donna Hassard, Kevin and Cheryl Jewell, Brian and Sherry Pound, Carol Wood-Fecteau, and David Jones, all valued AVC supporters and donors. To cap the evening's awards, Dr. Ruth Gravel won the prestigious R.G. Thomson Academic Achievement for the highest cumulative grade average for all courses taken during the four-year program.
"The Class of 2022 has overcome great adversity and challenges throughout their academic journey at AVC," says Dr. John VanLeeuwen, interim dean, AVC. "They have shown a great deal of resilience and versatility that will serve them well throughout their careers. I am confident they will go on to do great things in veterinary medicine around the world."
As a departing gift, the Class of 2022 donated anti-fatigue mats for AVC's junior surgery program.
UPEI Convocation Ceremony
AVC welcomed 77 new graduates into our alumni community during UPEI's Convocation Ceremony. In addition to the 69 DVM graduates, UPEI conferred degrees for three master of science (MSc) in veterinary medicine, one master of veterinary science, and four doctor of philosophy graduates.
Dr. Rosalie O'Hara, DVM graduate, served as the valedictorian for the Faculty of Veterinary Medicine and issued the following advice for her graduating class:
"When we inevitably fail, no matter where and how hard, we should allow our actions to be driven by what we love instead of what we fear, and slowly, things will fall into place."
UPEI also presented the Governor General's Medal (Graduate) and the UPEI Faculty of Graduate Studies Award of Distinction to Dr. Deepmala Agarwal, MSc in veterinary medicine graduate, during convocation. These awards are given to a graduate student who has achieved the highest academic standing in a combination of course work and thesis, and whose record in the program is so distinguished that it warrants special recognition.
"Dr. Agarwal is a highly productive and distinguished graduate," says VanLeeuwen. "She has demonstrated exemplary academic excellence during her research program and, through her research, has made impacts on both veterinary and human medicine. We are incredibly proud to call her a graduate of AVC and are excited to see what she will do in the future."
A full list of the graduating class of 2022 can be found here. 
A full list of award winners can be found here. 
Media Contact
External Engagement Officer
Atlantic Veterinary College