Your search has returned no results.
Professional, rewarding, and challenging
Since 1992, The Faculty of Nursing at the University of Prince Edward island has fostered an interactive academic environment that prepares nursing students to become critically reflective practitioners, advocates, educators, and professional leaders grounded in the principles of primary health care.
The curriculum of the Faculty of Nursing is based on the concepts and principles of Primary Health Care. Primary Health Care is defined by the World Health Organization (1978) as "essential health care made universally accessible to individuals and families in the community by means acceptable to them, through their full participation and at a cost that the community and country can afford." The purpose of the program is to prepare nurses to practice according to the concepts and principles of Primary Health Care.
In keeping with the basis of Primary Health Care, nurses collaborate with clients, other health care providers, and people from other sectors of society in promoting health. Nursing roles range from direct caregiver to formulator of healthy public policy and include advocate, leader, educator, researcher, and program developer.
A better fit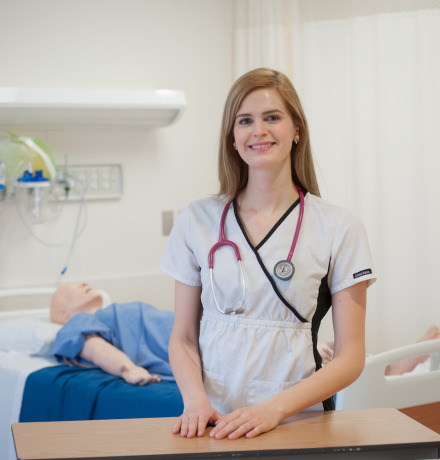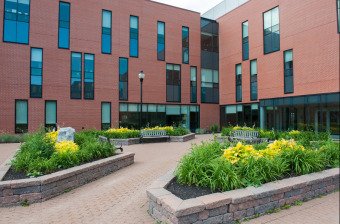 Professional, rewarding, and challenging
Erica Buchanan started her postsecondary education at a university with more than 30,000 other students. But after four years of undergraduate training, she wanted something different for her nursing degree, and she found that at UPEI.
Year 1
BIO 1060 (formerly VPM 101) - Introductory Microbiology for Health Sciences
BIO 1210 – Human Anatomy and Physiology I
BIO 1220 – Human Anatomy and Physiology II
NURS 1010 – Foundations of Nursing I
NURS 1020 – Foundations of Nursing II
FN 1020 – Nutrition for Nursing Practice
PSY 1010 – Introduction to Psychology I
PSY 1020 – Introduction to Psychology II
Electives (see notes)
Year 2
Either PSY 2010 – Developmental Psychology OR
FS 2410 – Human Development
NURS 2120 (formerly VBS 212) – Pathophysiology for Nursing Students
NURS 2030 – Health Assessment
NURS 2130 – Nursing of Young Families
NURS 2230 – Adult Nursing Transitions in Health 
NURS 2320 – Introductory Pharmacology
Electives (see notes)
Year 3
NURS 3030 – Issues in Nursing and Health Care
NURS 3040 – Nursing Research Methods
NURS 3050 – Health Teaching
NURS 3060 – Nursing of the Childbearing Family
NURS 3130 – Developing Partnerships with Clients in the Community
NURS 3230 – Partnerships with Clients and Families Living with Chronic Illness
Electives (see notes)
Spring Session
NURS 3100 - Integrated Clinical Experience I
Year 4
NURS 4010 - Nursing and Population Health
NURS 4020 -  Integrated Clinical Experience II
NURS 4030 - Nursing Leadership and Primary Health Care
NURS 4040 - Conceptual Models and Nursing Theories
1 Elective (see note)
Note:
Within their electives, students will be required to complete the following semester hours of credit:
a) One of UPEI 1010, UPEI 1020, or UPEI 1030 and one writing intensive course; b) 3 semester hours in statistics
Students will then be free to choose their remaining 9 semester hours of electives keeping in mind that no more than forty-eight (48) semester hours of credit may be taken at the introductory level in the degree program.
For course descriptions of BIO 1060, BIO 1210 and BIO 1220, see Biology
For course descriptions of PSY 1010, PSY 1020 and PSY 2010, see Psychology
For course description FN 1020, see Applied Human Sciences
For course description VBS 2120, see Veterinary Medicine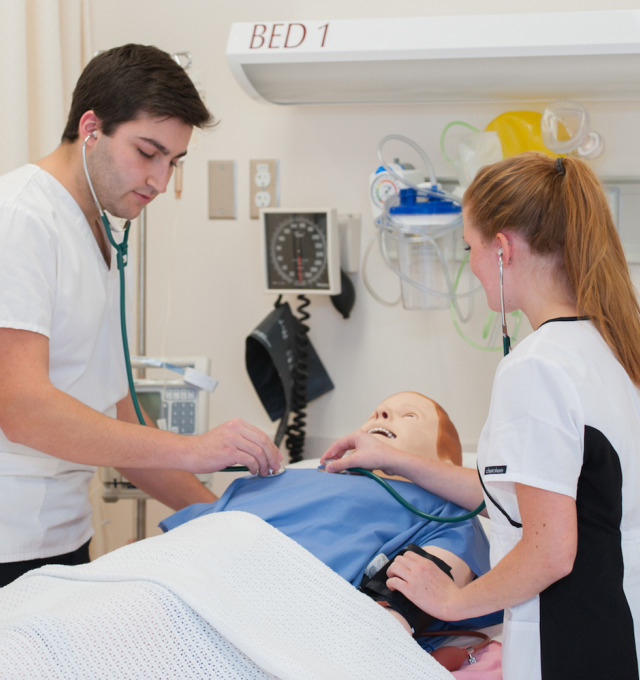 What's Required for Nursing Admission?
The Bachelor of Science in Nursing (BScN) is a four-year program. Graduates are eligible to write licensure examinations to practice nursing, and to hold membership in the College of Registered Nurses of Prince Edward Island.
Admission Requirements
High School Applicant
A high school applicant must have achieved a mark of at least 65% in each of the following academic courses: English, Mathematics, Chemistry, Biology and one other grade 12 academic course, with an overall average in these courses of at least 70%.
University Applicant
Applicants attending or having attended a University must meet the same requirements as listed above but can also complete the course requirements by taking degree level courses. A minimum mark of 60% is required in degree level courses.
Mature Applicant
In addition to the general admission requirements for mature students, the following regulations apply: a student of mature years may be admitted to the Faculty of Nursing without fulfilling all the entrance requirements specified for the high school graduates. A mature applicant must have achieved a mark of 65% in each of Grade 12 academic English, Mathematics, Chemistry, and Biology or a mark of 60% for 3 semester hours in the same subjects at the university level.
Selection criteria
The total number of students admitted will be limited in accordance with facilities and resources on campus and in health care agencies.
Approximately sixty-four (64) seats are available in the four year Nursing Program each year. All students who meet the minimum requirements will be considered. Eligible first year candidates are ranked on their average in Biology, Chemistry, English and Math. University Applicants completing one or more of the core courses listed above will have 15% added to each university course for ranking purposes. University applicants must be in good academic standing, as defined in the UPEI calendar.
Offers to the highest ranked may take place at any time during the process. For applicants completing prerequisite requirements, offers will take place after first semester grades have been received. All first round offers will be made by April. A second round of offers is made in May, with the number depending upon first round acceptances. Finally, a third round of offers is made in July for any seats that are still available. Late offers of a seat to the program will be made to the highest ranked alternate if and when a seat becomes available.
Please refer to the UPEI Academic Calendar for complete admissions information.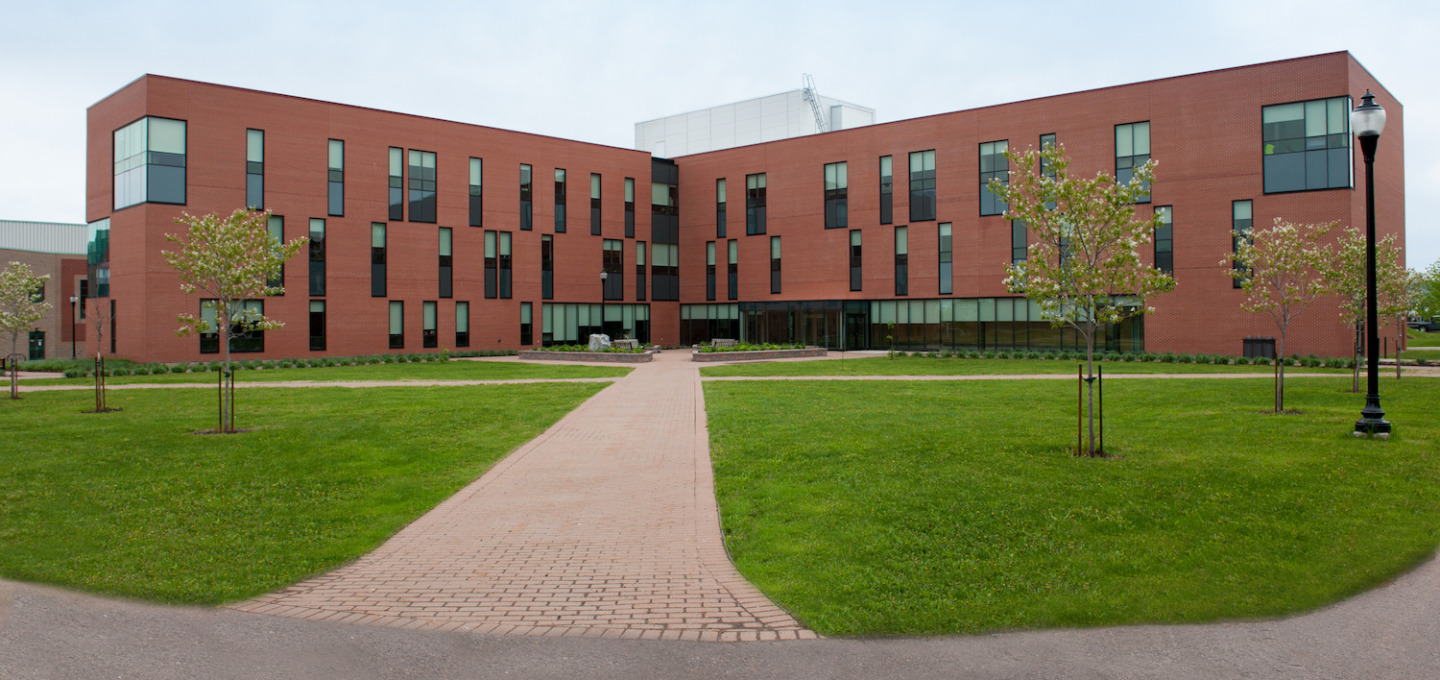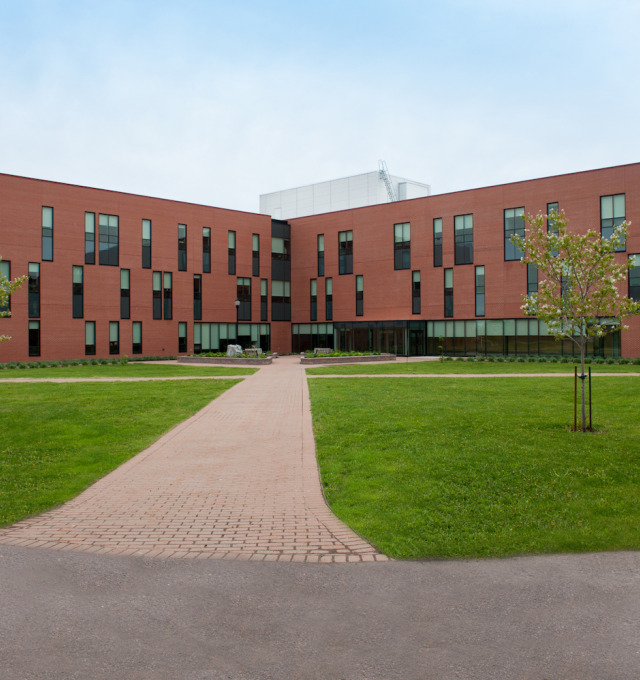 UPEI's undergraduate tuition is the second-lowest in the Atlantic region, and we offer more than $5 million in scholarships and awards.
Faculty of Nursing Programs Tuition
Tuition
$6,270 per year, based on 15 credit hours ($627 per 3 credit course).
International students pay $7,320 per year in addition to full-time student tuition.
For a complete breakdown of part-time or full-time study as a student in the Faculty of Arts, visit our Tuition and Fees page.
Scholarships and Awards
UPEI supports you and your educational goals. We administer millions of dollars in scholarships and awards to our undergraduate and graduate students every year. Depending on your faculty or program, and year of study, you may be eligible for available awards.
Search the complete list of scholarships for information and application forms.  
Celebrating Student Achievement
Including Guaranteed Entrance Scholarships and Academic Excellence Awards, these awards recognize the academic achievements of all students who meet the eligibility criteria while studying towards their first undergraduate degree.
Visit the Scholarships site for complete information.
Your mentors. Our professors.
UPEI has about 250 faculty—exceptional scholars, teachers, and mentors, with more being hired each year as we open new, progressive, and unique programs. But the story isn't just in the numbers. It's in the quality of our people. Award-winning faculty from around the globe have made UPEI home. Here, you'll learn directly from these world-class professors and researchers in small classes where you'll have easy access to them.
Not quite the program for you?