Message from the President: Welcome to the 2023–2024 academic year!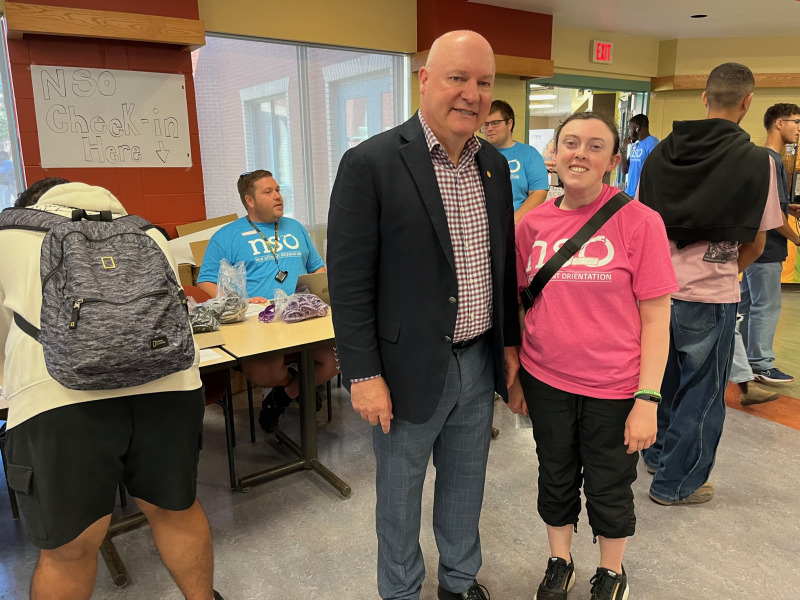 The following message was distributed to students, faculty, and staff by email on September 6, 2023.
Dear Students, Staff, and Faculty,
Welcome to the University of Prince Edward Island for the 2023–2024 academic year. Whether you are new or returning to campus as a student, faculty, or staff member, fall is always an exciting time at UPEI, filled with promise and possibility.
This September, in particular, brings a renewed sense of optimism. Despite the challenges the University has faced, I feel hopeful when I look at how our community has come together to join the Recruitment and First-Year Advisement team in welcoming our incoming class.
I had the opportunity to drop by the New Student Orientation (NSO) check-in, parent/family information sessions, and student services fair last Friday. The excitement was contagious! Thank you to recent graduates and NSO coordinators Chloe MacAdam and Obed Oluwakoya for leading these orientation activities, which continue through to September 9. They are part of the collective effort that will ensure our new students have a successful start to their university journey.
I thank our new students for choosing UPEI, and our returning students—who have persevered through a pandemic, hurricane, and labour disruption—for continuing to choose UPEI. I also thank faculty and staff for choosing to work at the University so that we can all play our part in seeing the next generation thrive.
Yesterday, I was fortunate to attend the inaugural Shannon K. Murray Lecture on Hope and the Academy. Dr. Shannon Murray is an award-winning professor of English at UPEI whose scholarly passions include the work of Shakespeare and improving the vocation of teaching. It was very fitting that her talk was at the beginning of a new academic year as she outlined the six principles of "hope" that are woven through the great works of "the Bard." 
We all need to embrace hopefulness as we embark on a new term of teaching and learning, and as our University community begins its healing process, which includes taking action that reflects our UPEI values and improves our culture.
Dr. Murray is just one example of the outstanding UPEI community members whose work is having a transformational impact. I continue to be inspired by the many important endeavours that our students, faculty, and staff undertake every day that change our campus, our province, our country, and our world for the better. 
Our provincial university is exceptional, diverse, and vibrant—and each of us has a critical role in ensuring UPEI is inclusive, safe, and a welcoming place to learn and work. I encourage everyone to explore and find ways to build connections and a sense of community. And while we work hard at providing our students with an excellent experience, we recognize the need to offer resources and supports related to academic success and health and wellbeing.
UPEI has a number of resources for students through UPEI Student Affairs, including academic advising and personal counselling (studentserv@upei.ca), and the International Student Office (irostu@upei.ca). View the full list of on-campus supports and services available to UPEI faculty, staff, and/or students.
No matter what your role is at UPEI, I am very appreciative of your contributions. I look forward to seeing you on campus this fall. Have a great semester and academic year!
Regards,
Greg
GREG KEEFE, DVM, MSc, MBA (he/him)
President and Vice-Chancellor (Interim)
University of Prince Edward Island