UPEI increases EV charging stations across campus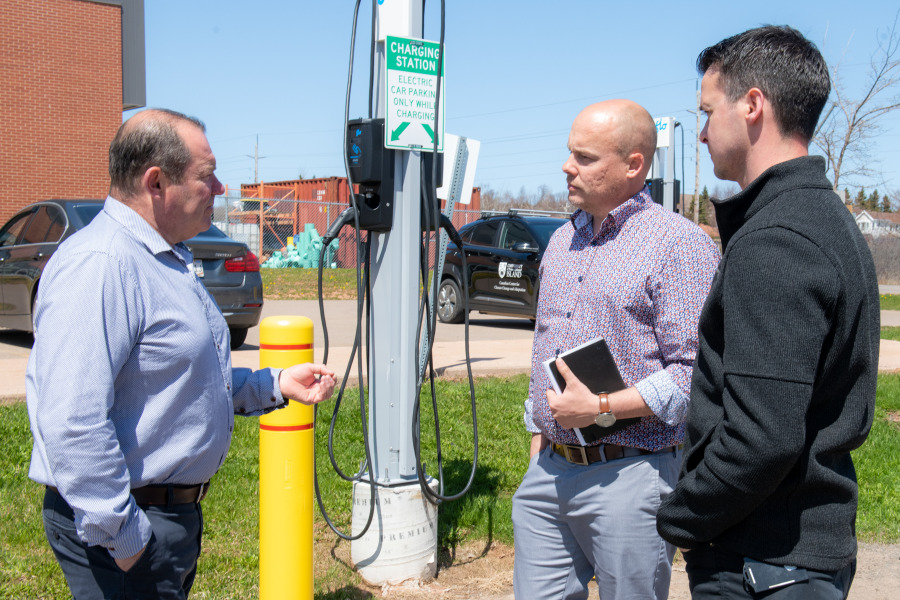 With the assistance of the Government of Prince Edward Island's Electric Vehicle (EV) Charging Fund, UPEI now has 20 EV charger locations across campus in Charlottetown in addition to four at the Centre for Climate Change and Adaptation in St. Peter's Bay.

Fred Horrelt, associate vice-president facilities management and construction at UPEI, believes this initiative is beneficial to the University campus.
"Twenty charging stations is the most in any one area on the Island, so we are proud of that. We are also looking at future projects including the installation of charging stations for electric bicycles and solar projects such as solar roofs for some buildings on campus," said Horrelt.

Encouraging the use of electric vehicles is part of the government's sustainable transportation action plan through which business and community organizations across the province are provided with financial support to install electric vehicle charging stations targeted for business and public use. The PEI Electric Vehicle Charging Fund supports up to 75 per cent of eligible costs for business, academic, and community organizations in PEI to install commercial EV chargers in public parking areas, workplaces, light-duty vehicle fleet parking, and designated multi-unit residential buildings.

"Electric vehicles play an important role in Prince Edward Island's climate change solutions," said Ross Dwyer, manager of research partnerships at the Canadian Centre for Climate Change and Adaptation. "By providing access to EV chargers on the campuses in Charlottetown and St. Peter's Bay, UPEI is supporting and promoting this climate change initiative, and advancing our path to net zero."
EV charger locations on campus include Alumni Hall (2), Faculty of Sustainable Design Engineering parking lot (2), parking lot C (2), parking lot G (2), Blanchard Hall residence parking lot (4), Wanda Wyatt Dining Hall parking lot (4) and the W.A. Murphy Student Centre visitor parking lot (4).
The units installed around campus are different from one another and carry different charging capabilities. Also, certain rules, procedures, and rates apply to each depending on where they are located. Full details about UPEI EV charging station procedures and locations can be found at EV charging stations now active.
For details about the PEI government program, visit PEI Electric Vehicle Charging Funding Program.