UPEI Convocation 2023 a celebratory week after challenging few years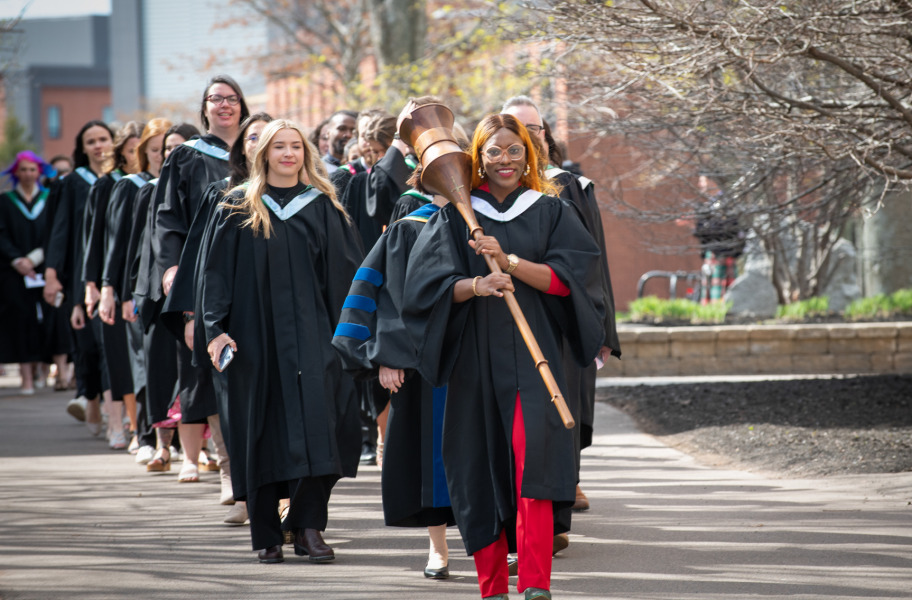 The excitement and pride were palpable at the University of Prince Edward Island this past week when the Class of 2023 graduated with their undergraduate and graduate degrees.
The Convocation ceremonies took place in the UPEI Chi-Wan Young Sports Centre on May 16 for graduates of the faculties of Veterinary Medicine and Nursing; May 17 for the faculties of Business and Sustainable Design Engineering; May 18 for the faculties of Arts, Education, and Graduate Studies; and May 19 for the Faculty of Science.
Receiving honorary degrees during Convocation were Dr. Heather Morrison, Chief Public Health Officer of Prince Edward Island; Mr. John Horrelt, well-known entrepreneur and philanthropist; Dr. Kathy Martin, an internationally renowned scientist; and Dr. Gaynor Watson-Creed, Associate Dean of Serving and Engaging Society for Dalhousie University's Faculty of Medicine. The valedictorians were Henrietta Obodo, Faculty of Nursing; Prabhakar Bholah, Faculty of Sustainable Design Engineering; Nicole Lodge, Faculty of Education; and Ellis Blay, Faculty of Science. Retired professors Dr. Karem Simon (music) and Dr. Russell Kerr (chemistry and biomedical science) were each conferred the title of professor emeritus.
In his address to the graduates, Dr. Greg Keefe, president and vice-chancellor (interim), reflected on the challenges of the past semester and the past few years.

"The way you have persevered has made all of us very proud. When you joined the Panther community, you could not have envisioned that you would be completing your degree requirements in the throes of a global pandemic, face a hurricane, and endure a labour disruption. And yet—despite this and other challenges you faced—you adapted. Amid the uncertainty, you carried on. And through it all, you showed an exceptional capacity to learn. You have subscribed to the deeply held values of our University, which have guided, and will continue to guide, your behaviour and actions."
Keefe praised the graduates for living by UPEI's values—inclusion, equity, and indigenization; academic freedom and rigour; accountability and integrity; and excellence.
He also paid tribute to the Honourable Catherine Callbeck who is concluding her term as UPEI chancellor on June 30, 2023.

"UPEI has greatly benefitted from Chancellor Callbeck's vision, passion, and extensive leadership experience. From co-chairing the Alex Bradshaw Campbell Entrance Scholarship campaign cabinet to attending Panther Sport games to presiding over Convocations, she has been—and is—such a passionate supporter of our University," said Keefe. "I thank her sincerely on behalf of the entire University community for her wise counsel, dedication to post-secondary education, and commitment to UPEI and its students."
Callbeck extended her congratulations to the graduates and offered her thanks and congratulations to parents, family members, friends, professors, and those who helped the graduates reach their goals.
"I also pay tribute to our president, vice-presidents, deans, administrators, faculty and staff," said Callbeck. "I am very proud of our Island University, which welcomes students from PEI, every province and territory of Canada as well as 96 countries from around the world."
In her closing remarks, Callbeck addressed the graduates with words of advice: "As you turn the page on the next chapter of your life, I encourage you to be brave, strong, kind, and humble. Never give up on finding the best in life, and in giving the best to life. Take your degree and help make this world a better place. You can do it!"
Each of the valedictorians spoke about the challenges their fellow graduates faced and the resilience they showed as they strove to complete their education. They also stressed the need to be kind, encouraging, and respectful to others; to have courage and persevere in the face of obstacles; and to build and maintain personal and community relationships in their lives. 

During the ceremony on May 17, valedictorian Prabhakar Bholah said the graduating Class of 2023 faced extraordinary circumstances that defined their time at UPEI.

"The first challenge was the global pandemic that caused a major upheaval in our lives. It demanded that we adapt, pivot, and find strength in the midst of uncertainty where we had to transition to remote learning and adjust to the new normal. But in the face of adversity, we showed remarkable resilience. We also witnessed the destructive force of hurricane Fiona that left us in shock of its power, reminding us of our vulnerability and the importance of coming together in times of crisis. We stood strong as a community, offering support, resources, and comfort to those affected. The resilience displayed in the aftermath of the storm embodied true spirit of the UPEI family and PEI community. Lastly, let us not forget the impact of the strike that disrupted our academic year. It tested our patience and mental health. Through it all, we displayed courage, determination, and the power of collective action," he said.
During the Convocation ceremony for business and engineering graduates on May 17, Hamed Bozorgi, Master of Science in Sustainable Design Engineering, was awarded the Governor General's Medal (Graduate) and the Faculty of Graduate Studies Award of Distinction. During the Faculty of Science ceremony on May 19, Alexander Arsenault, Bachelor of Science (Kinesiology) won the Governor General's Medal (Undergraduate). Also, the first graduates from the Bachelor of Science in Applied Climate Change and Adaptation program received their degrees.
The senior class awards were presented earlier in the week. Click here to view the complete list of awards.