UPEI launches $3 million campaign to support performing arts
New performing arts venue will usher in a new era of creativity and excellence for students and the community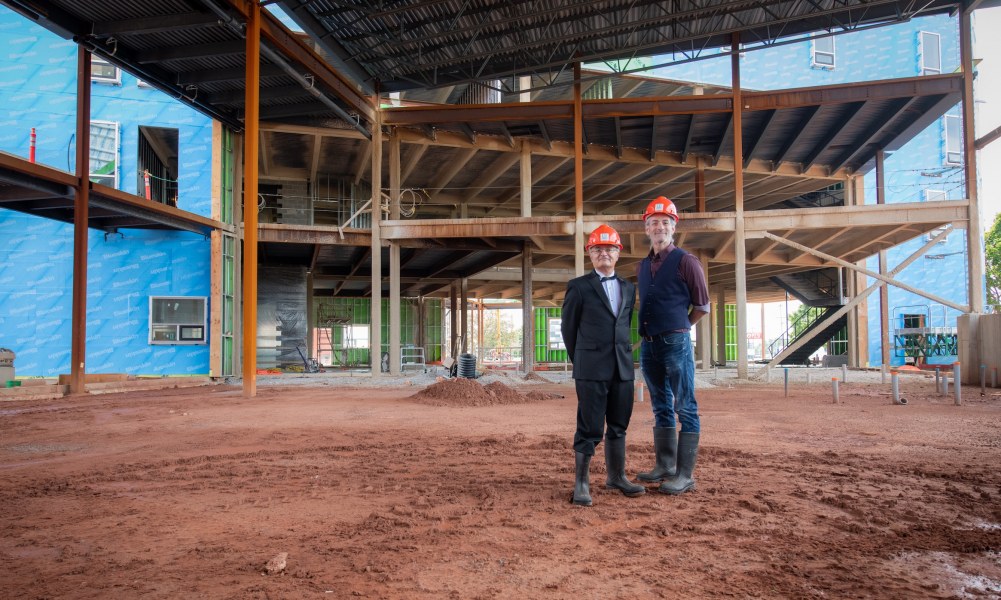 For Dr. Karem Simon and Dr. Greg Doran, this day has been a long time coming.
UPEI's new residence building, now under construction, will be home to a new performing arts venue, including a 400-seat theatre. The University is launching a campaign to raise $3 million to enhance and deliver outstanding programming and state-of-the-art equipment for that venue, as well as renovate the beloved and historic Dr. Steel Recital Hall.
"I just started my 31st year as a faculty member here at UPEI," said Dr. Simon, a professor and chair of the Department of Music at UPEI. "I recognized when I arrived here in 1991 the space limitations for arts and culture at UPEI. I know when students step on the stage of this new venue, they'll be inspired to achieve more as both musicians and artists."
Dr. Doran, a professor and chair of the Department of English and coordinator of the Theatre Studies program, arrived at UPEI in 2004. Knowing the University did not have a large theatre, he learned to accommodate. He found creative smaller spaces for his students to practice and perform. But he knew what UPEI needed was a proper performance venue.
"When Dr. Alaa Abd-El-Aziz first became president, he held a series of town halls to hear the concerns of campus," said Dr. Doran. "Dr. Andrew Zinck was chair of Music at the time, and we made a presentation about the need for a performance space on campus. The president was favourable and showed interest at the time, but I honestly didn't know if anything would come of it. I kept it in the back of my mind. The first day of classes in September of 2019, the president invited us to his office at Alumni Hall. I remember it very well. I sat across from him, and he said, 'It's a done deal.' I couldn't believe it."
Drs. Doran, Simon, and Zinck worked closely with the architects on the new residence building as they developed the ideas and plans that would become the new performing arts venue. The theatre will seat 400 people and house a large rehearsal room with a sprung floor to accommodate dance. There will be a dedicated, climate-controlled room to store the University's new nine-foot concert grand piano. A state-of-the-art sound room will be connected to the main theatre and the rehearsal space, which will be wired for studio recording.
The new venue will become more than a home for performing arts at UPEI. The theatre, with its optimized acoustics, sightlines, and aesthetics, will also appeal to school and community groups looking to stage their performances.
As well, the University's long-standing performance space, the Dr. Steel Recital Hall, will  be transformed, with alterations to the performance area and the installation of new seating.
"We thought it was important that Dr. Steel Recital Hall wasn't ignored as we moved forward with our plans for performing arts," noted Dr. Simon. "The space, while not ideal for large ensembles, is quite exceptional for chamber performances and soloists. And it is beloved by generations of students, alumni, and the community."
"The new venue comes with the side benefit of a lesser burden on Steel," said Dr. Doran. "That space was in almost constant use by the Department of Music, and rightly so. It was the only space large enough to accommodate them. Theatre Studies had to get creative for practice and performances, including use of the Faculty Lounge in SDU Main Building. But to have access to a proper theatre will really be something. I'm excited for what this means for the future of theatre on PEI, not just for our students."
As construction of the new residence progresses, friends and alumni of UPEI have an opportunity to become involved in the campaign. They can become a "part of the fabric" of UPEI's performing arts venues by naming or dedicating a seat. In recognition for a donation of $5,000, a plaque engraved with the donor's name or dedication will be installed for the life of the seat. For details, contact Owen Shaw at 902-566-0687 or oshaw@upei.ca.
Dr. Doran and his wife, Heather, were among the first to take up this opportunity. "I've been the guy that's been banging the drum on this project for years!" he said. "I'm in!"
Making a leadership gift is another way to support the campaign. Donors will be recognized with the naming of a space in the Dr. Steel Recital Hall and/or the new performing arts venue. To discuss options, contact Myrtle Jenkins-Smith at 902-626-8551 or mjenkinssmith@upei.ca.
Dr. Simon is excited about the future of music and performance at UPEI. "We've been working with an acoustician to ensure the acoustics of the new theatre are just so," he said. "The audience and performers will feel and hear the difference. Performers can feel good sonically, and the audience can feel the performances as they were intended to be heard."
Dr. Doran feels these projects show real leadership from UPEI. "This is the University saying, 'This is important.' We live on PEI with a huge cultural industry. We need to be a big part of that, and now…we will be."
To learn more about this campaign, visit upei.ca/performingarts.