This page is more than 1 year old. Links and contact information may have changed.
UPEI Convocation 2020 AND 2021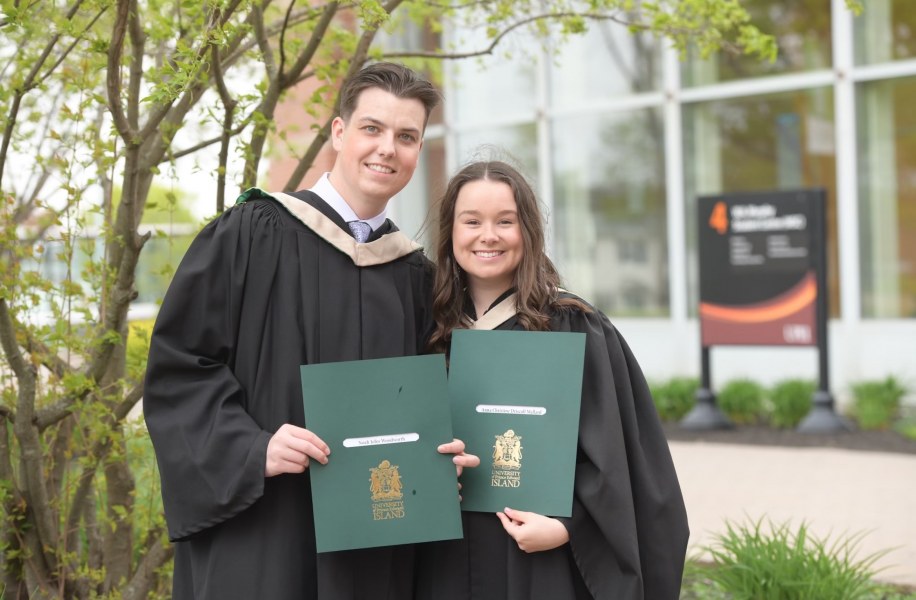 The University of Prince Edward Island conferred degrees, diplomas, and certificates to more than 950 graduates as part of Convocation 2021 celebrations.
This year's celebrations were unique in the history of UPEI. We were unable last year to celebrate the accomplishments of the Class of 2020 due to the pandemic. This year, UPEI offered a hybrid online and in-person experience to celebrate the graduates of the last two years.
UPEI's Chancellor, the Honourable Catherine Callbeck, participated in seven online "Presentation of Graduates" videos on UPEI's YouTube channel.
"While today was not the Convocation we hoped for, I believe it is even more significant, because you completed your degree under circumstances the most difficult the world has known since the Second World War," said Callbeck. "Each of you has shown fortitude which has strengthened your character and will make you empathetic and compassionate global leaders and citizens. For that, I offer each of you my heartfelt congratulations."
"I grew up in Cairo, Egypt as the youngest of three daughters," said Malak Nassar, in her address to graduates as valedictorian for the Faculty of Arts. "I came to UPEI for an adventure. I wanted to try something I wouldn't have traditionally done. I was pleasantly surprised with the rich community of international students here, who continue to inspire me throughout my journey and theirs. To those international students I want to say, I know this year came with a lot of struggle. Being away from family, away from home, is one of the hardest things we've all done. But we've carved our places here and made something out of nothing, and for that I am incredibly proud of each and every one of us."
Dr. Zoe Rutledge, valedictorian for the Faculty of Veterinary Medicine, issued a challenge to her cohort at the Atlantic Veterinary College. "Throughout our careers, we know we will face challenges. We know that the field of veterinary medicine can be tough. We know all too well the toll that it can take on our mental health, on our lives. As we embark on this wonderful career doing what we love—caring for our beloved patients, their families, and our communities—let's make sure that we are also supporting ourselves and each other. Let's check in, let's keep in touch. Let's hold each other up and strive to make this profession one of kindness, inclusivity, and care for ourselves and for one another."
UPEI also issued several awards and academic prizes to the senior class of 2021. The Governor General's Medal (Graduate) and the Faculty of Graduate Studies Award of Distinction went to Dr. Peter Kimeli, who graduated with his PhD in Veterinary Medicine. The Governor General's Medal (Undergraduate) and the Ambrose Lee Graduation Prize in Science went to Will Taylor-Melanson, who graduated with his Bachelor of Science, Honours, in Computer Science. Taylor-Melanson also received the School of Mathematical and Computational Sciences Graduating Student Award.
A full list of the graduating classes of 2020 and 2021 can be found at upei.ca/convocation.
Congratulations to all the graduates!