Your search has returned no results.
May is Grad Month at UPEI!
After a successful AVC Presentation of Graduates, remaining faculties' celebrations are this week!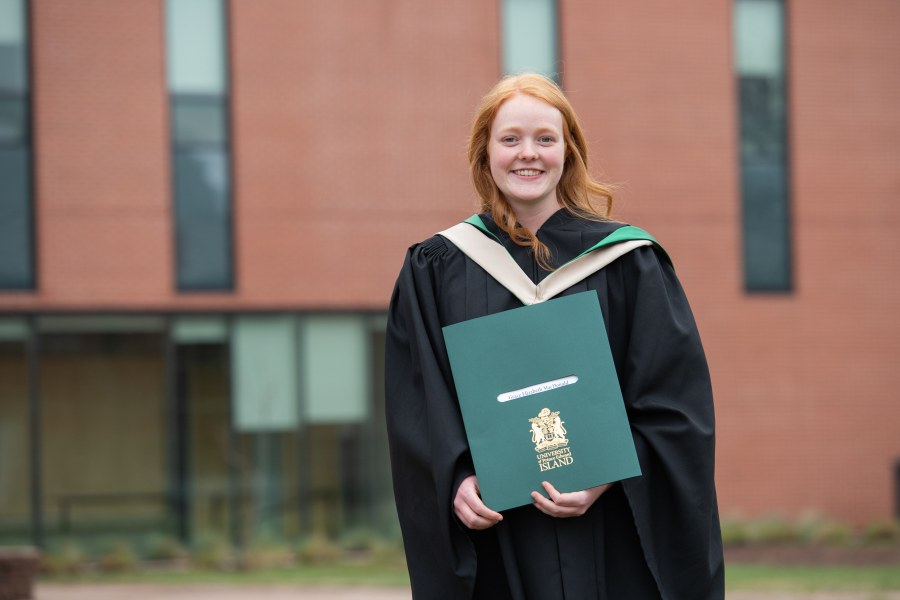 UPEI will host six Convocation celebrations this week to honour the graduates of 2021 and 2020. Whether virtually or in person, we hope you can join us!
Like the rest of the world, COVID-19 has stopped us from being together for convocation in our traditional way. In co-operation with PEI's Chief Public Health Office, UPEI has developed a schedule that will allow graduates in each faculty to safely celebrate their graduation from the comfort of their homes with their loved ones. UPEI will host in-person celebrations for each faculty where graduates residing on PEI can receive their parchment and alumni pin and take photos in their favourite spot on campus.
Celebrations will be held as follows:
Wednesday, May 26, 2021
Faculty of Arts and Faculty of Graduate Studies (Master in Global Affairs)
Faculty of Education
Thursday, May 27, 2021
Faculty of Business
Faculty of Sustainable Design Engineering
Friday, May 28, 2021

Faculty of Nursing
Faculty of Science
The Atlantic Veterinary College held its online Presentation of Graduates and in-person celebration for the Classes of 2020 and 2021 on May 14.
For the upcoming in-person events, two members of each graduate's household may accompany them to their in-person celebration. While visiting other areas of campus, graduates may connect with friends and others outside of their household (to a maximum of 10 people, including the graduate) for photos as long as they maintain physical distancing protocols.
The in-person celebrations will begin at the marquee tent in UPEI's quadrangle where graduates will check-in and receive their parchment. From here, they will head to the W.A. Murphy Student Centre. Graduates may collect senior class awards in the Credit Union Student Day Lounge. Music will be performed by UPEI Music students and alumni in McMillan Hall, where graduates can walk across the stage for a keepsake photo with their dean, taken by UPEI's staff photographer. Graduates may pick up their alumni pin from the UPEI Alumni booth and learn about the benefits of being a "Panther for Life."
For more information, visit upei.ca/convocation.