This News Story is more than 2 years old. Links and contact information may have changed.
Message from the President: Details for Stage Two of UPEI's Operational Ease-Back Plan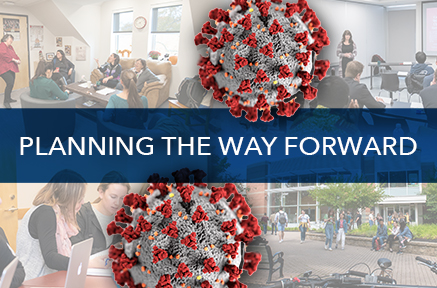 This message was distributed to UPEI students, faculty, and staff on June 5, 2020 to their @upei.ca emails. While we will continue to update our COVID-19 website, the latest news will be first shared with the UPEI community by email and on UPEI SAFE, the University's safety app (available on The App Store and Google Play). View UPEI's Operational Ease-Back Plan for information about the University's plan to gradually return to campus.
Dear Members of the University Community,

When we gathered at the Levee on January 1, full of optimism for the New Year, we could never have imagined what would transpire in the span of five months: a global public health crisis in the form of COVID-19; tragic events in nearby Nova Scotia; and, most recently, worldwide civil unrest as a result of racist acts.
There are still many reasons to be hopeful. We are very fortunate that, while we continue to be apart physically, we can come together in many other ways to support each other through this difficult time. We are very fortunate that teaching and learning has continued at UPEI, as has our commitment to student success. We are also very fortunate that UPEI is in a position to continue returning to on-campus activity in a gradual, staged way.
When 
UPEI's Operational Ease-Back Plan—Planning the Way Forward
 was released in May, we committed to providing details about each stage one week prior to its starting date. I am pleased to report that Stage One has gone very well, and that we are able to proceed to Stage Two on June 15, 2020.
As outlined on our website, UPEI's 
Stage Two
 reflects the next step in expanding the gradual return to working, teaching, learning, and conducting research on campus. For example, during Stage Two, the general operating hours for campus will be expanded to 8 am–5 pm.
Another major change in Stage Two includes increasing the gathering-size limit from five people to 15 people indoors and 20 people outdoors, while observing physical distancing of 2 metres/6 feet. (Gatherings refer to internal meetings not UPEI-organized events, which remain cancelled until at least July 31, 2020.)
During Stage Two, we are also broadening the scope of who is able to be on campus. Employees who have an individual office space, as well as those who share a workspace where physical distancing can be maintained, will be able to return to work on campus. Supervisors will continue to employ scheduling tactics in order to reduce overall numbers on floors, in buildings, and on campus at any one time. Individuals can continue to work from home if approved by their supervisors.
More students will be on campus during Stage Two. The Faculty of Nursing will continue to offer small-group teaching to students prior to their clinical practice. Fourth-year students at the Atlantic Veterinary College will also begin clinical rotations during Stage Two (those who travel from out of province will be required to self-isolate for 14 days).
I do remind everyone that the University will continue to follow public health guidance, including maintaining physical distancing of 2 metres/6 feet, and introduce additional measures, over and above that of other organizations when necessary, to ensure the health and safety of those on campus. Advancing to Stage Three of the plan will entirely depend on how we respond to Stage Two measures.
As I have mentioned many times before, 
UPEI's Operational Ease-Back Plan—Planning the Way Forward
 is a dynamic, evolving road map. We will constantly re-evaluate our situation and may need to change our route as we move through the stages and as things become more certain. This is the same approach our Deans are taking with regard to the 2020 Fall Academic Semester. I know and appreciate how diligently they have been working with faculty, staff, and administration, to provide more details to students by June 15 as to how their respective programs will be delivered in September.
I look forward to welcoming more faculty, staff, and students to the campus for 
Stage Two
 on June 15. Together, we are successfully planning the way forward.
Best wishes,
Alaa
Dr. Alaa S. Abd-El-Aziz
President and Vice-Chancellor
University of Prince Edward Island
550 University Avenue
Charlottetown, Prince Edward Island
C1A 4P3