This News Story is more than 2 years old. Links and contact information may have changed.
Message from the President: UPEI's Operational Ease-Back Plan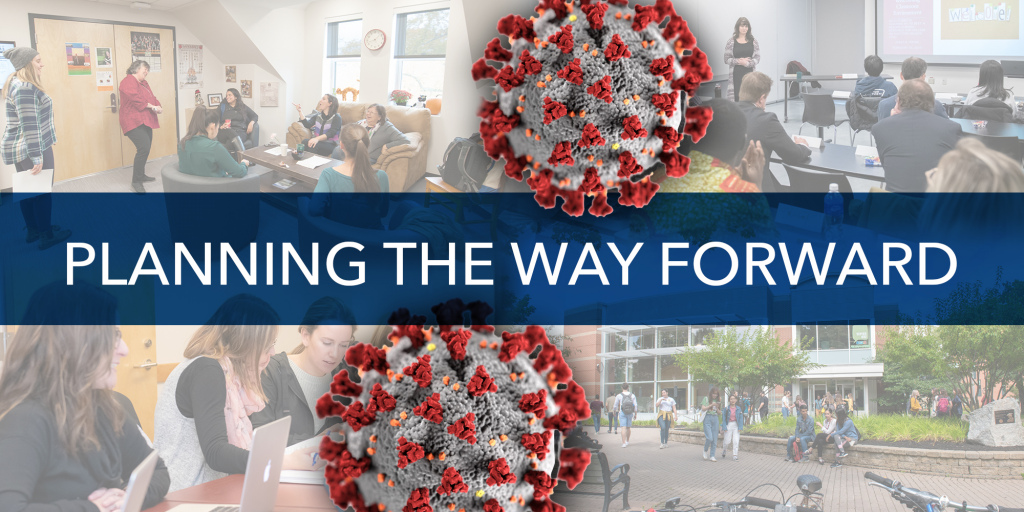 This message was distributed to UPEI students, faculty, and staff on May 8, 2020 to their @upei.ca emails. While we will continue to update our COVID-19 website, the latest news will be first shared with the UPEI community by email and on UPEI SAFE, the University's safety app (available on The App Store and Google Play).
Dear Members of the University Community,
This afternoon, the University Senate met with one item on the agenda: to approve the list of students eligible to graduate in May 2020. While we are disappointed that we are unable to celebrate with our graduates in person, we are excited to recognize the Class of 2020 in other ways. Next week on Friday, May 15, we will post the graduate list as well as our senior class award winners on upei.ca, and graduates will be emailed a special congratulatory video message from their respective deans. We will also mail graduates their degree and diploma parchments and alumni pins. We are so proud of their achievements and look forward to welcoming them into UPEI's 26,000-strong alumni family.
Another cause for excitement is today's release of details about Stage One of 
UPEI's Operational Ease-Back Plan—Planning the Way Forward
. I am so proud of how the University community is weathering this storm of COVID-19, and I am optimistic that our gradual ease-back plan will allow us to safely return to campus. I thank all of those who have graciously agreed to take on the challenge of coordinating the development of the plan over its three stages.
As outlined at 
upei.ca/easebackplan
, Stage One begins on May 25 and is the first step in a slow ramp-up of activity at the University. While we continue to follow the guidance of PEI's Chief Public Health Office, due to our unique environment and various settings, UPEI must take its own measures to ensure the safety of our community. This means that we are moving more slowly than what might be indicated in the Government's plan, and we are also implementing protocols over and above what is required for other types of organizations. I ask that everyone bear in mind that advancing to Stage Two and Stage Three of the plan will entirely depend on how we respond to Stage One measures. We can all play a part in our ease-back plan's success. 
There are so many essential services personnel who are already contributing to this effort, and who have been helping to prepare the campus for Stage One. I thank our cleaning, maintenance, and planning staff at Facilities Management as well as Security Services for continuing to keep our campus safe. Our Health, Safety, and Environment department has been instrumental in our preparations, analyzing our supply of personal protective equipment and reviewing our processes and protocols. IT Systems and Services is busily anticipating the technology needs of management, faculty, researchers, and graduate students.
I would be remiss if I did not mention the other essential personnel who have continued to work on campus to deliver vital services to our community and maintain UPEI's business continuity: UPEI Health and Wellness Centre; Residence Services; Shipping and Receiving; AVC Veterinary Teaching Hospital, Diagnostic Services, Animal Resources, and Central Services; Sister Sue and Lauren at the Chaplaincy Centre; and the UPEI Bookstore. There are many others who transitioned to delivering essential services remotely, supporting students, faculty, and staff by using technology. I think of our Counselling and Accessibility Services offices at Student Affairs, the Robertson Library, Finance, Procurement, Human Resources, Marketing, Communications, and Development and Alumni Engagement.
Last week, I compared 
UPEI's Operational Ease-Back Plan—Planning the Way Forward
 to a dynamic, evolving road map. We are inching closer to our destination; however, this is a long journey and not an overnight trip. We will constantly re-evaluate our situation and may need to change our route as we move through the stages and things become more certain. I look forward to welcoming members of the management team, faculty, researchers, and graduate students to the campus for Stage One on May 25, and am confident that together we will successfully plan the way forward to stages two and three.
Best wishes, 
Alaa
Dr. Alaa S. Abd-El-Aziz
President and Vice-Chancellor
University of Prince Edward Island