The Conductor, Dr. Karem J. Simon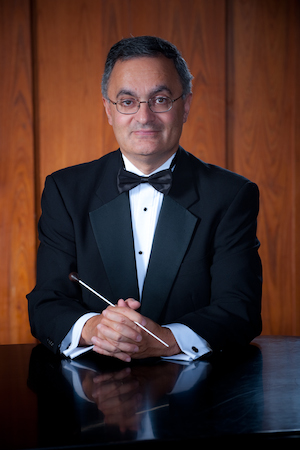 Karem J. Simon is an active soloist, chamber and orchestral musician, and conductor. He has been a member of the UPEI Music Faculty since 1991, where his principal duties include the instruction of clarinet and saxophone majors, the conducting of the Wind Symphony, and the teaching of courses in music education.
A native of Newfoundland and a graduate of UBC, Northwestern, and Mount Allison Universities, Dr. Simon has been a featured artist with the PEI Symphony, Saint John String Quartet, Gros Morne Summer Music Festival, and the International Clarinet Association's ClarinetFest.
As a Canada Council for the Arts and PEI Council of the Arts grants recipient, he studied contemporary clarinet techniques in 2008 with Robert Spring at Arizona State University. He is known as a passionate and sensitive musician, able to inspire musicians of diverse backgrounds. His philosophies and methodologies have been forged through his forty-two years of public school and university teaching, and synthesized through his experiences and studies with some of the leading wind band conductors – John Paynter, Eugene Corporon, Dale Lonis, Michael Haithcock, Craig Kirchoff among them. Conducting engagements with the PEI Symphony Orchestra, the National Youth Band of Canada, and a variety of provincial Honour Bands highlight his career. The UPEI Wind Symphony has produced twenty-two CDs under his direction.
Recently, he released an album, Solitary Clarinet, a collection of pieces for unaccompanied clarinet, which is available on all the major online music streaming platforms.