Your search has returned no results.
A world-class research institution
The purpose of the PhD degree program is to educate individuals to become independent, reliable, and competent research scientists.
The PhD degree of the University of Prince Edward Island requires the demonstration of a reasonable mastery of a concentrated field of study.
The latter is attested to by the achieving of satisfactory standings in each of a minimum of five graduate courses, the completion of a research project, and the writing of a thesis based upon the research.
Students will register in one of the academic departments of the Faculty of Veterinary Medicine and in one of the designated areas of specialization:
Department of Biomedical Sciences 
Animal Behaviour
Physiology, Pharmacology and Toxicology
Cell Biology
Neuroscience
Endocrinology
Department of Health Management 
Animal Science and Animal Nutrition
Epidemiology/Health Management
Clinical Sciences
Aquatic Animal Health
Biostatistics
Public Health
Animal Welfare
Department of Pathology and Microbiology
Bacteriology
Clinical Pathology
Immunology
Morphologic Pathology
Parasitology
Virology
Wildlife Pathology
Public Health
Aquatic Animal Health
Biosecurity
Depending on the individual thesis topic, projects could involve one or more of several species of animals. There will be considerable interaction and cooperation among the departments, with other universities in the region, and with government research laboratories to provide courses and research facilities to meet the needs of individual students and their research projects.
What's Required for Admission?
In the following it must be understood that the standard of reference is the typical Canadian university curriculum and university system.
Admission to a graduate degree program as a regular student is granted, on recommendation of the Department concerned, to:
i. the holder of a Doctor of Veterinary Medicine (DVM) degree, or a four-year honours or majors baccalaureate or its equivalent, as set out below; or
ii. a student who has satisfied the requirements for transfer from provisional student category as described below.
The minimum requirement for admission to graduate studies in the Faculties of Science and Veterinary Medicine is a Doctor of Veterinary Medicine (DVM) degree, or equivalent; or a Bachelor of Science (BSc) degree, or Bachelor of Engineering (BEng) degree, or equivalent, normally of four years' duration, in an honours or majors program or equivalent from a recognized university or college, the applicant having achieved an average of at least second-class ("B," i.e., 70% to 79.9%) standing in the work of the last four semesters or the last two undergraduate years.
Please refer to the UPEI Academic Calendar for complete admissions information.
Students are expected to be proficient in the use of English, both written and oral, when they begin their studies at the University of Prince Edward Island. Please review the English Language Requirements for graduate programs.
Make sure you apply before the deadline!
Application deadline: for Fall intake July 1; for Winter intake November 1; for Summer intake March 1.
Securing a supervisor prior to applying to this program is an admission requirement. Visit the Potential Graduate Supervisors page of the Faculty of Graduate Studies website for contact information.
PhD in Veterinary Medicine Tuition
Tuition
PhD in Veterinary Medicine - $12,402 per 3 year program
International students pay $7,176 per year in addition to full-time student tuition.
For a complete breakdown of part-time or full-time study as a student in the Faculty of Veterinary Medicine, visit our Tuition and Fees page.
Scholarships and Awards
UPEI supports you and your educational goals. We administer millions of dollars in scholarships and awards to our undergraduate and graduate students every year. Depending on your faculty or program, and year of study, you may be eligible for available awards.
Search the complete list of scholarships for information and application forms.  
Your mentors. Our professors.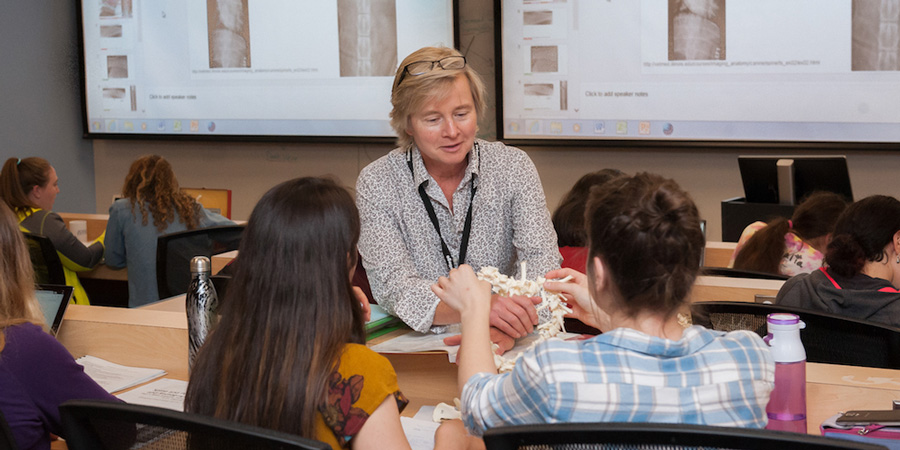 At AVC, we are proud of our exceptional scholars, teachers, and mentors.
Two of our outstanding faculty, Dr. Étienne Côté, professor of cardiology, and Dr. Susan Dawson, professor of anatomy, have been named National 3M Teaching Fellows for their innovative teaching. Our favourable student-to-faculty ratio means that students learn from and work closely with faculty who are recognized experts in many fields of veterinary medicine.
Our faculty members support our students with learning opportunities beyond the classroom as they progress through their four-year degree program.