Fourth-year Arts student Eric Andersen is focused on his future after spending an eye-opening "May-mester" in northern Spain with UPEI's Study Abroad program
Oct 23, 2019 | Students
By Ty Stapleton
Eric Andersen started his post-secondary academic career with modest goals. Since his experience studying abroad in Burgos, Spain as part of UPEI's May-mester program, he's looking to hit new targets.
Originally from Makkovik, NL, Eric had been working in northern Labrador mining nickel and copper. Although he enjoyed the work, the pay, the two-week-on two-week-off shift schedule, and the fact that he was close to home, he decided to go back to school. He was looking to expand his employable skills, and found a program of interest at UPEI. 
"I started here for a Public Administration certificate," he explains. "I did that because I'd worked for a mining company for ten years, and I took a year to see what university was going to be like. I thought with a Public Administration certificate and a year, year-and-a-half [of study] I could leave with that certificate, and have something tangible for a job interview."
Turns out his Public Administration certificate was just the beginning of his UPEI journey—literally. 
"I think I saw May-mester promoted on the UPEI Campus Life Facebook page," he says. 
The May-mester program is administered by UPEI's Office of Study Abroad and International Collaboration, to create short-term international study opportunities to students of all UPEI faculties and schools. The April to May schedule allows students to travel between the end of the academic year before their summer employment begins. Experiences in Ireland, France, the United Kingdom, and the Faroe Islands were open to UPEI students, but the trip to Spain and its focus on the Camino de Santiago, a famous pilgrimage in the northern region, caught Eric's attention.  
"There were a few other destination opportunities but I've always wanted to go to Spain. Ever since I was in my late teens and early 20s, it's a place I've wanted to visit."
Eric attended an information session and learned more about the application criteria and funding for successful applicants. After finding out his application was accepted, he and 14 other arts, science, business and engineering students from UPEI started to prepare for the trip in April. 
"We landed in Madrid, but didn't stay there very long, and then we went north to the University of Burgos where we did the course work and stayed in residence," he says.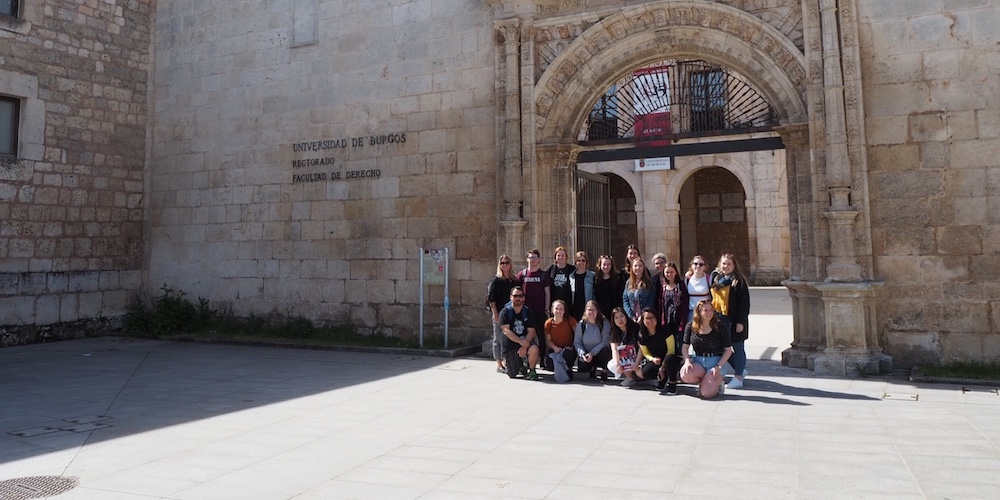 His next two weeks were a whirlwind of coursework, lectures, tours, and a true immersion to Spanish food, culture, and politics.  
"The entire experience was amazing," he says. "We did about 40 hours of coursework studying architecture, history, business, computer science and databases, marketing—lots of opportunities your traditional study doesn't give you. It was really eye-opening." 
And walking. Lots of walking.
"We walked the Camino [de Santiago] trail along the pilgrimage route," he says. "The first day we walked about 10 or 15 kilometres just to get an idea of what the whole walk would be like, and visited a nice little village with an old castle. There are different lengths you can walk, or you can take a bike or go by horseback."
Reflecting on his May-mester trip after returning home, Eric gained a new perspective on the political and social landscape of northern Spain—one he's gathered by talking directly with residents and his international professors.
"It was good to see a different part of the world, Spain is a lot like Canada and America, a developed country," he says. "But there's a different attitude in Europe and regional differences, but talking world politics with people there was great. We talked about Brexit and the European Union. I study PoliSci so we talked about that quite a bit, it was different to hear from someone directly affected."
Eric also realized the potential collateral learning opportunities of talking and travelling with his UPEI student companions.
"We weren't all Arts students," he says. "Just because there may not be a lot of Engineering students taking part in this kind of trip, it's all the more reason for an Engineering student to go because it introduces so many other things and I might get to hang out with students from different programs and get to see what that's like. This group of students was amazing"
Today, Eric is completing the final semester of his Bachelor of Arts degree, majoring in Political Science with a Sociology minor. After his journeys from the mine to the classroom, and from Charlottetown to Spain, he's got plans for tomorrow.
"I'm thinking of a masters program, and I want to work with people," he says. "After working in a large corporation basically turning rocks into mud to be shipped to a smelter, working with people seemed interesting and a better life for me. Maybe something in the public service, helping people with programs or outreach."