Being a Global Leader right here in PEI
MBA in Global Leadership graduate Elizabeth Iwunwa uses skills in diversity earned through her degrees at UPEI to help new Islanders connect with employers and businesses
Sep 23, 2019 | Success Story
By Everton McLean
Elizabeth Iwunwa walks through the halls of the Greater Charlottetown Chamber of Commerce like she's been there forever; a natural, comfortable fit, talking with co-workers, discussing her work, and how she helps newcomers to PEI get better connected to the province.
In reality, she's only been on the job for about a month.
A graduate of the first class of the Master of Business Administration in Global Leadership at UPEI in 2019, she was hired in August as co-ordinator for the PEI Network Program, an informal networking program connecting business and community leaders with PEI's top talent.
For Elizabeth, the program was an excellent way to put her new skills, acquired through her business studies, to use. Before beginning the 12-month MBA one year ago, she completed a Bachelor of Arts in Psychology at UPEI, coming to the Island from Lagos, Nigeria, a city of 17.5-million people. She moved to UPEI in 2014 on her parents' recommendation.
"They hadn't been here, but they heard how quiet it was and how well (students) did in school," she said. "There were small class sizes, and you really got individualized attention."
While completing that degree, she was drawn to business studies.
"I started getting interested in business and how the world worked on a broader scale. Economics and business, those things started interesting me," she said. She took elective courses in accounting, marketing, business ethics, and organizational behaviour.
After graduating with her BA in May 2018, she found herself re-evaluating where she wanted to work. She had planned to go overseas to teach English, but when a job prospect fell through at the last minute, she looked into what was available for her to move her career forward.
"Luckily in May, UPEI launched the Master in Business Administration in Global Leadership," she said. "I was accepted in July, and I started in August."
Elizabeth said the program, with its small class sizes and focus on international culture and business, was an excellent fit and an invigorating experience.
"It was a very interesting program. It was teaching about business but also about culture and how to lead in different cultures, which is a tall order."
She said her cohort worked well together and forged lasting friendships.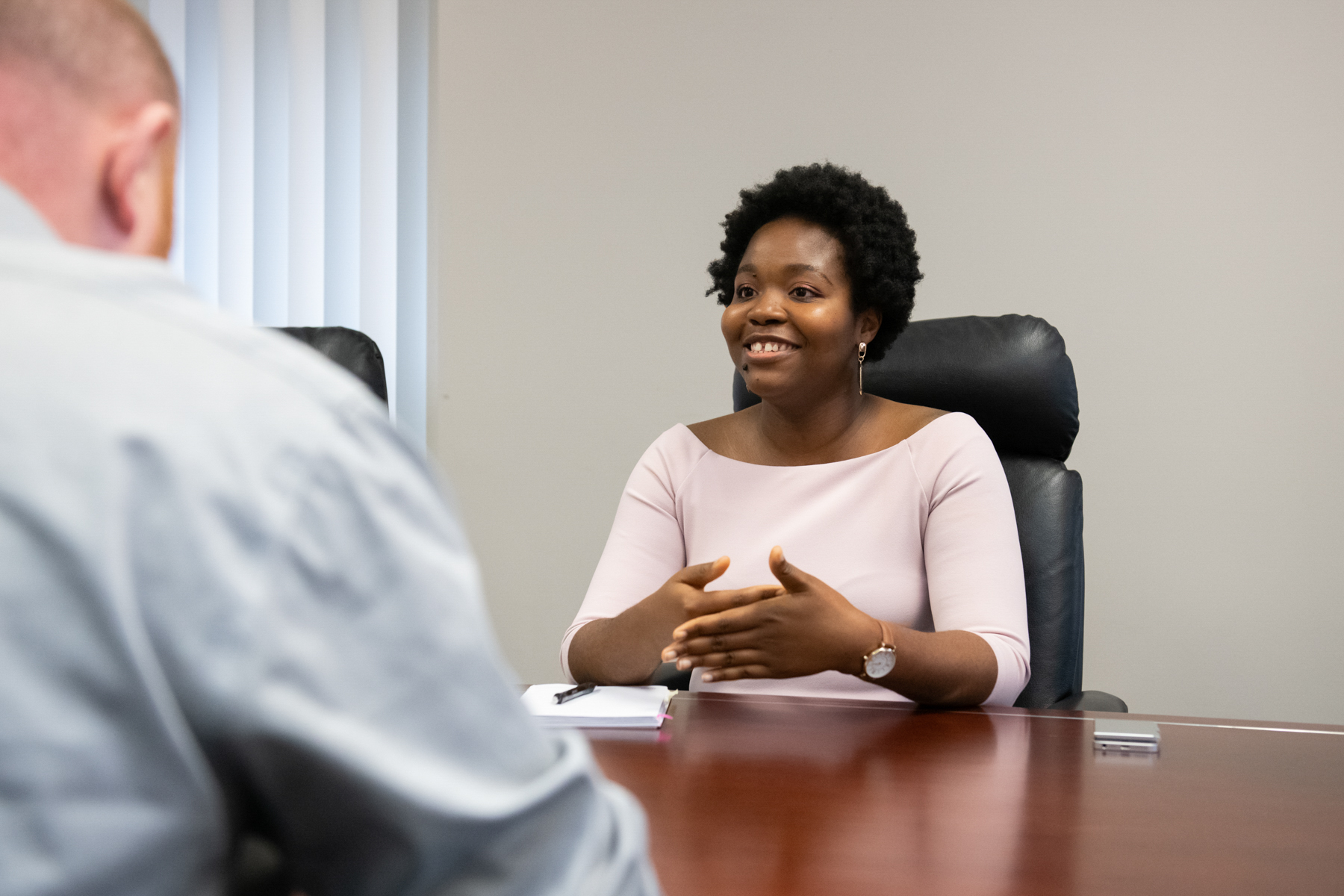 "The small class sizes and the differences in perspectives, the fact that people had different specializations, that made it interesting," she said.
She also noted the respect shown to students by the business professors.
"Professors never (just) saw you as a student anymore—they also thought about you as an individual who could teach them something," she said. "You're colleagues, in a sense."
During her MBA program, Elizabeth was introduced to the project manager for PEI Network, initially meeting as a client of the program. But when a position opened up as program coordinator for the network, she applied for the role and landed it.
"The timing was perfect," said Elizabeth. As program coordinator, she is responsible for planning events, improving the network's social media presence, and working with the Chamber's diversity and inclusion program to help leaders work in culturally diverse environments and become better "at being emotionally intelligent and getting the best out of their diverse employees."
She said the MBA uniquely prepared her for the role.
"Being a global leader, which is what the MBA program is about, helps students consider how things are done in other cultures and how you are perceived as an actor in other cultures as well," she said. "I think the beauty of the program and the beauty of this place is you don't have to travel the world to have the world come to you and use the skill set you learn (in the MBA).
"The skills I have in listening and being aware and conscious all of those things, they really translate into what I do now."
Penny Walsh-McGuire, CEO of the Chamber and herself a graduate of the UPEI EMBA program, said Elizabeth has made an impact very early on.
"We landed a great team member," she said. "Elizabeth came to us really more through the Connector program [part of PEI Network], but her leadership ability—not just in the international student community but even broader—she is a connector herself."
She said Elizabeth's background as a UPEI undergraduate and graduate student helps her grow the PEI Network program.
"Having someone who has been there and knows the community has helped us bring to the forefront what the Chamber and what the PEI Network program can offer to new grads, both international and domestic," she said.