Atlantic Veterinary College celebrates outstanding students and faculty
AVC honoured 59 students and two faculty members during its annual Fall Awards and Recognition Night.
| Atlantic Veterinary College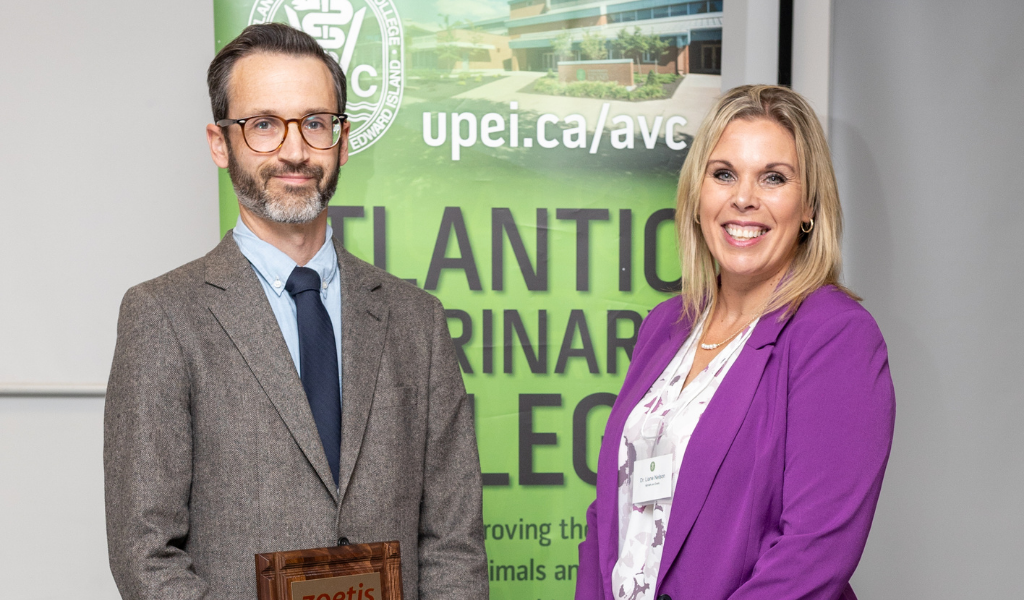 On Wednesday, October 4, 2023, the Atlantic Veterinary College (AVC) at the University of Prince Edward Island shone a spotlight on academic excellence and community impact during its annual Fall Awards and Recognition Night, held in The McCain Foundation Learning Commons.
Each year, this event recognizes the exceptional accomplishments of outstanding Doctor of Veterinary Medicine (DVM) students, graduate students, and faculty members. The evening also offers an opportunity for donors to personally connect with and honour recipients of the awards they sponsor.
During this year's event, approximately $230,000 in scholarships and awards were presented to 58 DVM students and one graduate student for a total of 84 awards. In addition to applauding the award winners, each year, the AVC celebrates its students who have achieved an overall academic average of 80% or higher in the previous academic year through the Dean's Honour Roll list. This year, 156 DVM students were named to the list, with many more students narrowly missing this cutoff for the list. Congratulations to all.
The evening was highlighted by a heartwarming moment when David and Barb Emo made an emotional return to AVC for the first time in nearly two decades. They presented the Dr. Toby Emo Memorial Award, a tribute to their late son who was an AVC graduate.
Dr. Russell Fraser, assistant professor of anatomic pathology, Department of Pathology and Microbiology, was the recipient of the Zoetis Carl J. Norden Distinguished Teacher Award, recognizing an outstanding teacher, who, through their ability, dedication, character, and leadership, contributes significantly to the advancement of the profession.
Dr. Sheri Ross, associate professor of small animal internal medicine, Department of Companion Animals, received the Students of the Canadian Veterinary Medical Association Teacher of the Year Award, which is awarded to the faculty member voted most influential in promoting the interest and enthusiasm of third-year students in veterinary medicine.
"Congratulations to the students and faculty who were recognized for their hard work and dedication to veterinary medicine at this year's Fall Awards and Recognition Night," said Dr. John VanLeeuwen, interim dean, AVC. "I'm inspired by their commitment to teaching, learning, and advancing animal care in our community and beyond."
To view the list of awards and the winners, click here. To see the honour roll, click here.