Be prepared for Hurricane Lee and other severe weather events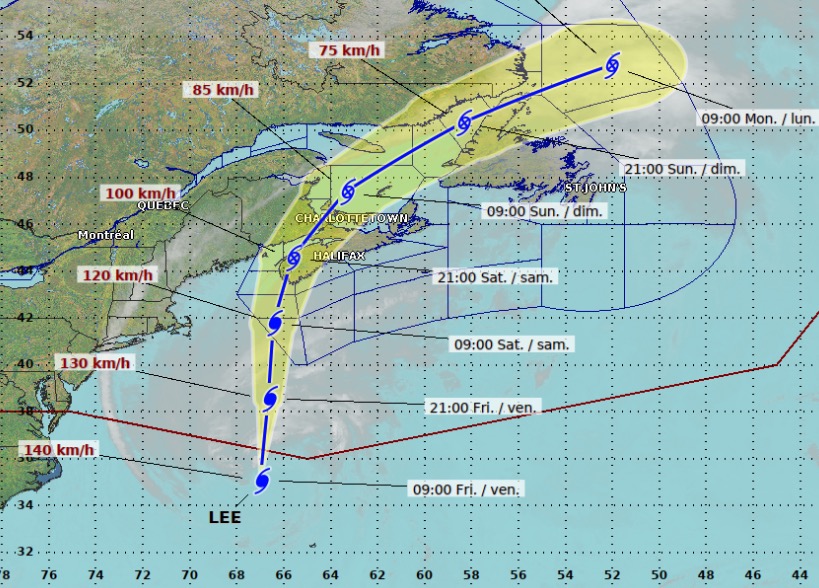 The following message was distributed to students, staff, and faculty on September 15 by email and via the UPEI SAFE app in advance of projected severe weather caused by Hurricane Lee.
Environment and Climate Change Canada has issued a Tropical Cyclone Information Statement for Prince Edward Island with respect to Hurricane Lee. Rainfall is anticipated to begin on Saturday along with the potential of high winds, which will likely continue into Sunday. A power outage over the weekend is a distinct possibility. For official weather reports, visit the Environment and Climate Change Canada website.
UPEI's emergency preparedness and response team is monitoring the situation closely to keep the University community safe and will communicate with students, staff, and faculty as conditions warrant. Check your @upei.ca emails regularly, follow UPEI on X (Twitter) @UPEI or, if you haven't already, download UPEI SAFE, UPEI's official safety app, from the App Store or Google Play to receive push notifications. Learn more about UPEI SAFE
Follow local media outlets for reports and directions from municipal and/or provincial officials. The PEI Public Safety Division's Facebook and X (Twitter) sites are updated often, especially during an emergency.
To promote your safety and minimize damage to property on and off campus during a severe weather event:
close and lock all windows, including those in labs and offices,
power down and unplug any computers or other electronic equipment, especially those that are not connected to surge protectors, and
secure any loose outdoor furniture or bring it indoors.
For laboratories:
Properly power down, shut down, and/or disconnect all laboratory equipment, including hoods (if it is safe to do so)
Turn off any process gasses, process liquids, or water supplies to equipment (if it is safe to do so)
Properly stopper/cap and store any chemicals that may be present.
Release pressure on any systems that may be still under load, such as hydraulic cylinders
Ensure any laboratory back-up systems that might be in place are in good working order (batteries fully charged, gas cylinders full, etc.)
In advance of a severe weather event, you are encouraged to prepare an emergency preparedness kit:
Extra blankets
Plastic sheet and duct tape for sheltering in place
At least 2 litres of water per person per day for 3 to 5 days
At least 3- to 5-day supply of non-perishable food and a can opener
Moist towelettes, tissue, toilet paper, garbage bags and plastic ties for personal sanitation needs
Battery powered or hand-crank radio and extra batteries
Cash (small bills)
Flashlight, whistle, first-aid kit and dust mask to help filter contaminated air
Wrench or plier to turn off utilities
Printed list of contact names and phone numbers
Learn more on the Government of Prince Edward Island website.
Hurricane Fiona in September 2023 reminded us of the power of mother nature and that we shouldn't take our comfort and security for granted. It is normal that those who were previously affected by severe weather events may be worried or anxious about a repeat. Here are some tips for dealing with the emotional and psychological impacts of hurricanes:
Get physically prepared by preparing an emergency preparedness kit
Get the facts from reliable and verifiable sources with actual expertise.  
Acknowledge your emotions. It's ok to experience all sorts of emotions—fear, anxiety, grief, anger, frustration—and different people will experience different things.
Build, maintain, and use social connections. If you are having a hard time—reach out.  If you are doing ok, look for friends, classmates, neighbours, etc. who are struggling and offer help.
UPEI has a number of resources for students through UPEI Student Affairs, including academic advising and personal counselling (studentserv@upei.ca), and the International Student Office (irostu@upei.ca). Employees can visit the Equity, Diversity, and Inclusion site on myUPEI for information and access to resources.