Atlantic Veterinary College welcomes Class of 2027
| Atlantic Veterinary College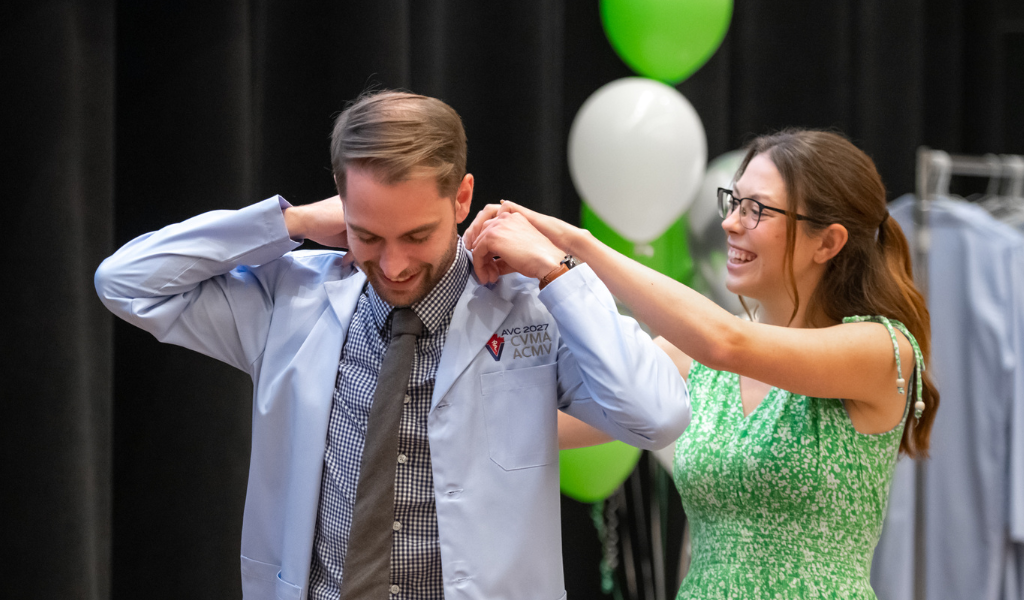 The Atlantic Veterinary College (AVC) at the University of Prince Edward Island (UPEI) proudly hosted its annual AVC-Canadian Veterinary Medical Association (CVMA) Blue Coat Ceremony, marking a significant milestone for incoming students on the journey to becoming veterinarians. The event, held on Friday, August 25, at UPEI's Performing Arts Centre, welcomed the 69 members of the Class of 2027, and the largest cohort in the school's history.
The Blue Coat ceremony is a cherished tradition at AVC, signifying the beginning of the students' four-year journey toward their Doctor of Veterinary Medicine degrees and their dedication to the veterinary profession. During the ceremony, the students were presented with their blue lab coats by family and/or supporters. They will wear them during labs and clinical courses at AVC until they graduate, when they will receive a white lab coat signifying their transition from veterinary student to veterinary professional.
"To have their supporters cloak the students with a blue lab coat is very special for everyone," said Dr. John VanLeeuwen, Interim Dean, AVC. "Many of the students have dreamed of this moment for most of their lives. The journey ahead will be arduous and rewarding, and those supporters will be important to the students over the next four years."  
Hosted by Drs. VanLeeuwen and Kathleen MacMillan, executive member of the CVMA, the ceremony included speeches, the presentation of the blue coats, and light refreshments. Those who spoke offered advice for the students' success during their time at AVC.
"Being accepted into a Doctor of Veterinary Medicine program is extremely challenging," said Dr. VanLeeuwen. "The four-year program itself is also challenging, but I encourage the students to embrace every aspect of their time at AVC, and to get involved in activities to connect with classmates, faculty, and staff, making this journey more rewarding." 
The Class of 2027 at AVC comprises diverse and accomplished students from Canada, the United States, South Korea, Pakistan, and Iran.