Native Council of PEI recognizes UPEI for its ongoing commitment to Reconciliation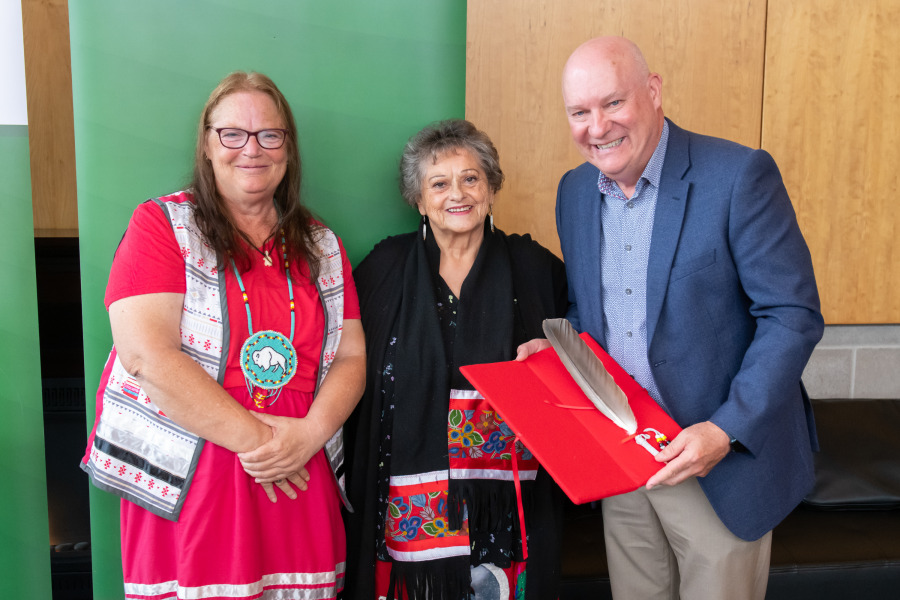 A special ceremony and presentation was hosted by the Native Council of PEI (NCPEI) to recognize the University of Prince Edward Island for its commitment and outstanding contributions to the ongoing work toward reconciliation with Indigenous communities. The event took place on Thursday, July 27, 2023, at 10:00 am in Schurman Market Square at Don and Marion McDougall Hall.

Corinne Chappell, UPEI Advisor to the Vice-President Academic and Research on Indigenous Affairs welcomed everyone in attendance and served as master of ceremonies. Elder Georgina Knockwood Crane said an opening prayer and recounted some of her personal history as a member of the Indigenous community. The Mi'kmaw Honour Song was sung by the NCPEI hand drum group followed by words from Dr. Judy Clark, Elder-in-Residence at UPEI.
Lisa Cooper, President and Chief of NCPEI, spoke about her educational journey and how far UPEI has come since she was a student in the 1990s. Upon recommendations from NCPEI, the UPEI Faculty of Indigenous Knowledge, Education, Research and Applied Studies (IKERAS) was created in November 2021 as one of the first steps on the University's journey of reconciliation and in response to the Truth and Reconciliation Commission of Canada's Calls to Action. IKERAS brings Indigenous knowledge and ways of doing to the forefront of the University, positioning UPEI as the role model for all universities to achieve decolonization and benefit from Indigenous knowledge. 

In addition, the University introduced a mandatory course on Indigenous history, culture, and practices last year, which all UPEI students—who began their studies in Fall 2022 or later—must complete as a requirement to graduate. Plans are also underway to continue building the Indigenous Studies program, taking it from a minor to a major and potentially a degree. 

"Large changes have been made at UPEI and it is part of our home now. We are welcomed," said President and Chief Cooper. "I'm so proud of all of you for what you have done and for demonstrating your commitment to reconciliation. Seeing our ideas and recommendations come to fruition has been a dream and now it is our reality. This is the legacy we want to leave and that is true reconciliation."

Dr. Greg Keefe, interim President and Vice-Chancellor accepted an eagle feather from Elder Crane on behalf of the University.

"It is humbling to represent the University as we accept this tremendous gift of the eagle feather," said President Keefe. "It is a momentous occasion in the history of the University and is especially important given the crossroads at which we find ourselves today. Receiving this feather on behalf of the University comes at such pivotal time as we not only continue the journey toward Reconciliation with Indigenous Peoples, but also embark on a pathway of healing and renewal in response to the Rubin Thomlinson report."

The eagle is sacred in Indigenous culture because it flies closest to the Creator and symbolizes respect, honour, strength, courage and wisdom. The eagle's feathers also symbolize a step forward and a new chapter in the ongoing story of Reconciliation.

Dr. Gary Evans, interim Dean of Indigenous Knowledge, Education, Research, and Applied Studies and Dr. Greg Naterer, Vice-President Academic and Research at UPEI were also presented with smudging bowls. Following the presentation, Dr. Evans spoke to the crowd about his pride in his faculty and acknowledged IKERAS Assistant Professor, David Varis for his recent work in Indigenous education at the UPEI Cairo Campus in Egypt.

The Hon. Brian Francis, Senator; Hon. Jen Redmond, Minister for Workforce, Advanced Learning and Population; and Karla Bernard, interim leader of the Green Party of PEI, were also in attendance. Both Redmond and Bernard provided greetings and congratulated the University on this special acknowledgement by the Native Council of PEI.

"I am so moved. This has been so beautiful and it's an honour to be asked to be here," said Redmond. "IKERAS has significantly enhanced the awareness and knowledge of post-secondary students attending UPEI. Congratulations to Drs. Keefe and Evans as you continue to work to establish UPEI as a leading example of advancing Reconciliation. We look forward to working together with you for years to come."