Like mother, like daughter: Continuing the legacy of veterinary medicine across the Atlantic
| Atlantic Veterinary College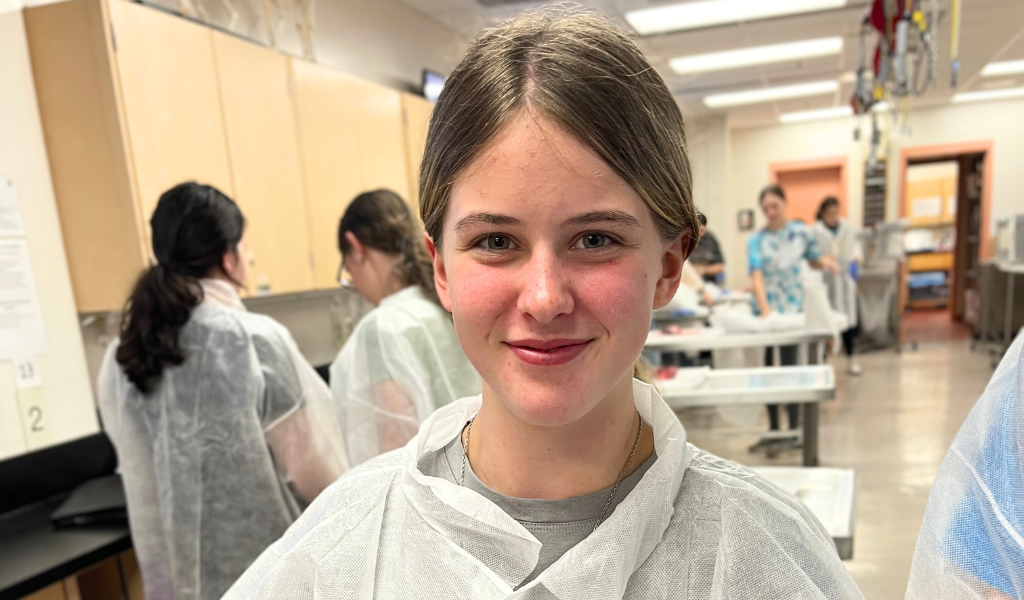 Dr. Sarah (nee Proud) Wheeler, a graduate of the Atlantic Veterinary College (AVC) at the University of Prince Edward Island, reminisces about her student days in the late 1990s. One memory was when the Dr. Tim Ogilvie Vet Camp was just starting to welcome its first group of campers and it caught her attention.
"I remember saying, that looks like fun! I wish they had that when I was younger," Dr. Wheeler said.
Born on PEI, Dr. Wheeler grew up in Kingston where her family operated a beef cattle farm. After she received her Doctor of Veterinary Medicine degree from AVC in 2001, love led her to another island on the other side of the Atlantic Ocean—the United Kingdom--where she embraced a new life. Soon after her arrival in Wales, she hung up her white coat to manage the dairy farm she owns with her husband and raise their family.
Now, Dr. Wheeler's 16-year-old daughter, Enfys, has expressed a keen interest in following her mother's footsteps and becoming a veterinarian. Without missing a beat, Dr. Wheeler signed her up for the AVC Vet Camp, remembering all those years ago what the campers learned.
"I want to be a vet, and my mom mentioned this would be a good opportunity," Enfys said. "There are no programs like that here in Wales."
Enfys and her family regularly visit PEI to spend time with relatives, but this visit held a special significance as she became immersed in the world of veterinary medicine. During her time at the AVC Vet camp, she took a keen interest in the Canadian approach to caring for farm animals, comparing it to practices she's used to seeing in the UK.
"I was really excited to see the dairy farm and experience that," she said about the farm visit that took place during the week she attended camp.
While Enfys has set her sights on the future and dreams of donning her own white coat, just like her mom did more than two decades ago, she also wants to have her graduation photo hung at AVC on the wall down the hall from the collage of the Class of 2001 where her mother's photo is displayed.
"AVC is my first choice, and I really hope it works out!"
With a shared passion for animals, Enfys and Dr. Wheeler share another connection: a connection to veterinary medicine and memories of AVC.