UPEI Women's Hockey Panthers coach excited about new recruits for 2023–24 season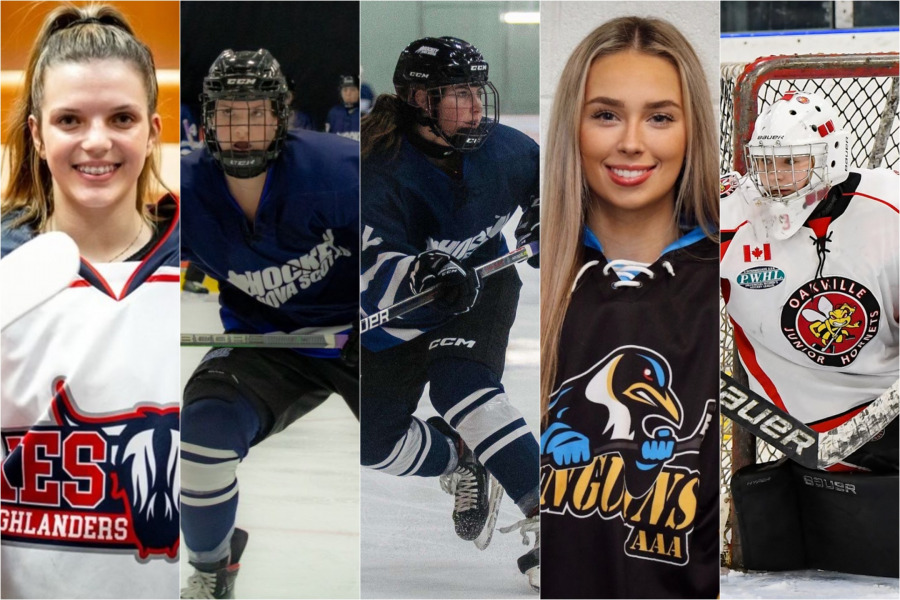 Over the last six months, the UPEI Women's Hockey Panthers have secured commitments from four skaters and a goaltender for the 2023–24 season. Hayden Lilly, Brooke Thomson, Sarah Fraser, Brooke Henderson, and Erin Cabaday will join the team this fall.
In his inaugural season last year as head coach, Sean Fisher guided his young team to a fourth-place finish in regular play with a respectable 17-9-2 record and won a playoff series for just the second time in the program's history.
This year, Fisher has been hard at work searching for players who can help the program take another step toward an AUS championship.
"I'm very excited to have these five join our program," Fisher said. "They are everything UPEI Hockey looks for, and I expect them all to be great student-athletes."
Hayden Lilly, a 17-year-old forward from Hammonds Plains, Nova Scotia, was the assistant captain for King's-Edgehill, a private school in Windsor, Nova Scotia, during the 2022–23 season. She also represented her province several times, including in 2019 when she helped her team capture the under-16 Atlantic Challenge Cup title and during the 2023 Canada Games when she played for the provincial team that won the silver medal.
"Hayden comes to us from a strong prep school program at King's-Edgehill where she was a fantastic student and leader on the hockey team," Fisher said. "Hayden had an impressive Canada Winter Games and took on a big role for Team Nova Scotia. She works incredibly hard, and her skating ability should translate well to the U SPORTS level."
Brooke Thomson is an 18-year-old power forward who brings size to the lineup. The Truro, Nova Scotia native joins the Panthers after three seasons with the Northern Subway Selects. The former assistant captain put up 30 goals and 33 assists in 65 career games with the club and guided them to back-to-back Esso Cup appearances—the Canadian national women's under-18 ice hockey club championship. She too was named to the Nova Scotia roster at the Canada Winter Games.
"Brooke had another great season playing for the Subway Northern Selects out of Pictou County," Fisher said. "She's a great playmaker and possesses an elite shot. I'm excited to add Brooke's championship pedigree to our program."
Sarah Fraser, 18, will reunite with Thomson after playing four seasons with the Northern Selects. Fraser, from New Glasgow, Nova Scotia, was one of the team's top defenders, amassing six goals and 21 assists in 66 career games. Like Thomson, she suited up for Nova Scotia during the silver-medal run at the Canada Winter Games.
"She was an important part of Team Nova Scotia's silver medal and her team's run at the Esso Cup," Fisher said. "Sarah competes at a high level, and I believe she is well suited to the physical play of AUS Women's Hockey. I think the ceiling is high for Sarah."
Brooke Henderson, an 18-year-old winger from Halifax, Nova Scotia, was the assistant captain for the Action Benefits Penguins last season when she compiled 25 points (18G, 7A) in 22 games. Henderson also captured three provincial titles with her high school team and has been a member of Team Nova Scotia for the past two years.
"Brooke had a great Atlantic Challenge Cup for Team Nova Scotia. She is a very intelligent player who has a great feel for the game with her ability to score and set up teammates," Fisher said. "Her size and strength should lend itself well to U SPORTS hockey, and I'm excited to add her to the program."
Star goaltender Erin Cabaday rounds out the 2023 recruitment class. Over the past 12 years, the 18-year-old from Oakville, Ontario, has won a gold, silver, and bronze medal at Ontario provincial championships as a member of the Oakville Hornets. This past season, Cabaday sported a 7-5-5 record with a 1.97 goals against average and .930 save percentage and figures to play a significant role for the Panthers in 2023-24 and beyond.
"Erin comes to us after having a very successful run in the Oakville Hornets organization," Fisher said. "She plays the goaltending position with a quiet confidence. She has great hands, reads plays well, and is a great skater. I'm very happy Erin chose UPEI and Panther Hockey."