UPEI researchers receive funding from provincial climate challenge fund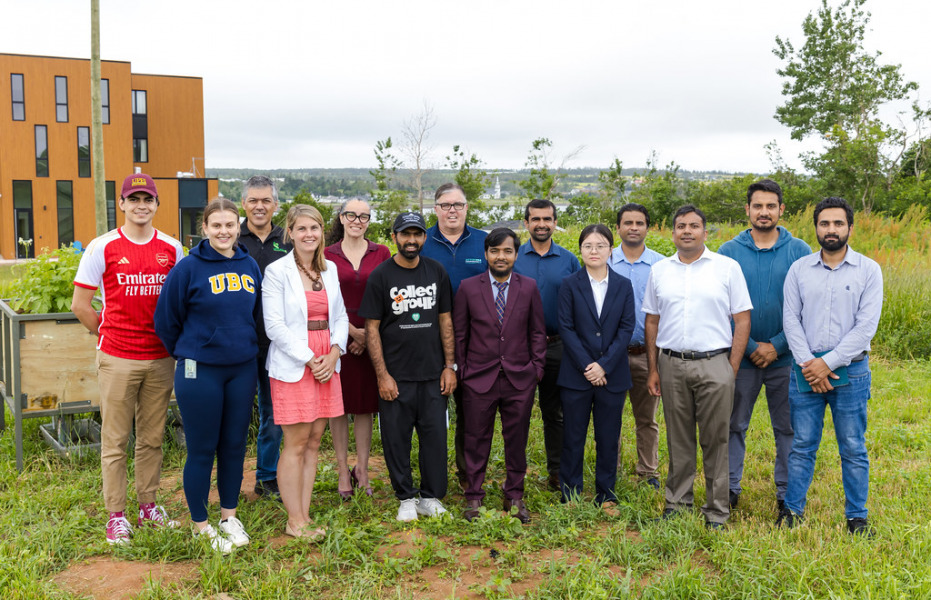 Congratulations to five UPEI researchers who have received funding from the Government of PEI's climate challenge fund.
Their projects were among 18 announced by the Honourable Stephen Myers, Minister of Environment, Energy and Climate Change, at the UPEI Canadian Centre for Climate Change and Adaptation on July 18. The fund provides $1 million annually to help organizations develop innovative solutions to climate change.
The UPEI researchers are as follows:
Dr. Yulin Hu, assistant professor, Faculty of Sustainable Design Engineering: "Solar Energy-driven Hydrogen Production from Water Splitting"
Dr. Stephanie Shaw, assistant professor, Faculty of Sustainable Design Engineering: "Holistic Exploration of the Sustainable Use of Biomass as an Alternative for Fossil Fuels on Prince Edward Island"
Dr. Patrick Augustine, assistant professor, Faculty of Indigenous Knowledge, Education, Research, and Applied Studies: "Siawa'tmnej L'ney Kjijitaqn Project" (meaning: pass on L'nu knowledge from generation to generation)
Dr. Nadja Bressan, assistant professor, Faculty of Sustainable Design Engineering: "Immersive Environment for Climate Change Adaptation"
Dr. Aitazaz Farooque, professor and interim associate dean, UPEI School of Climate Change and Adaptation: "Monitoring and Modeling Greenhouse Gas Emissions in the Face of Climate Change for Sustainable Crop Production in Prince Edward Island"
"On behalf of UPEI, I congratulate these researchers on their success in receiving funding from the PEI climate challenge fund," said Dr. Greg Naterer, vice-president research and academic. "Climate change affects every aspect of our lives, as we experienced with Hurricane Fiona in the fall of 2022. The impact of that devastating storm and other climate-related events such as the wildfires burning in forests across Canada make this research more urgent than ever. UPEI is taking on this difficult challenge and making a positive difference in fighting climate change."