UPEI Foods and Nutrition student wins Undergraduate Research Award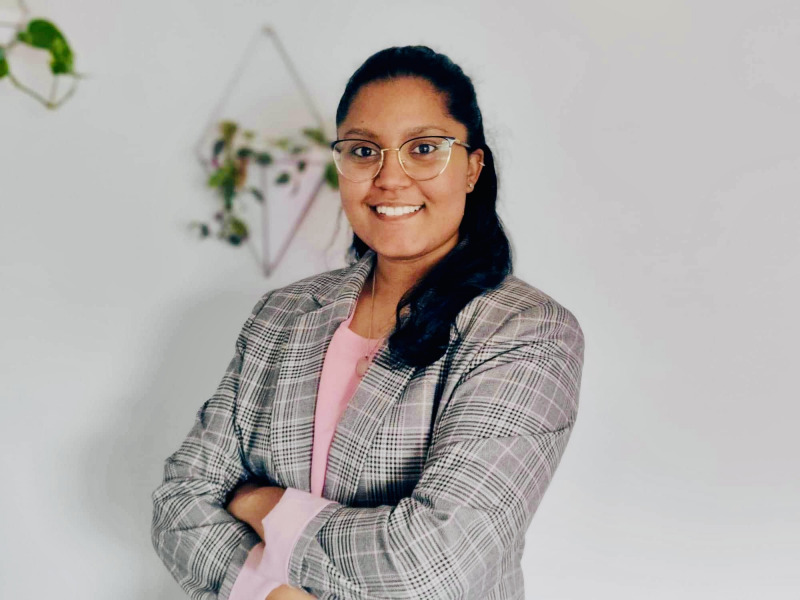 Joanne Severe, a fourth-year University of Prince Edward Island (UPEI) Foods and Nutrition student and dietetic intern, won the Undergraduate Research Award for her thesis and presentation, "Mealtime in Child Care Centres: Exploring Educators' Feeding Practices," at the annual Science Atlantic Nutrition and Foods Conference, hosted virtually on April 28 and 29, 2023, by UPEI.

The Undergraduate Research Award is presented to the student or students giving the best research presentation at an annual Science Atlantic conference. Science Atlantic is a charitable association representing 18 post-secondary institutions in Atlantic Canada.

An international student originally from Mauritius, a culturally diverse island in the Indian Ocean, Severe has always been intrigued by the factors that influence food choices and behaviours and the impact of culture on food. After exploring and learning at UPEI, she developed a particular interest in infant and toddler nutrition.
Severe conducted her research under the supervision of Dr. Misty Rossiter, associate professor in the UPEI Faculty of Applied Human Sciences. Their research contributed to CELEBRATE Feeding, a joint research project with the Early Childhood Collaborative Research Centre (ECCRC) at Mount Saint Vincent University in Nova Scotia (NS). The aim of the project is to strengthen responsive eating and feeding environments in childcare centres across the Maritimes by fostering the joy of eating through an enriched feeding environment that celebrates diversity and inclusion.
"Joanne completely embraced the CELEBRATE Feeding research project, and through her honours work, she has navigated the research process with reverence," said Rossiter. "There were many excellent student presentations at Science Atlantic. As Joanne disseminated her research findings, she was articulate and communicated her research results with confidence. Working with Joanne has been an absolute pleasure. I'm excited to see what's next for her."
Severe says since the topic and population were relatively new to her, the project pushed her outside of her comfort zone, allowing her to develop numerous skills along the way. Her research explored educators' values and mealtime practices in early learning and childcare centres across NS and PEI. Interviews and focus groups were conducted with 29 educators and five directors in seven early learning and childcare centres.
"I am beyond grateful to have been given this opportunity, but more importantly, to have received unwavering support and guidance from my mentors throughout the course of this project," said Severe. "Being the only student from UPEI and the first to present at the conference, I felt a little stressed and anxious, but I was mostly excited to share my findings of the project I had been working on for over seven months. I am very proud to have received the Undergraduate Research Award. A lot of time and effort went into this project, and receiving this award was a fantastic way for me to complete my final year at UPEI."