University extends condolences on the passing of Dr. James "Jim" MacAulay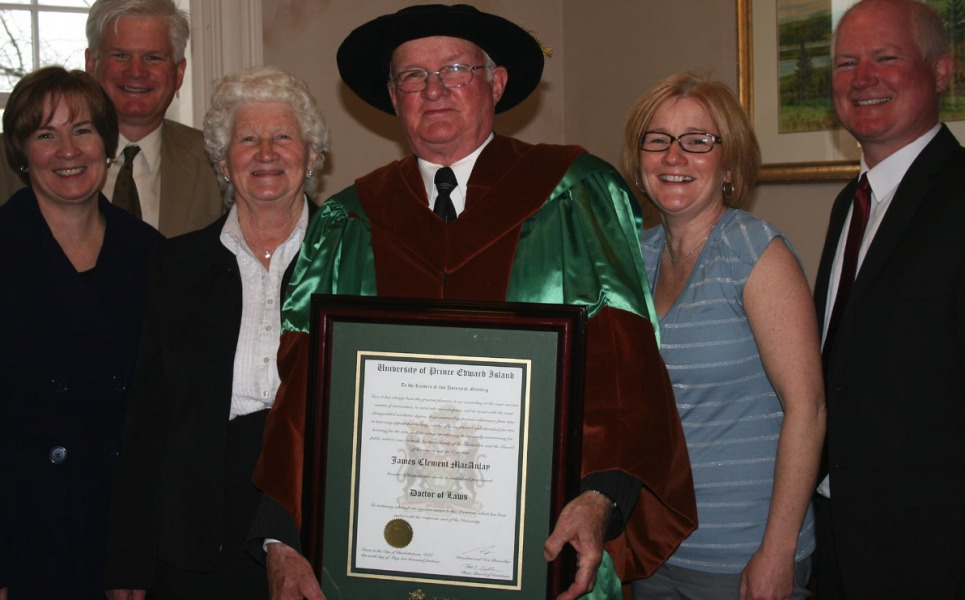 Dr. Greg Keefe, UPEI's interim president and vice-chancellor, issued a message today to faculty and staff on the passing of Dr. James "Jim" MacAulay, a UPEI honorary degree recipient, proponent of higher education and life-long learning, and proud Saint Dunstan's University alumnus (SDU '62). Dr. MacAulay passed away on Friday, July 21, 2023, after a brief illness in Souris, PEI.
Dr. MacAulay received his honorary Doctor of Laws degree in 2014, and participated faithfully after that in the academic procession at UPEI convocations. He also led the organization of his SDU Class of 1962 reunions and annual breakfast, and was a regular attendee of SDU's all-year activities every summer. 
President Keefe recognized Dr. MacAulay as a pillar in his community—whether it was his SDU alumni community; his home community of St. Peter's Bay; the community of Morell where he taught and served as vice-principal and principal; the community of PEI public school educators; or his faith community of St. Peter's Roman Catholic Church. Dr. MacAulay received the Order of PEI for his outstanding community contributions in 2017.
"A visionary, mentor, advocate, and educator, who was widely known for his organizational skills and his ability to 'get things done', Jim was a catalyst for many grassroots initiatives and the development of numerous projects, including UPEI's Canadian Centre for Climate Change and Adaptation," said President Keefe. 
"On behalf of the University, I offer my sincere condolences to Jim's wife Lauretta, their four children, and extended family members and hope that they are comforted, knowing that his legacy will live on in so many communities on Prince Edward Island and at UPEI." 
The flags on campus have been lowered to half-mast in his memory. Read the obituary for full funeral arrangements.
Media Contact
Director of Communications and University Relations
Marketing and Communications