Summer camp helps young learners and teachers build classroom skills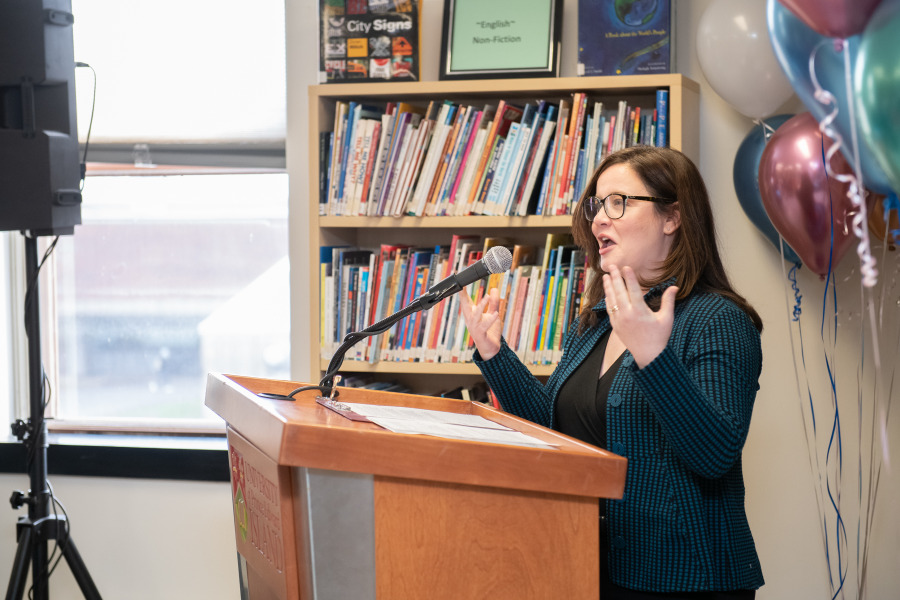 The following is a story about UPEI's Literacy and Numeracy Outreach Project written and published by the Province of Prince Edward Island. View UPEI's video about the project.
At first glance, it looks like any other summer camp. Children are having fun, making new friends, and enjoying indoor and outdoor play. 
But this camp is so much more than meets the eye. It's the UPEI Literacy and Numeracy Outreach Project, an eight-week summer camp that helps Island students ages 4–9 with their numeracy and literacy skills through play-based inquiry-led learning. 
The project was developed by the University of Prince Edward Island's Faculty of Education. Emily Cook-MacDonald is the project manager. 
"The objective of the camp is to create literacy and numeracy learning opportunities for children in a supportive, playful space. We take a multi-literacy approach, which can look different for each child. For example, we might think of a traditional story as having to be written down, but students can effectively tell a story through movement, art, or any type of medium."
The program also focuses on social-emotional learning, which is essential for students to work well with others, build resiliency, and achieve their goals inside and outside of the classroom. 
"We want it to feel like a warm hug when children come into the room. It's a calm, safe place where campers explore different ways of learning that supports their unique experience as students." 
Emily says that the feedback from last year's pilot was extremely positive. 
"We heard so many amazing things from administrators and teachers at the schools our campers attend during the year. Their skills had improved; they were coming back more confident and excited to learn." 
The camps aren't just beneficial for students; they're also helping new teachers to hone their classroom skills. 
The counsellors at the camps are recent graduates or current students of the UPEI Bachelor of Education (BEd) program or Master of Education (MEd) program. They plan and deliver literacy and numeracy-based activities to campers.
Erin Morrison earned her BEd from UPEI in May 2022, and started working with the project last summer.
"This experience allowed me to come out of the Bachelor of Education program and implement the theory, knowledge, and skills I had developed throughout my education while working alongside fellow UPEI students, faculty, and staff. These multimodal learning approaches encouraged the children to explore, create, share, and discover, while I also discovered different ways of thinking, exploring, and viewing the world."
There are currently five camp locations across the Island and 160 children taking part. 
Dr. Miles Turnbull, Dean of Education at UPEI, says he is thrilled with the project to date.
"This project is a tremendous opportunity for recent Bachelor of Education graduates who have a chance to teach in real-live settings with innovative practices. Literacy and numeracy are essential skills, and the participating students get a significant boost with these skills because of these camps."
Emily hopes the project will continue to expand in the coming years. 
"There's definitely a need and a want for projects like this, and I am excited to see it grow and evolve while having a positive impact on the lives of Island children, teachers, parents and communities." 
The project is funded through Master Packaging, the UPEI Faculty of Education, STEAM PEI, and the PEI Public Library Service. The provincial Department of Education and Early Years also contributed $75,000.