Dr. Meagan Walker's success at UPEI's Three Minute Thesis competition
| Atlantic Veterinary College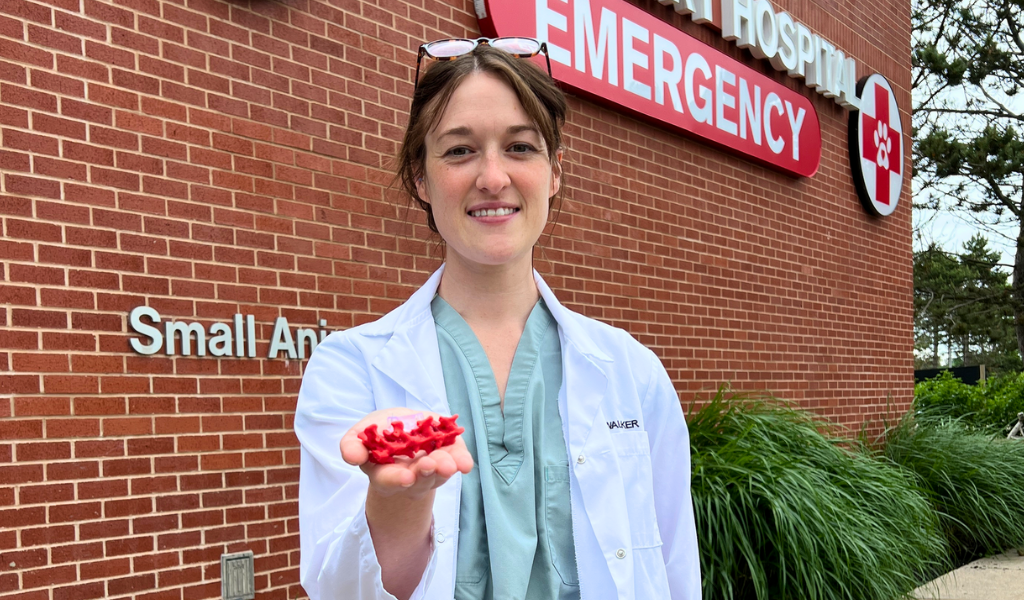 A second-place finish at the Three Minute Thesis competition is just the beginning for Dr. Meagan Walker, MSc, Department of Companion Animals, Faculty of Veterinary Medicine. The Three Minute Thesis competition is a skills development activity held every year at UPEI which challenges thesis-based graduate students to explain their research project to a non-specialist audience in just three minutes.
For Dr. Walker's thesis research, the surgical resident has created a 3-D-printed surgical drill guide that will help with complex spinal cord surgeries involving herniated discs in small dogs. While she's overcome many challenges getting the protype to work, she feels this competition was an even bigger challenge that involved her explaining her work in three minutes and using only one visual.
"I joined the three-minute thesis to get comfortable with presenting because it's not something that I'm 100% comfortable with," Dr. Walker says. "I really like academia and research so it was a good opportunity to push myself out of my comfort zone and get feedback on some of the things I can do better. "
One of those things she needs feedback on is the complex 3-D-printed guide that could define her career and potentially save lives. Dr. Walker developed this surgical guide for ventral slot spinal surgeries in small dogs. By taking a CT scan of the dog's spine prior to surgery, she can create a 3-D-printed model of a drilling guide that exactly matches that dog's specific anatomy. This drilling guide is then used during surgery, where it is placed on top of the dog's back. The surgeon then uses a high-speed burr, a type of drilling device, to ensure just the right amount of herniated disc material is taken out of the spinal canal. This enables the spine to move in a normal manner again and the herniated disc is no longer pinching the spinal cord. Dr. Walker has been developing this unique project for the past three years with Dr. Katie Hoddinott and Dr. Adam Ogilvie, faculty members who are board certified in small animal surgery at AVC.
"So far, we've just used it in cadavers to see if it would even work to make the models, which it does. Now we need to do it in live animals to confirm it works as well as we hope it will."
While she may have placed second in the UPEI Three Minute Thesis competition, and therefore won't go to the regional competition at Dalhousie University in Halifax, she has her sights set on introducing her project to a very specific audience, using the feedback she received to improve her pitch.
"We submitted this project to the Residence's Forum for the American College of Veterinary Surgeries Summit and Conference in Kentucky in October so it will be a competition against all the residents in North America and their projects. So, we'll see how I do there."
Dr. Walker's long-term goal is to make this 3-D printed device a universal tool to assist with surgeries around the world, and she is hoping her second place finish at the UPEI Three Minute Thesis is a step along that path for her and for her future patients.