UPEI student named a 2023 3M National Student Fellow
Congratulations, Reilly Sullivan!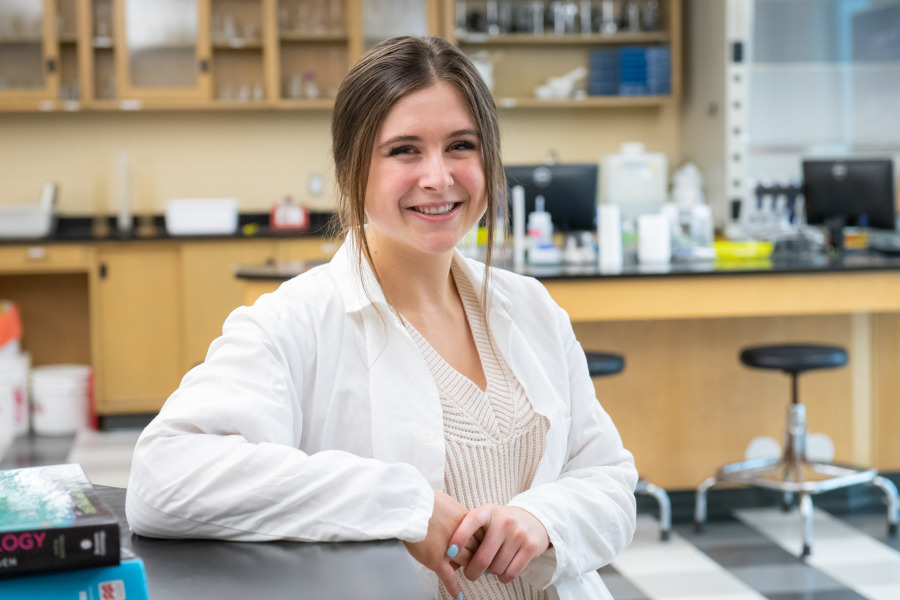 Reilly Sullivan, a fourth-year biology student and varsity athlete at the University of Prince Edward Island, has been awarded a 2023 3M National Student Fellowship by the Society for Teaching and Learning in Higher Education (STLHE). 
The fellowship honours up to ten full-time college or undergraduate students across Canada who have demonstrated outstanding leadership in their lives and at their postsecondary institution. These students embrace a vision of education that enhances their academic experience and beyond. 
Originally from Quispamsis, New Brunswick, Sullivan was nominated for the award by Dr. Libby Osgood, an assistant professor in the Faculty of Sustainable Design Engineering, with letters of support from Inge Dorsey, a sessional lecturer and coordinator of University 100 and Integrated Studies at UPEI; Bob Gray, retired practicum supervisor and lecturer in the Faculty of Education; and Sydney Whitlock, a fourth-year student. 
In her letter of nomination, Osgood described Sullivan as a "dedicated, hard-working student with great vision and leadership ability." In addition to being an excellent student and athlete, she believes strongly in the value of volunteering. She founded the UPEI chapter of Global Brigades, an international movement of students and professionals who work with local communities and staff to implement sustainable solutions to health and economic disparities. She has volunteered with the Queen Elizabeth Hospital, organized the 2022 Terry Fox Run and will do so again this year, and mentored other students. 
"Reilly has won numerous awards from the UPEI Student Union," said Osgood, "including the individually earned Campus Leadership Award for extraordinary involvement in extracurricular activities, a club award for exceptional community involvement, and for organizing the UPEI event of the year, which doubled as a fundraiser for the [Global Brigades] humanitarian trip to Honduras [in 2022]. In addition to being an Academic All-Canadian for her high grade point average while a member of a nationally ranked U SPORTS team in each of the seasons she played, she earned three academic awards including the Robert Haines Memorial Science Award of Merit for her community service and academics." 
Sullivan is honoured to be selected one of this year's 3M National Student Fellows.  
"For me, winning this award is a testament to the wonderful people I've met, and the experiences I've had during my years at UPEI. I try to make the most out of every opportunity I'm fortunate to have, including my involvements on campus with UPEI Global Brigades, Dr. Pat Murphy's cancer research laboratory, the UPEI Athletics Department, and the mentorship program as well as in the community with the Terry Fox Foundation and the QEH. I am continuously learning from individuals in all these environments, so I think this award speaks to the exceptional quality of those around me including my peers, family, and UPEI faculty members." 
Sullivan will graduate in the spring of 2024 after she completes her biology honours thesis. She plans to go on to graduate studies where she wants to learn about global health. And she plans to attend medical school and is interested in specializing in oncology. 
"My overarching goal is to contribute to improving healthcare systems all over the world while also helping people on a more personal level through my medical practice," she said. 
"On behalf of UPEI, I congratulate Reilly on receiving this prestigious fellowship," said Dr. Greg Keefe, interim president and vice-chancellor. "The award recognizes her academic excellence, outstanding leadership, and dedication to her community and fellow students. It is students like Reilly who hold the key to the future of our society. We are very proud of her achievement." 
Sullivan is looking forward to meeting her fellow 3M National Student Fellows this summer at the 3M STLHE Conference, which will be held in Charlottetown from June 13–16. During the conference, she, Osgood, and Dorsey will deliver an oral presentation about international service learning experiences.