UPEI sprinter Zach Wilson earns prestigious athletic award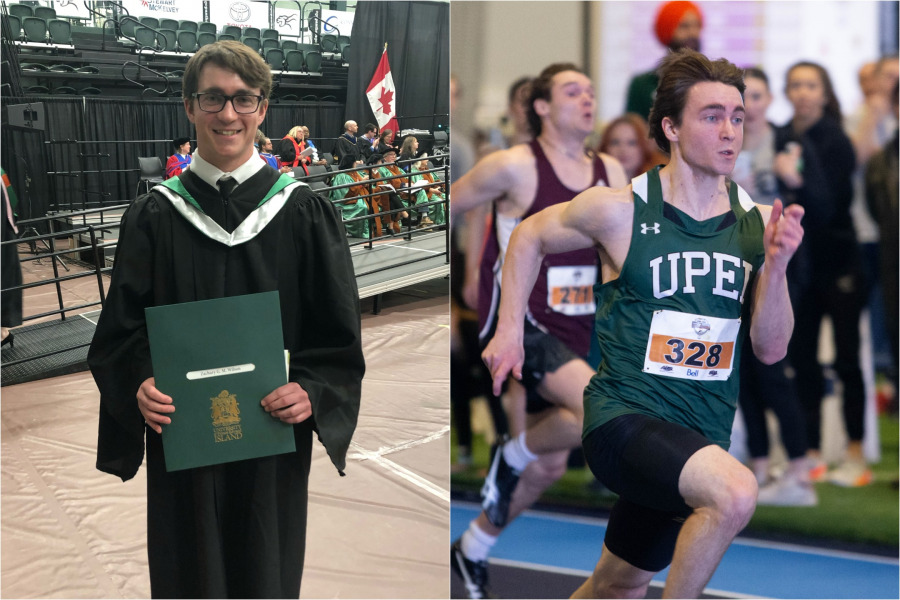 The UPEI Department of Athletics and Recreation is proud to announce that track and field sprinter Zach Wilson is this year's recipient of the Rory Beck Outstanding Academic and Athletic Leadership Award. Wilson earned the prestigious award during UPEI's convocation ceremony for the faculties of Arts, Education, and Graduate Studies on May 18.
Friends and family created the award to honour the late Rory Beck's passion for sports and his belief that education and community service are critical components of a meaningful life. The award is granted to the graduating student who has displayed the most outstanding dedication to athletics, academics, leadership, and campus spirit throughout their undergraduate studies at the University of Prince Edward Island.
"Zach is absolutely deserving of this award," said UPEI athletic director Jane Vessey. "Ever since he arrived at UPEI, Zach demonstrated leadership qualities that we want to see from all our student-athletes. We would like to thank Zach for his contribution to the track and field program and for leaving a legacy."
Wilson, a native of Cornwall, PEI, graduated with his Bachelor of Arts honours degree with a double major in history and political science, and earned several awards for his academic excellence, including the Public Archives of Prince Edward Island Prize and the Honourable Joseph A. Ghiz Memorial Scholarship.
The UPEI scholarship committee selected Wilson because of his excellence in academics and athletics. This past season, the 22-year-old captured an Atlantic University Sport (AUS) silver medal in the 60-metre and a bronze in the 4x200-metre relay. He was also named the Gordon and Muriel Bennett Award recipient during UPEI's annual athletic awards banquet in March.
"I'm incredibly honoured to be the recipient of the Rory Beck Outstanding Academic and Athletic Leadership Award," Wilson said. "To even be considered to have some of the same qualities that he did is an amazing compliment. I would also like to thank his wife, Gaylene, for being at the convocation ceremony and continuing to honour Rory's legacy through this award."
During his time at UPEI, Wilson said he learned a lot about himself and his capabilities.
"I learned that through hard work and perseverance, you can achieve anything. When I started at UPEI in 2019, I hoped that I could help the track and field program compete at a high level in our conference despite being a smaller school, and our performances at the AUS Championship in 2022 and 2023 demonstrate that UPEI is a force to be reckoned with on the track," Wilson said. "I believe that this award is a testament to all of the work that my teammates and I have put in on the track and in the classroom, and I can't thank the UPEI community enough for their support."
In the fall, Wilson will attend the University of New Brunswick to study law.