UPEI holds celebration to recognize achievements of faculty and staff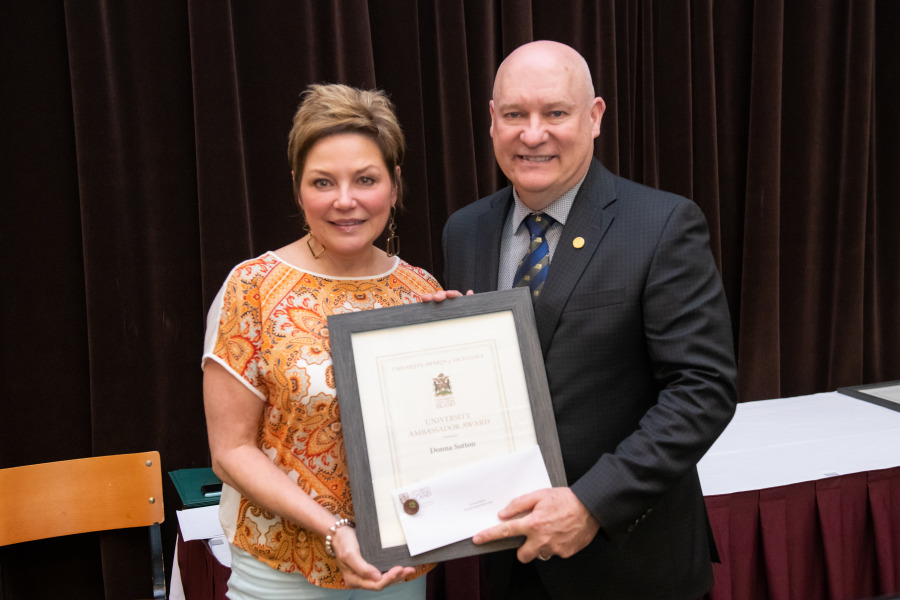 Members of the UPEI community packed McMillan Hall in the W.A. Murphy Student Centre on May 25, 2023, to celebrate the achievements of their colleagues. During the event, the University Awards of Excellence and 25-Year Service Awards were presented to faculty, librarians, clinical veterinary professionals, clinical nursing instructors, sessional instructors, and staff members.
Dr. Greg Keefe, interim president and vice-chancellor, thanked the University community for contributing to the success of UPEI as a whole and its students in particular.
"As a public institution and Prince Edward Island's only university, UPEI has a special obligation to the people of PEI and plays a distinct role in contributing to the success of this province," he said. "All of you are responsible for contributing to the success of UPEI…. Thank you, everyone, for building this great University, and, with the spirit that has brought us to this day, I am sure we will continue to grow and fulfil our mission. 
Dr. Libby Osgood, assistant professor, Faculty of Sustainable Design Engineering, and Dr. Andrew Zinck, associate professor, Department of Music, were each presented with the University Teaching Excellence Award. This award recognizes outstanding contributions to teaching in one or more of the following areas: teaching effectiveness, teaching innovation, clinical instruction, and scholarship of teaching and learning and educational leadership.
Receiving University Research Excellence Awards were Dr. Aitazaz Farooque, interim associate dean, School of Climate Change and Adaptation; Dr. Mark Fast, chair, Department of Pathology and Microbiology; Dr. Jean Mitchell, associate professor, Department of Sociology and Anthropology, and UNESCO Chair in Island Studies and Sustainability. This award recognizes faculty members for outstanding research and scholarly accomplishments and significant contribution to advancing the University's national and international reputation for research excellence.
Dr. Henrik Stryhn, professor, Department of Health Management, received the University Award for Excellence in Graduate Student Supervision for excellence in the supervision, mentorship, and support of graduate students.
University Awards for Exemplary Service was presented to Marilyn Barrett, director, UPEI Health and Wellness Centre; Alexander Doucette, fabrication and assembly technician, Faculty of Sustainable Design Engineering; and Donald MacFadyen, academic advisor for the UPEI women's hockey team, Department of Athletics and Recreation. This award is given to a UPEI employee who has demonstrated outstanding service and/or has made significant contributions to the University community beyond that normally expected of their position. 
Associate Vice-President, Students and Registrar Donna Sutton received the University Ambassador Award, presented to a UPEI employee who has made a significant positive impact on the University by advancing the strategic priorities of their unit, department, or faculty or by fostering a sense of excitement on campus and promoting fellowship, goodwill, and belonging within the University community.
Kendra Mellish, graduate programs officer, Faculty of Graduate Studies, received the University Award for Support of Student Success Award for making significant contributions to higher education by supporting student success.
The following faculty and staff were recognized for 25 years of service to UPEI: Suzette Acorn, Theresa Andrews, Garth Arsenault, Dr. Laurie Brinklow, Dr. Susan Brown, Catherine Coles, David Csernyik, Clive Currie, Dr. Susan Dawson, Tracey Dillon, Dr. Katherine Gottschall-Pass, Dr. David Horrocks, Alfred Mitchell, Dr. Wimal Rankaduwa, Dr. Wendy Shilton, Dr. Marina Silva-Opps, Dr. Henry Srebrnik, Susan Stensch, Dr. Brian Wagner, Darlene Wakelin, and Dr. Gregory Keefe.
Camille Mady, president of the UPEI Student Union (UPEISU), presented awards on behalf of the organization. Sutton was awarded an honorary membership in the UPEISU for her outstanding contributions to students. Richelle Greathouse, senior international student advisor, UPEI International Relations Office, received the UPEISU's Staff of the Year Award, and Dr. Sundeep Singh, assistant professor, Faculty of Sustainable Design Engineering, Faculty of the Year Award.