PEI author Deirdre Kessler launches new children's chapter book on May 21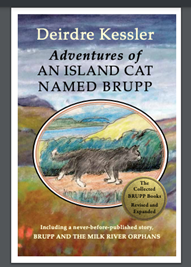 Prince Edward Island author Deirdre Kessler will launch a new children's chapter book, Adventures of an Island cat named BRUPP, on Sunday, May 21, at 2 pm, in the Carriage House, Beaconsfield, 2 Kent Street, Charlottetown.
Adventures of an Island cat named BRUPP, Kessler's 18th book for young readers, follows the odyssey of the Prince Edward Island cat who sets out to see the world. Illustrated by Cecily Donnelly, the book is a one-volume edition that includes all of Kessler's previously published Brupp-the-cat novels as well as a new, never-before-published story, Brupp and the Milk River Orphans. 
At the launch, which is hosted by the Bookmark, Kessler will read from the book and lead a sing-along of Brupp songs. Brupp fans know that the Island's most famous cat not only keeps an imaginary diary—he also makes up songs. As well, participants will make up a group poem about cats and do quick sketches of a favourite cat—real or fictional. There will be cat-shaped cookies and a display of artwork from the original Brupp books. 
Kessler has taught children's literature, creative writing, and a course on L.M. Montgomery with the UPEI Department of English since the early 1990s. She is the recipient of a UPEI Hessian Award for Teaching Excellence. She is on the editorial board of the Journal of L.M. Montgomery Studies and was an early co-chair of the L.M. Montgomery Institute. She is author of over 24 books of fiction, nonfiction, and poetry, and is a former Poet Laureate of Prince Edward Island. Her award-winning children's books include Lobster in My Pocket, Brupp Rides Again, and Born! A foal, five kittens, and Confederation. Her children's play based on Lobster in My Pocket premiered in August 2022 at the Florence Simmons Performance Hall in Charlottetown. 
Her Brupp series has been published in Canada, The Netherlands, Belgium, and Germany. She has toured widely in Canada, the U.S., The Netherlands, and Germany. She was writer-in-residence at the Tasmanian Writers' Cottage in Hobart, Tasmania, Australia, and artist-in-residence at the Cataract Gorge Gatekeeper's Cottage in Launceston, Tasmania, as well as writer-in-residence in cities and towns across Canada during Canadian Children's Book Week. In 2018 and 2019, she was an invited poet to the Féile na Bealtaine Music and Arts Festival in Dingle, Co. Kerry, Ireland.
For more information, contact the Bookmark at 902-566-4888 or charlottetown@bookmarkreads.ca, or Kessler at kessler@upei.ca. The author is grateful for the financial assistance of the Canada Council through the Writers' Union of Canada.