Business start-up winners announced at the UPEI Panther Pitch live competition
Funding made possible by the Harry W. MacLauchlan Entrepreneurship Program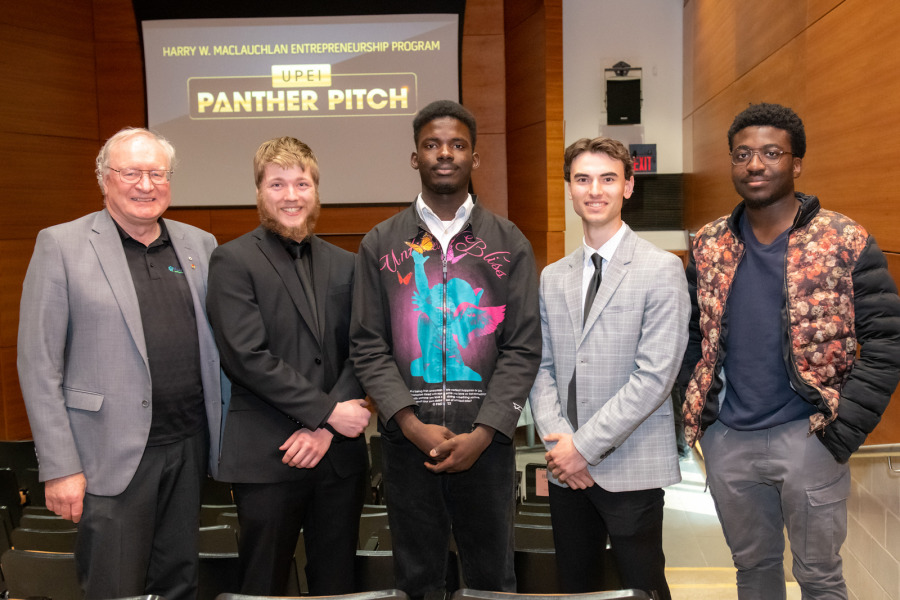 On Thursday, May 11, six student teams pitched their business concepts for a share of $50,000 in prize money from the Harry W. MacLauchlan Entrepreneurship Program during the UPEI Panther Pitch Competition. The competition for entrepreneurial undergraduate students is coordinated each year by UPEI's Experiential Education Department. 

"We are preparing students for more than just moving into jobs after graduation. We want them to be equipped to see problems, be able to respond with solutions, and have the skills needed to create innovative and viable businesses," said Megan MacLean, Director, Experiential Education and English Language Centre at UPEI. "The support these students have received as a result of the donation from the MacLauchlan Family will help them reduce the barriers students face in the early stages of entrepreneurship."

Teams that were chosen to pitch in the final event earned significant public exposure for their start-up ideas and competed for a portion of the prize money, which is to be used to support their start-up venture.

The winners are:
Harvest Moon Blueberry Syrup - $20,000: The goals of the company are to produce blueberry syrup and concentrate in Atlantic Canada, buying directly from local growers and selling directly to those using these products. Business owners include Evan Hutchinson, Ellen O'Rielly, and Brett McQuaid.

Mobile Bike Services - $15,000: Mobile Bicycle Services PEI offers a unique door-to-door bike repair service. They utilize a state-of-the art website platform to allow customers to book their desired date and time of tune-up/servicing. Matt Jelley is the sole proprietor of this business.

Finix - $10,000: This streetwear clothing brand launched online in 2022. Within four months, the brand generated five-figure revenue, shipped products to over 10 countries worldwide, and attracted nearly 10,000 website visitors. In recognition of the need for more sustainable fashion options, Finix has taken action to incorporate sustainable design principles into its brand. Business owners include Jerry Oriade, Prince Ogbodo, Daniel Onunwor, Adedamola Adedeji, Ezinne Nwakpa, and Adiel Rutabana.

Skibble - $5,000: This social networking platform allows people to connect through shared food experiences in various ways. Chinemerem Mbonu is the sole proprietor of this business.

"The prize money is going to really help us to get our product recipe and process developed, and due to the size of the investment, we are now looking at scaling up our production and automating a few of the steps," said Evan Hutchinson of Harvest Moon Blueberry Syrup. "We are looking forward to our first production year and getting our concentrate to our friends in the Atlantic Canadian craft brewing industry and our syrup to people through the local farmers markets."

The Harry W. MacLauchlan Entrepreneurship Program is dedicated to the development of students with an entrepreneurial outlook who will create and lead new ventures on PEI. Harry W. MacLauchlan (1926–2002) combined his entrepreneurial initiative, work ethic, business judgment, and people skills with a deep commitment to his family, community, and province. The MacLauchlan family has endowed this award to help advance and encourage entrepreneurial students at UPEI to build innovative ventures that will grow and benefit Prince Edward Island communities.