UPEI hosts 2023 Cavendish Farms University Cup Men's Hockey Championship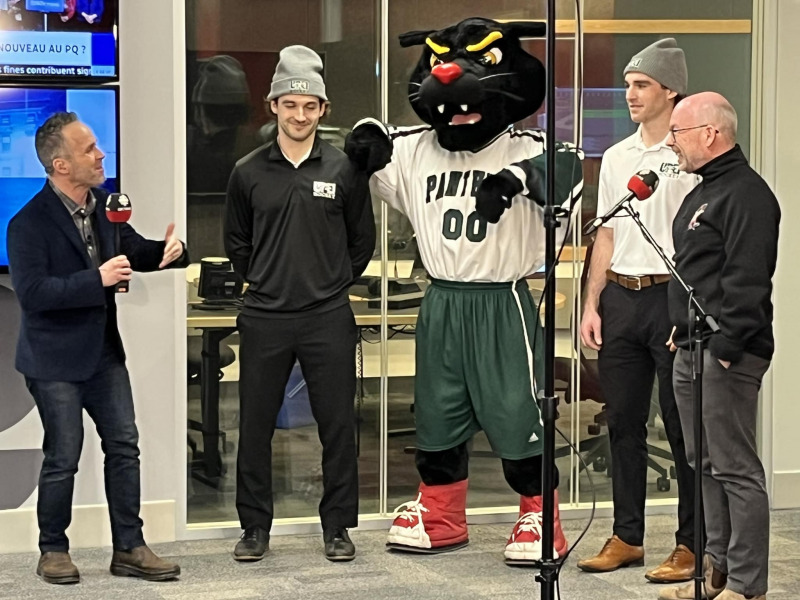 The UPEI Men's Hockey Panthers will welcome some of the best amateur hockey teams in the country when they host the U SPORTS 2023 Cavendish Farms University Cup Men's Hockey Championship from March 16–19, 2023, at the Eastlink Centre, 46 Kensington Road, Charlottetown.
In addition to eight U-Cup hockey games on the schedule, the four-day event will also feature special events throughout the weekend at the "UPEI Panther Lounge" in the Eastlink Trade Centre. These include a "Hot Stove" with sportscaster and NHL-Hockey Night in Canada host Ron MacLean; Panther Lounge social with musical entertainment; St. Paddy's Day Panther Lounge Tailgate; "Coaches Corner" with U SPORTS coaches; and Family Fun Park with bouncy castles, putting greens, face painting, prizes, and more. For full details and schedule of events, visit https://gopanthersgo.ca/sports/mice/2022-23/U-Cup_Panther_Lounge_Schedule_Jan_2023.pdf
"We're very excited to be hosting the 2023 University Cup," said Jane Vessey, UPEI Director of Athletics and Recreation. "Hockey fans are in for a great weekend of high-calibre men's hockey competition with plenty of entertainment in between games. As the host university of the U-Cup, we aimed to create a fun, weekend-long celebration and are looking forward to seeing lots of fans out to cheer on our Panthers!"

The UPEI Men's Hockey Panthers will play Friday, March 17, at 7:00 pm in the fourth quarter-final game. Tournament passes are available, and those interested in attending can reserve seats for all eight games at the Eastlink Centre Charlottetown. Passes and single game tickets may be purchased online at https://www.eastlinkcentrepei.com/event.php?id=1162. Tickets can also be purchased in person at the Eastlink Centre Box Office or by calling 902-629-6625, Monday to Friday, 11:00 am to 5:00 pm. For more information, call the Eastlink Centre or email info@eastlinkcentrepei.com.

The complete field, in seeding order, is as follows:

1.  Calgary Dinos (Canada West champions: 25-3 regular season, 4-2 playoffs)
2.  Université du Québec à Trois-Rivières (UQTR) Patriotes (Ontario University Athletics champions: 21-5, 5-1)
3.  University of New Brunswick (UNB) Reds (Atlantic University Sport champions: 24-6, 5-2)
4.  Windsor Lancers (Ontario University Athletics finalists: 18-9, 4-2)
5.  Alberta Golden Bears (Canada West finalists: 20-8, 3-3)
6.  Concordia Stingers (Ontario University Athletics bronze medallists: 19-7, 4-2)
7.  Saint Mary's Huskies (Atlantic University Sport finalists: 20-10, 4-3)
8.  University of Prince Edward Island (UPEI) Panthers (Host: 17-13, 1-2)
The quarterfinals will be played on Thursday and Friday, as follows:
Schedule:
Quarterfinal 1: Thursday, March 16, 12:00 pm – No. 7 Saint Mary's vs. No. 2 UQTR
Quarterfinal 2: Thursday March 16, 7:00 pm – No. 6 Concordia vs. No. 3 UNB
Quarter-final 3: Friday, March 17, 12:00 pm – No. 5 Alberta vs. No. 4 Windsor
Quarter-final 4: Friday, March 17, 7:00 pm – No. 8 UPEI vs. No. 1 Calgary
The semifinals will take place on Saturday at 1:00 pm and 7:00 pm. On Sunday, the bronze medal game is set for 1:00 pm, with the championship game at 7:00 pm.
All eight games from the eight-team competition will be webcast live on CBC Sports digital platforms (English) and USPORTS.ca (French), up to and including Sunday's gold medal game. The full webcast schedule will be available throughout the tournament at usports.ca/en/broadcast.