Atlantic Veterinary College's Interim Dean continues dairy health work in Kenya
Dr. John VanLeeuwen, interim dean, Atlantic Veterinary College, and three doctors of veterinary medicine students are currently in Kenya improving the health and productivity of cows.
| Atlantic Veterinary College
Rachel Cutcliffe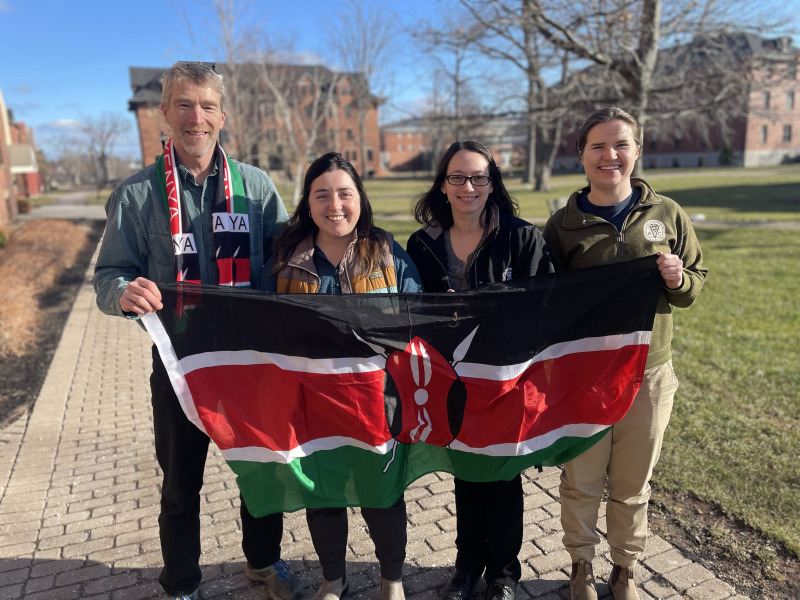 After three years of waiting, Dr. John VanLeeuwen, interim dean, Atlantic Veterinary College (AVC), University of Prince Edward Island, is in Kenya with Farmers Helping Farmers (FHF) and has three doctors of veterinary medicine (DVM) students in tow.
"I have been travelling to Kenya every year since 2004 through a partnership with FHF and Vets without Borders Canada, but for the last three years we were unable to travel due to the COVID-19 pandemic," explains Dr. VanLeeuwen. "Although we have been connecting virtually with our partners in Kenya, part of our work is relationship-based and hands-on so it's very hard to replicate the in-person experience, virtually."
FHF was established in 1980 and is an Island-based non-governmental organization. Every year, a small contingent of globally minded Island volunteers live, work, teach, and learn alongside local Kenyan farmers, researchers, health trainees, and their communities with the goal of helping them become more self-reliant in agricultural food production. Through the partnership, the volunteers also work with dairies, women's groups, and schools.
"It has been a beneficial relationship for the farmers and for us," says Dr. VanLeeuwen. "Through this partnership, we are able to provide the unique opportunity for three DVM students to travel to Kenya for an international large animal rotation. Not only will they provide veterinary services for dairy farmers, but they'll also be exposed to new cultures, experiences, and ways of knowing and doing."
Since 2004, FHF has partnered with AVC and Dr. VanLeeuwen to conduct research and work with dairy farmers, animal health technicians, and local veterinarians to help improve the health and productivity of cows. Dr. VanLeeuwen collaborates with the Faculty of Veterinary Medicine at the University of Nairobi to include two to six Kenyan DVM students to take part in the community-based research. 
For three weeks, Dr. VanLeeuwen and the students meet and work with the farmers, inspect the living conditions for cattle, provide education, and suggest improvements.
"By collaborating with local farmers to improve practices, we discovered that they have doubled or even tripled their milk production," explains Dr. VanLeeuwen. "Subsequently, this increases familial income and their access to animal-source protein."
In 2021, Dr. VanLeeuwen received the Mentor Award for the Rotary Club of Charlottetown Royalty for his work in Kenya. During the ceremony, it was shared that in Meru, Kenya, he is referred to as "Muriithi," which means shepherd or leader. Throughout his time in Kenya, he has led scientific research and international development projects worth more than $23 million and has made a difference in the lives of thousands of farm families.
Dr. VanLeeuwen, and the three DVM students - Karen Yetman, Andrea Messina, and Kasadee Allan – departed for Kenya on Friday, January 20, and will spend three weeks in Meru County. This trip will be Dr. VanLeeuwen's thirtieth visit to Kenya.
"Good agricultural practices and veterinary care can have a dramatic effect on the health and sustainability of communities around the world," says Dr. VanLeeuwen. "I look forward to this work every year as I not only see the impact it has on the farm families in rural Kenya but also on our volunteers and our DVM students."
Media Contact
External Engagement Officer
Atlantic Veterinary College