UPEI Women's Basketball Panthers have signed their first recruit for the 2023–2024 season
Defensive specialist Lily Vrugteman adds size to the guard position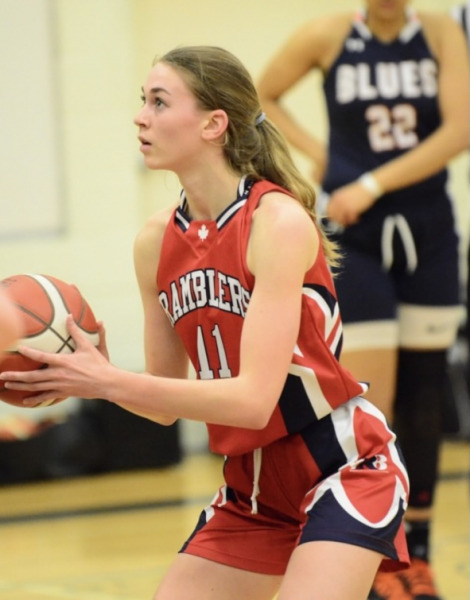 The UPEI Women's Basketball Panthers have signed their first recruit of 2023–2024. Lily Vrugteman is a skilled 17-year-old guard from Cambridge, Ontario.
Head coach Matt Gamblin says he is very excited that she has decided to join the UPEI team.
"Lily is an extremely hard worker. She has a growth-minded attitude and is always working to get better," said Gamblin. "Lily will come in and do the work and help us keep growing the program."
The Panthers have had a lot of success when fielding guards whose versatility brings an element of unpredictability for the opposition to consider.
Standing at 5'10", Vrugteman makes sound decisions with the ball and can score from the perimeter or mix it up by finishing inside, which will serve her well when up against the elite players of the AUS.
Those traits are reminiscent of recent UPEI guards like 2020 U SPORTS Player of the Year Jenna Mae Ellsworth and current Panther Lauren Rainford who led UPEI Women's Basketball at the U SPORTS nationals in 2020 and 2022. Gamblin is understandably excited about Vrugteman's potential.
Like her predecessors, Vrugteman is a proven winner with a shelf full of accolades. As a 12-year-old in 2017, she won a provincial championship with the Kitchener Vipers. Three years later, she captured another provincial title with her junior high team, the Guelph Gryphons.
As the competition grew more and more fierce, Vrugteman showed that she could adapt quickly and rise above her peers. In 2021 and 2022, she was the face of the St. Benedict Catholic Secondary School Saints women's basketball team, guiding the squad to back-to-back District 8 championships while earning league MVP honours along the way. She is currently playing for the London Ramblers of the JUEL of Ontario, an independent provincial league for young women that is considered one of the best in Canada.
While Vrugteman is a proven scorer, it is on the defensive end where she takes the most pride.
"Even though I can be an offensive threat, my specialty has always been defence," said Vrugteman, who will be studying business at UPEI. "I'm a defender by nature, and I believe everything in basketball stems from defence. I work hard on that end of the floor and have often been considered a lockdown defender."
Given Vrugteman's size and athleticism, Gamblin intends to use her in various defensive roles to keep the opposition off-balance.
"Lily's defensive ability and potential really stand out and should translate right away at the next level. She's also very versatile and is able to guard multiple positions."
On her visit to UPEI, Vrugteman was quickly enamoured by the idea of playing for the Panthers, as her future teammates made her feel at home.
"Even though I wasn't a part of the team yet, they still looked out for me and treated me like one of them," she said. "Not only was the team welcoming, but they were also hard-working. Watching each practice and game, I saw fire and a drive in every player, and I definitely want to be part of that."